Herb mashed potatoes with Cauliflower added in. This is a great way to sneak some extra veggies into dinner!
If you clicked on this post because you saw cauliflower in the title and are expecting me to give you a recipe on mashed cauliflower, that's not what this is.
If you want that, we love our garlic & herb mashed cauliflower. Try it!
This recipe is actually herb mashed potatoes WITH pureed cauliflower mixed in! It's a great way to sneak in some veggies for your kiddos and to add more volume to your potatoes, with slightly less carbs than you'd get if you just added more potatoes 😉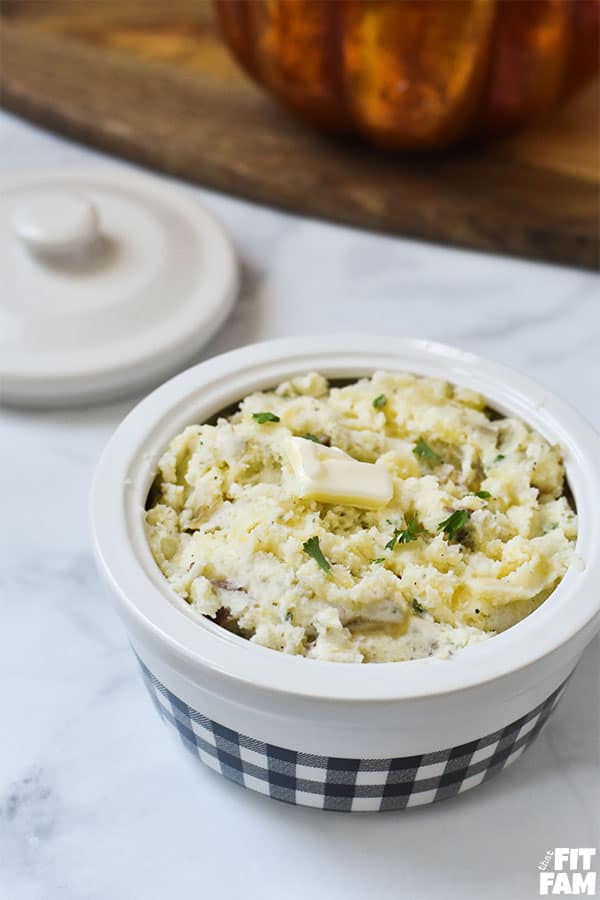 I've really been loving this recipe lately. I used to strictly make the mashed cauliflower (linked above), but I noticed that I felt bloated (TMI!) if I had too much cauliflower or broccoli in my diet. I still love it, but I try to eat it in smaller portions now.
Enter herb mashed potatoes with cauliflower.
I love love love mixing pureed cauliflower with potatoes. I did it in our loaded baked potatoes and I do it all the time with our herb mashed potatoes. It blends seamlessly with the consistency of the potato and its taste is hardly detectable.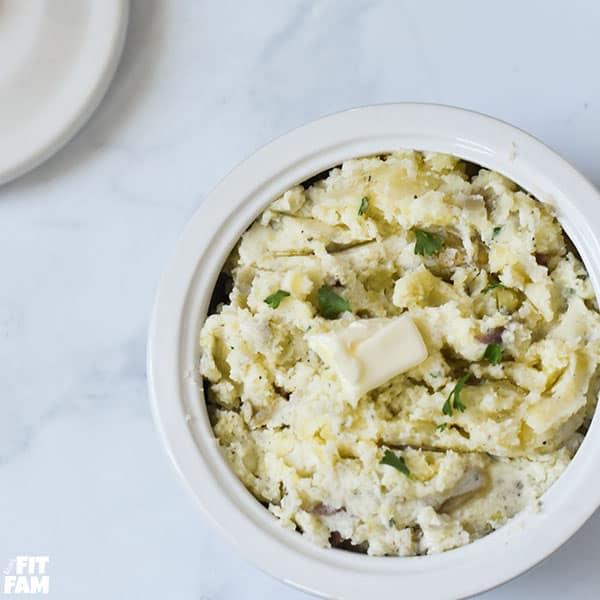 This recipe is perfect if you have a family that isn't quite on board with healthy eating because (unless they saw you add them in) they will not know cauliflower is mixed in with these potatoes! You can't tell.
That being said, for this recipe I use 12 ounces cauliflower and 3 LARGE russet potatoes, so there is definitely more potato than there is cauliflower. If you switched up the ratio to more than 50% cauliflower, your family *might* be able to tell, but even still it's delicious.
Yield: 8
Herb Mashed Potatoes w/Cauliflower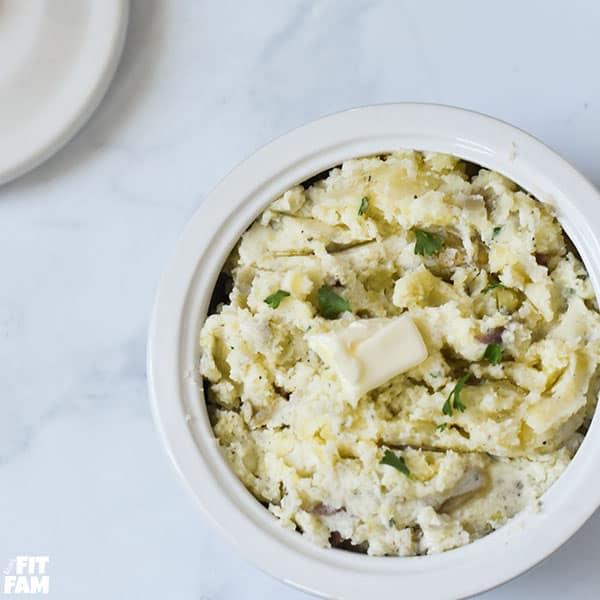 Herb mashed potatoes with Cauliflower added in. Perfect recipe for adding volume to your potatoes, while conserving carbs.
Ingredients
12 oz bag of frozen cauliflower florets
3 large Russet potatoes, boiled
1/4 tsp oregano
1/2 tsp basil
1 tbs fresh parsley, diced
1/2 tsp pepper
1 1/2 tsp salt
4 tbs butter
4 tbs garlic butter
1/2 c sour cream
Instructions
In a large mixing bowl, mash boiled potatoes, set aside.
Microwave frozen cauliflower according to directions on bag.
Puree in food processor and add to mixing bowl.
Add in all remaining ingredients and mix well.
Add more salt to taste.