Sharing our top tips on how to eat healthy on a budget! Updated 7/31/19
It's amazing how aware of health you become when you're a parent. Not only do you wonder if you're kids are eating healthy enough, you start to want to eat healthier yourself to be a good example.
The problem is, it's not cheap. The other day I made chicken enchiladas, and my 2 year old ate as much as my husband! He just kept asking for seconds and thirds proudly showing me his empty plate.
I'm happy to dish out more, but all these hungry people definitely make it stressful when you're trying to eat healthy on a budget.
Some of our favorite tips for saving money on healthy foods are basic & obvious while others might surprise you.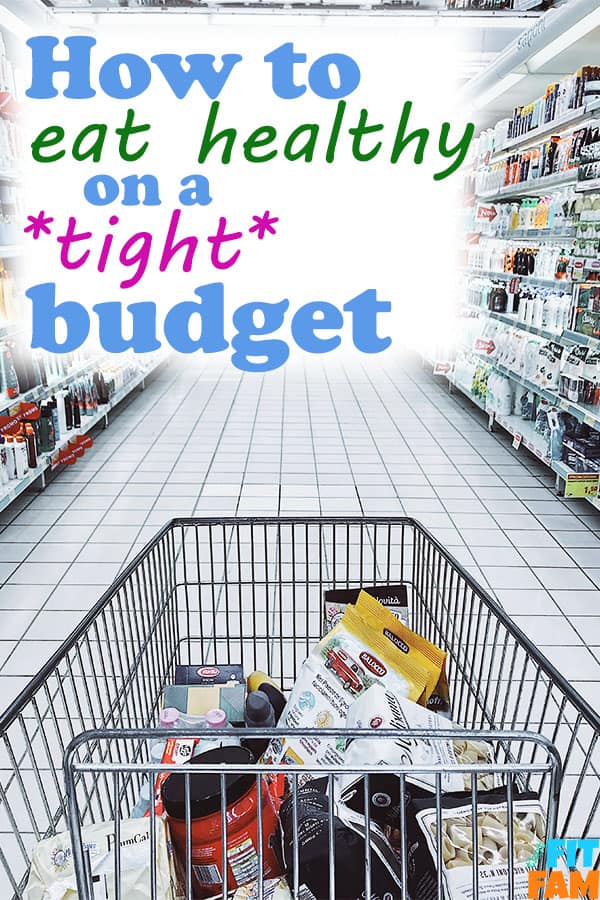 How we eat healthy on a budget:
1. Avoid prepackaged fruit or veggies. It may save you time because they are pre-chopped, but it's not worth the extra money. Even pre-packaged hard boiled eggs are ridiculous. You're spending around a dollar per egg when you could buy practically a whole dozen for that price and then boil them yourself. Boil your own eggs, chop your own veggies, chop your own fruit, and spiralize your own noodles.
2. Never shop hungry or thirsty. Seriously. I've done this. Your cart will either be full of junk or it won't but you'll be too hungry to cook & stop to grab fast food. Just avoid it at all costs.
3. Only introduced 1 or 2 new foods at a time. When you get on that health kick, it can be tempting to buy everything you see at Whole Foods, but don't! Seriously, don't. More food will go wasted than you'd like, especially if kids are involved.
Try introducing one or two new healthy foods a week and slowly incorporate more as time goes on. That way if it's a total miss, you only lost out on a few bucks instead of an entire grocery haul.
4. Learn to make beans from scratch. You can buy a pound of dried beans for less than a buck and it will last you all week, depending on the size of your family. It's a great side dish that is full of protein and high fiber so it really fills you up. My kids LOVE having homemade pinto beans with scrambled eggs and corn tortillas in the morning. So cheap, so easy, so healthy and so filling. (make our authentic Mexican refried beans recipe in your crock pot). We also love pureeing our pinto beans and then drizzling them over chicken nachos!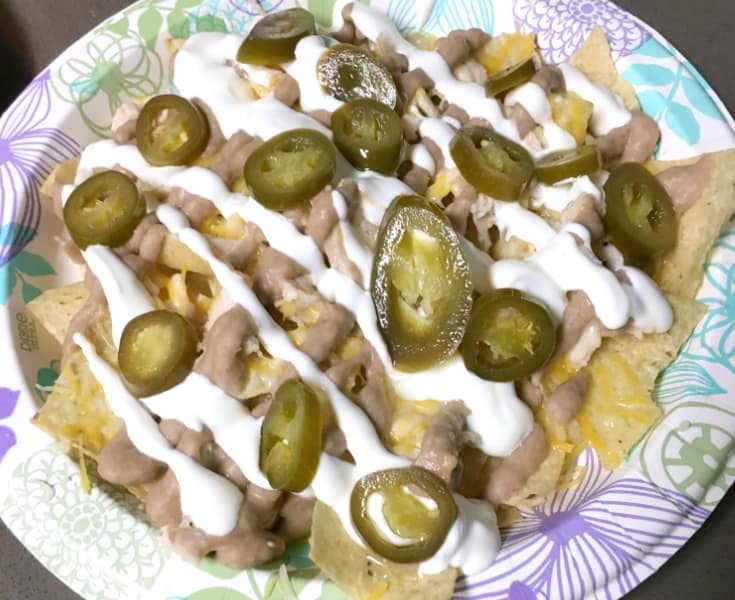 5. Buy store brand when you can. I always always always compare the ingredient list from name brand vs store brand. If it has the same ingredients and they're listed in the same order (ingredients are listed by weight used), I will get the cheaper option.
Garlic powder is the exception. We've had bad experience with store brand garlic powder leaving a stingy sensation in our mouths, we love McCormick brand instead.
6. Shop kitchen staples at Costco. Costco isn't just for large families, we save on oils, frozen meats, produce, eggs, bread, and protein here!
7. Freeze anything you can. Our bread comes in a 2-pack, so we freeze the 2nd pack to extend the shelf life. We also freeze ripe bananas (peeled and broken in half), butter, extra fruit, and veggies.
(Tip: you can puree any whole tomatoes, or spinach, etc and freeze it for soups or smoothies, so they don't go to waste. )
8. Choose zucchini noodles over spaghetti squash. Both are healthy, but if you just want a noodle replacement, go for the zucchini, it's cheaper and quicker to make. We are obsessed with our Veggetti Pro Table-Top Spiralizer.
9. Don't shop with kids. I cannot resist my 2 year old's face when he asks for a treat! If you must shop with kids, bring a list and stay focused or your shopping basket could end up looking like this: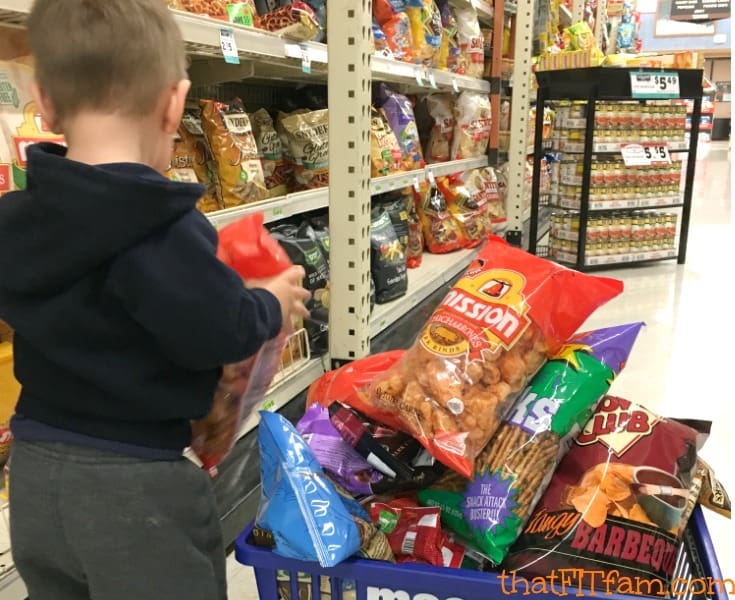 10. Buy the potatoes. Potatoes are probably the cheapest food on the planet. They get a bad rap because of the carbs, but really, almost everything has carbs.
Homemade baked fries are a great treat without the extra fat from deep frying them. When we're really pinching pennies, I love making baked potato taquitos with homemade refried beans & a side of salsa. It's the ultimate comfort food, loaded with fiber and protein and feeds the whole family for less than $5.
11. Check Ibotta for deals before/after you shop. I love this app! It is 100% free and gives you cash back. Basically, if you buy an item on rebate, all you do is scan or take a pic of your receipt and you get cash back.
Sometimes the savings are as much as $4 back (or more), sometimes they're just 25 cents, but it adds up quickly and only takes seconds to upload your receipt. You can get your payout via giftcard or Paypal. I always choose Paypal.
If you use my referral code (pgjjliv) you can get $10 for just signing up (posts to your account when you redeem your first rebate).
I recently just used this on Halo Top ice cream, swim diapers, bananas, and orange juice. That was over $5 back on stuff that was already on my grocery list. I can't say enough about this app. It's my favorite.
12. Don't eat out. Eating out is definitely a treat, there's nothing wrong with it every once in a while, but it can sabotage your budget and your health plans. Meal prep, pack lunches, and have quick snacks ready at all times.
13. Grate your own cheese. A block of cheese is cheaper than the pre-grated stuff. Plus, now you can have some grated and some sliced instead of buying two packs of different styles.
14. Buy in season fruits & veggies. Self explanatory. Plus, it tastes better when it's the right season.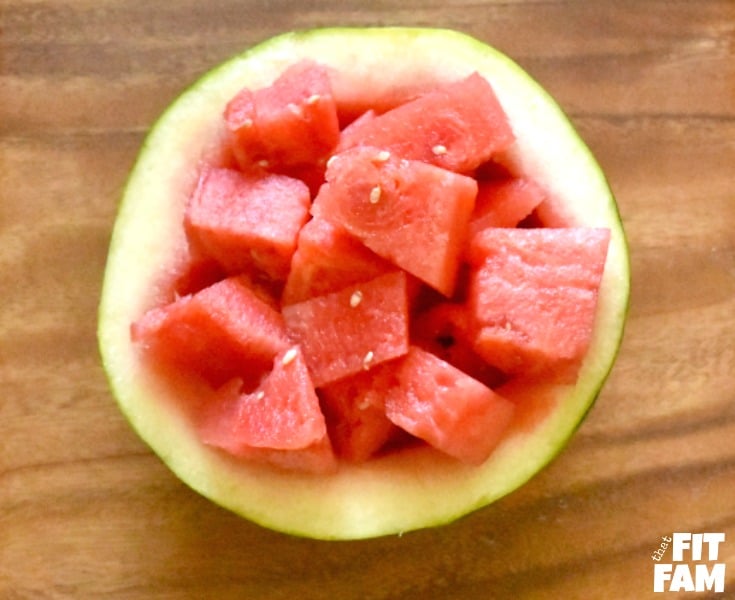 15. Grow your own food. This is my literal dream. I want fruit trees and an herb garden and tomatoes, bell peppers, serrano peppers, and onions growing at all times in my backyard. Unfortunately, we don't have a backyard just yet, but one day…
16. Make your own sauces. My kids love it when I make homemade spaghetti sauce. It's 33 cents for a can of tomato sauce at our grocery store and you can season it however you like.
For mine, I heat some olive oil in a pan, add minced garlic, basil, and parsley, then the tomato sauce and salt. It's so simple, my kids devour it, and it's beyond cheap. It makes us about 3 servings, which is the perfect amount for no leftovers =)
17. It doesn't have to be organic. We get so caught up in the "organic" label, we forget that not all organic foods are created equal. I mean, there's organic sugar. That should be proof enough. Also, when it comes to produce, any produce (even non organic) is healthier than none.
Those are my best tips for how we eat healthy on a budget. It doesn't have to be expensive. The best thing is to make sure you are eating unprocessed foods as often as you can and letting as little food go to waste as possible.
Have favorite tips or tricks? List them below!