Okay, so we talk about moderation, we talk about the importance of fats in our diet, and we talk about fitting in those full fat meals by cutting back at other times of the day.. BUT sometimes we don't want to cut back at other times of the day and we still want to be able to have that fatty (tasting) dinner without screwing over our diet plan. So then, what do we do? Lucky for you, we have officially mastered the low fat cream sauce!
You heard me right! A low fat cream sauce! There is NO heavy cream in this recipe and there are no weird substitutes either. We're not going to ask you to make a cream sauce out of pureed cauliflower! Yes, we have seen that recipe and you know what, we're not buying it! Cauliflower can do a lot of things. We're all for eating it in rice form and using it in place of mashed potatoes, but making it into a low fat cream sauce? CREAM? SAUCE?? Yeah.. we don't think so.
Instead, pick up a can of 2% evaporated milk and sub it out for the heavy cream equally.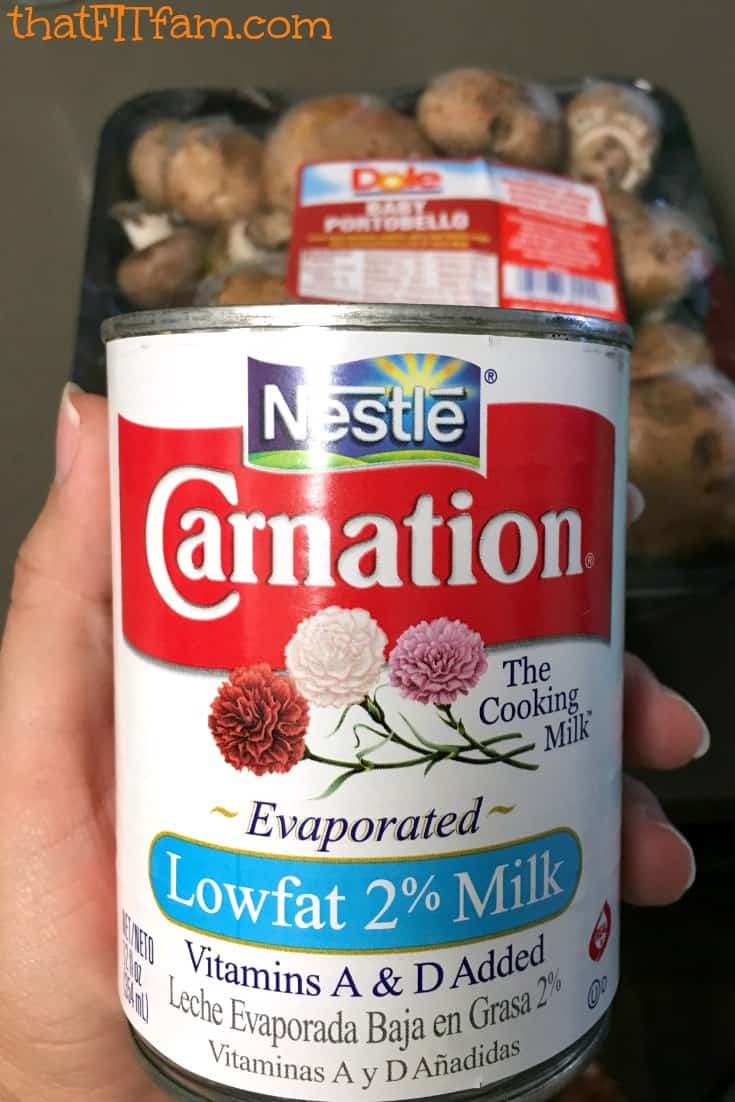 That's it. ONE ingredient, nothing fancy. Nothing you have to prep ahead of time. And you manage to save about 125 grams of fat (and 1100 calories [in the entire dish])! Don't believe me? Look up those nutrition facts (2% evaporated milk v heavy cream)!
Can you believe one minor change makes such a HUGE difference?? And honestly, we couldn't taste the swap.
**Oh man! did you look at those nutrition facts? That's why they invented the phrase "ignorance is bliss." We don't even want to think about how many times we justified that heavy cream!
Cajun Chicken in a low fat cream sauce
Okay guys, this recipe tastes amazing. It is so simple to make and we already had most of these ingredients on hand. The only thing we needed to buy was the evaporated milk and the green onions, everything else we had in our fridge/freezer.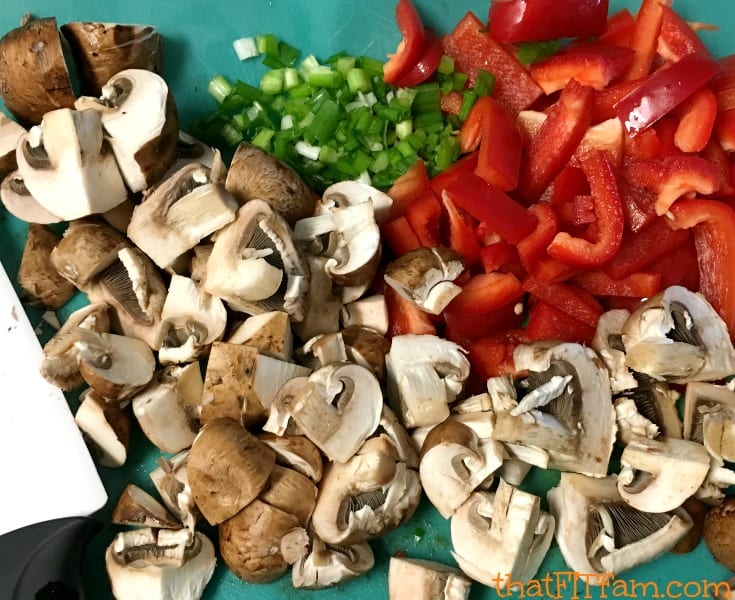 You start by chopping the veggies and slicing the chicken into thin slices. Once that's done, heat some butter in a sauce pan, add some minced garlic, the sliced chicken and cook until done. Then add veggies, simmer covered for a couple minutes..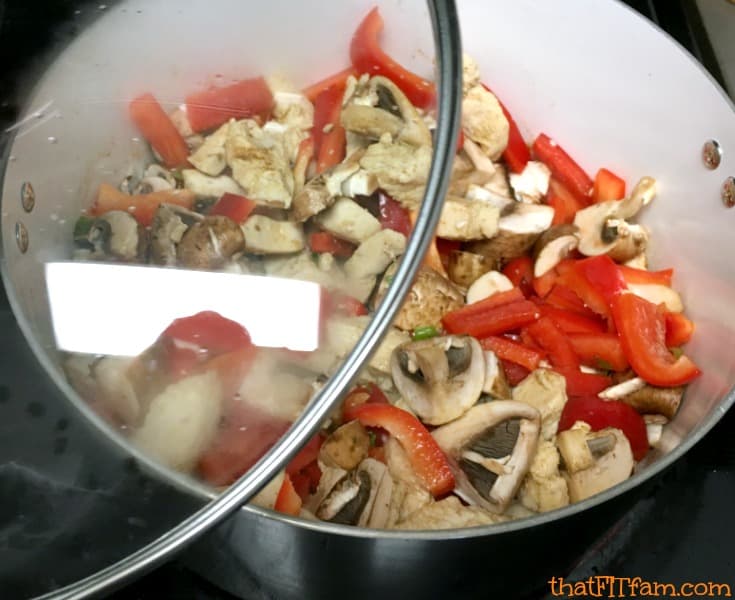 Add evaporated milk and voila! Just kidding. There are a couple more steps (i.e. seasonings) but just check out the printable recipe below. It's pretty simple nonetheless.
What to pair it with:
For us, it really just depends what we have on hand. This makes a great pasta sauce so we do love it over some spaghetti squash, but if we don't have any & it's out of season/too expensive to buy, we will serve this with some cauliflower rice or cauliflower mashed potatoes. I imagine you could also try this over a bed of zucchini noodles, we just haven't tried it.
Sure, you could add normal pasta or rice, we just prefer to keep things lower carb at dinner time 😉
Yield: 6 servings
Creamy Cajun Chicken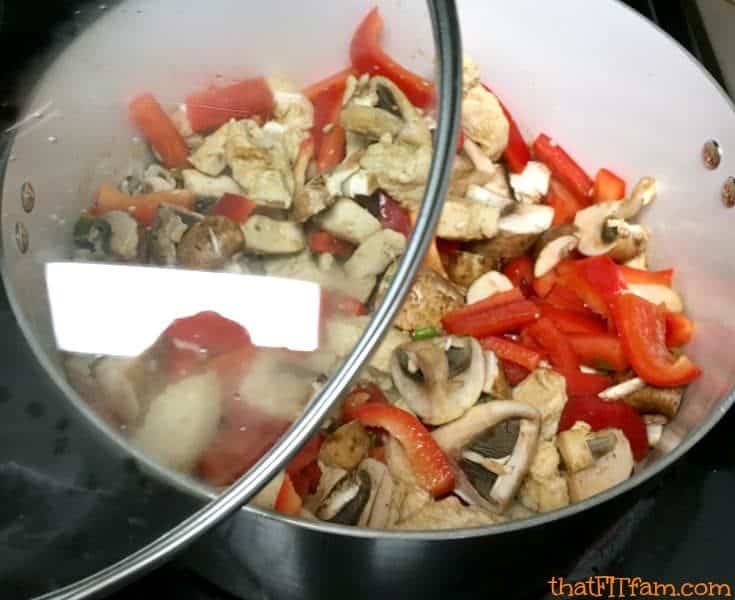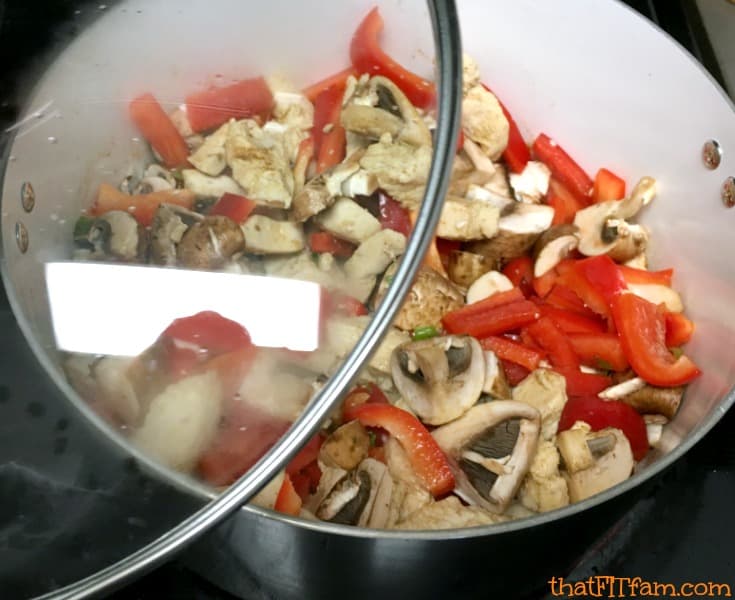 Ingredients
2 tbs butter
1 clove garlic, minced
3 boneless, skinless chicken breasts
2 tsp Cajun seasoning
1/4 tsp salt
2 red bell peppers
8 ounces baby portobella mushrooms
2 green onions, minced
12 ounces 2% evaporated milk
1/2 tsp dried basil
1/4 tsp lemon pepper
1/4 tsp Creole seasoning
1/8 tsp pepper
2 tbs cornstarch mixed with cold water
Instructions
Slice veggies and chicken into bite sized pieces.
In a large skillet over medium heat, add butter, minced garlic and chicken.
Add salt and Cajun seasoning.
Saute chicken until no longer pink.
Add bell peppers, sliced mushrooms and green onions; cook for 2 to 3 minutes, stirring occasionally.
Reduce heat, and stir in heavy cream and cornstarch+cold water mixture.
Season the sauce with basil, lemon pepper, creole, and ground black pepper, and heat through.
Once sauce has thickened, serve warm with rice or over spaghetti squash.
Notes
Mix cornstarch with cold water before adding to pot to prevent clumping.