Gourmet caramel apples dipped in chocolate are a great Fall treat that rival chocolate covered strawberries–yes, I said it & I stand by it!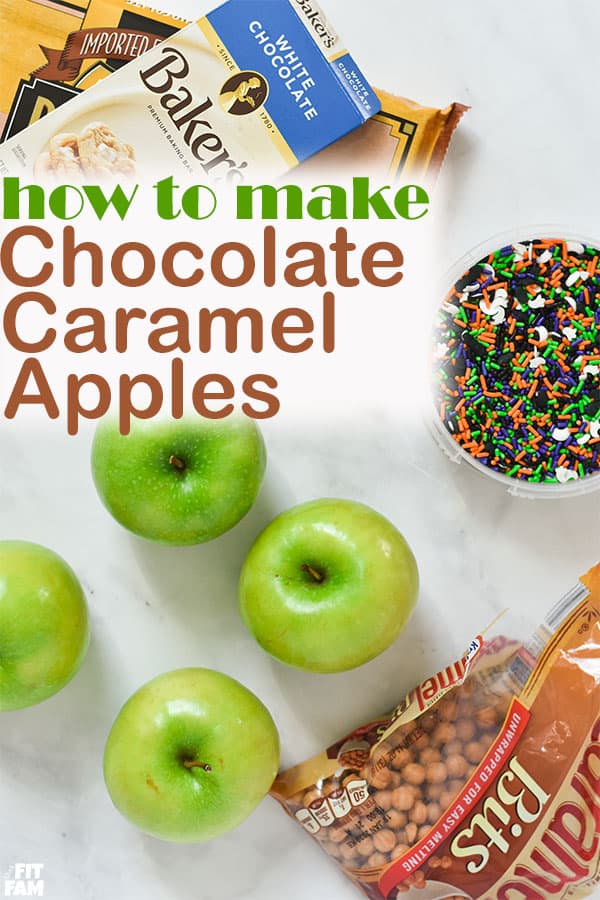 Once upon a time, many years ago when I was pregnant with my son I was at work and my boss shared this delicious treat.
He cut up a chocolate covered caramel apple and split it between me, him, and a couple others.
Before this day I had never given caramel apples a chance. They just never seemed appealing. But a pregnant me took one look at the chocolate treat & couldn't resist. Since then I have craved these apples every year, but never actually made them until today.
They seemed like a lot of effort. But, what I discovered is that they are actually very very easy to make.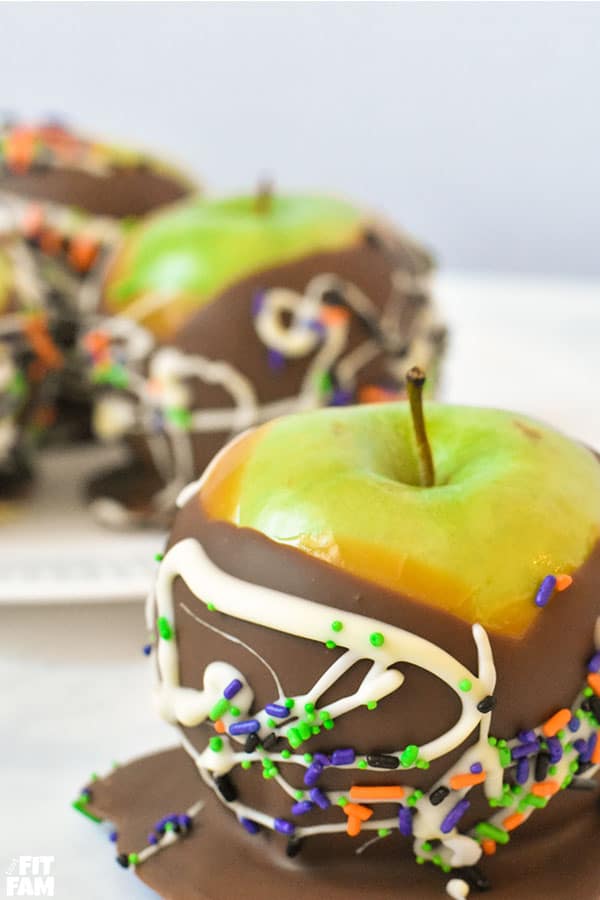 What you need:
You need apples. We like granny smith apples. You also need caramel. I bought these unwrapped Kraft caramel bits to simplify things even more. These are the essentials.
In addition, we like to use two kinds of chocolate. I used milk chocolate from Trader Joe's because they have the best tasting chocolate. I also used Baker's white chocolate. And then I topped with some Halloween sprinkles that I picked up at Target.
If you noticed, I did not say sticks. I could not find popsicle sticks anywhere. Not near the caramel apple stuff or on baking or craft aisles. I even went to two stores before giving up.
But it turns out, they aren't essential. I just held onto the apple stem while dipping and it worked out just fine.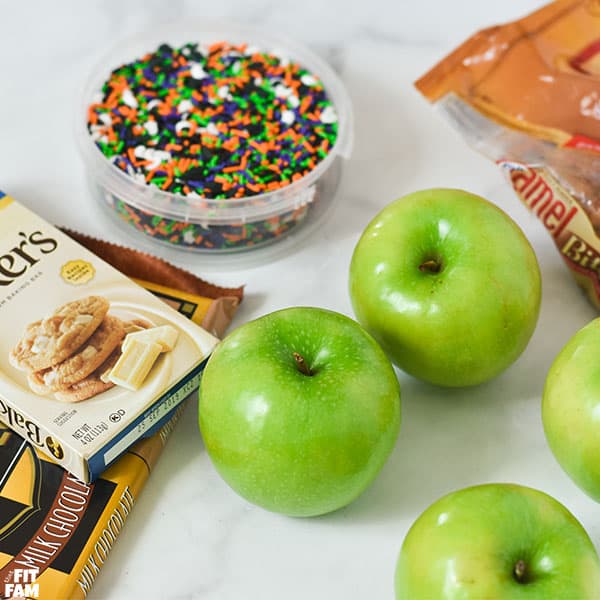 How to make gourmet caramel apples:
First, wash and dry your apples. I soaked my apples in really warm water for about 30 seconds to remove the wax and then rinsed them.
Removing the wax from the apples helps keep the caramel from sliding off.
Once those are dry, I melted the caramel in a small pot. I followed the directions on the bag, keeping the heat on low and adding a couple tablespoons of water while stirring constantly.
Then I dipped each apple in the mixture and set them on a greased, foil lined plate. I put them in the fridge for an hour to set.
Next, I melted the milk chocolate on the stove with a small amount of oil added in to thin it a bit. After dipping each apple in the chocolate, I returned to the plate and then into the fridge until hardened.
Finally, I melted the white chocolate and used a fork to drizzle onto each apple and then tossed some sprinkles on top while the white chocolate was still melted.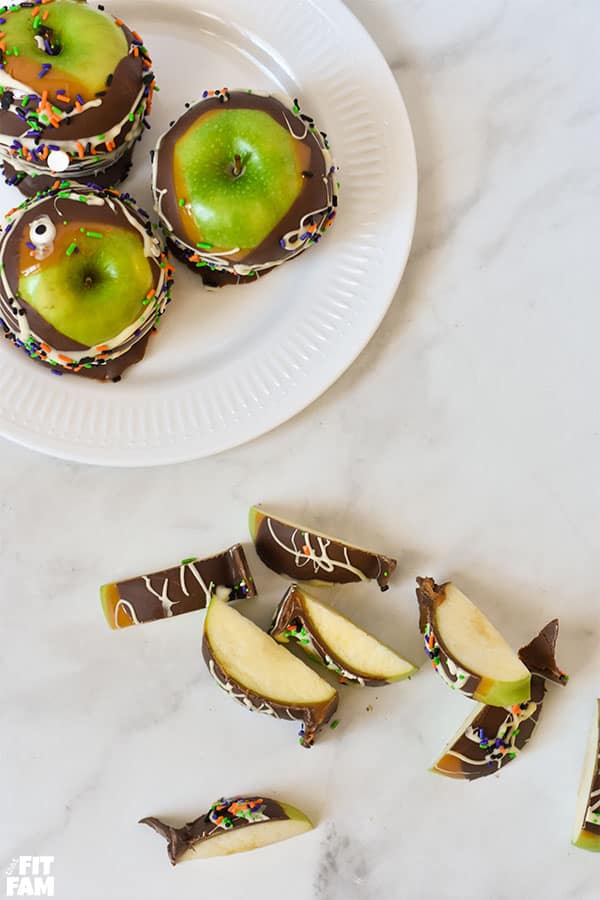 And that's it! Let that harden, slice up & enjoy! It sounds like a lot of steps, but it was actually very easy to do and well worth it. We will be adding these to our Halloween traditions list for sure!
Yield: 4
Chocolate Caramel Apples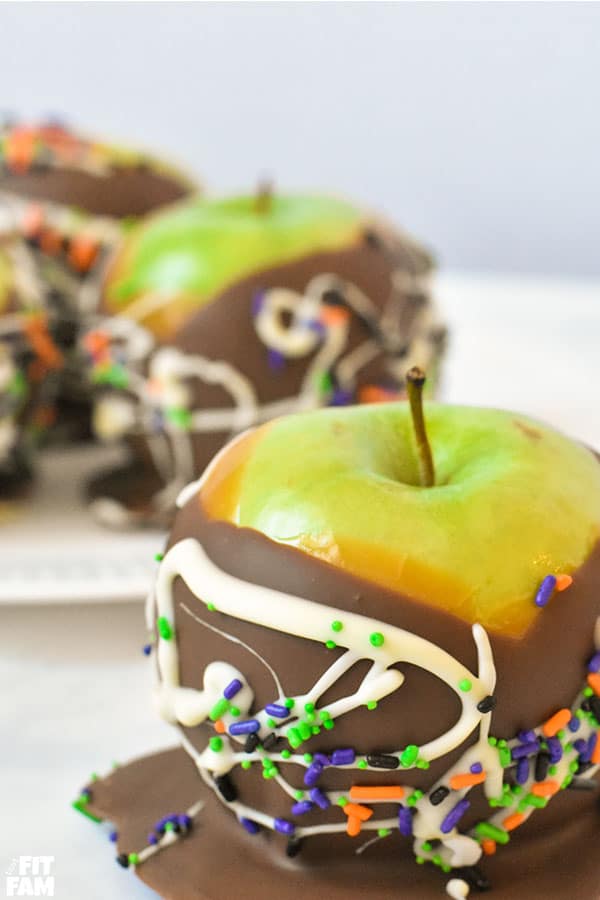 These chocolate caramel apples are the perfect mixture of tart and sweet! Plus, they are very easy to make but always look impressive.
Ingredients
4 granny smith apples
1 bag of Kraft caramel bits
1/2 pound of milk chocolate
1 small bar of white chocolate
sprinkles
2 tbs vegetable/canola oil (optional)
Instructions
Soak apples in really warm water for about 30 seconds to remove the wax and then rinse & dry them.
Melt caramel according to directions on back of bag.
Dip each apple into the caramel, holding apple over pot to allow excess caramel to drip off before placing on a wax paper lined plate.
Set apples in fridge for 1 hour.
Melt milk chocolate in small pot with a couple tbs of vegetable oil (optional)
Dip each apple and return to plate and then back into the fridge to harden.
Melt white chocolate and use a fork to drizzle onto each apple.
While white chocolate is still wet, sprinkle sprinkles on top.
Return to fridge until set and then cut into slices.
Notes
I did not use sticks with my apples, I just held onto the stems while I dipped them. You can use a stick/skewer if you'd like.
Recommended Products
As an Amazon Associate and member of other affiliate programs, I earn from qualifying purchases.