One thing I am very passionate about is spending time outside with the kids.
Now, I'm not a huge camping/hiking advocate or anything, but spending time outdoors in civilization is definitely my favorite pastime.
In fact, one of the reasons we moved to Vegas was so that we wouldn't have any freezing cold winters holding us captive indoors.
We are outside 2-4 hours every. single. day. I know how crazy that sounds, but it is true.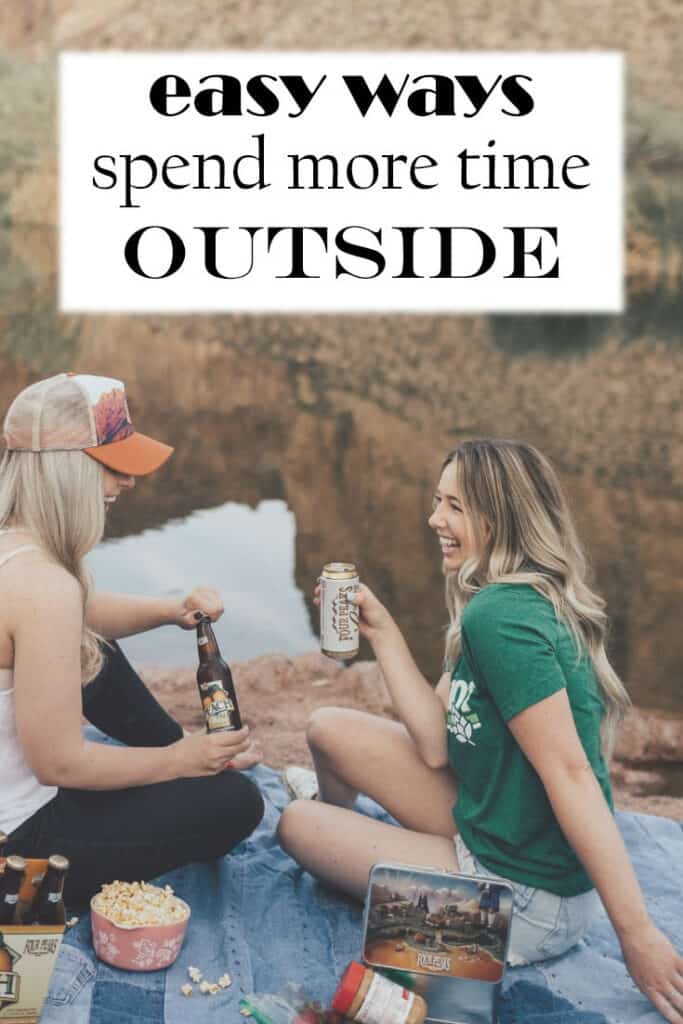 Why?
There are so many benefits from upping our vitamin D through sun exposure to just improving our mood, increasing immunity and so much more.
If your child always complains of being bored (ahem Summer break), send them outside!
Being outdoors gives kids the perfect opportunity to practice using their imagination to entertain themselves. Creativity is definitely a skill that can & should be learned. Unstructured play outside can help them do this.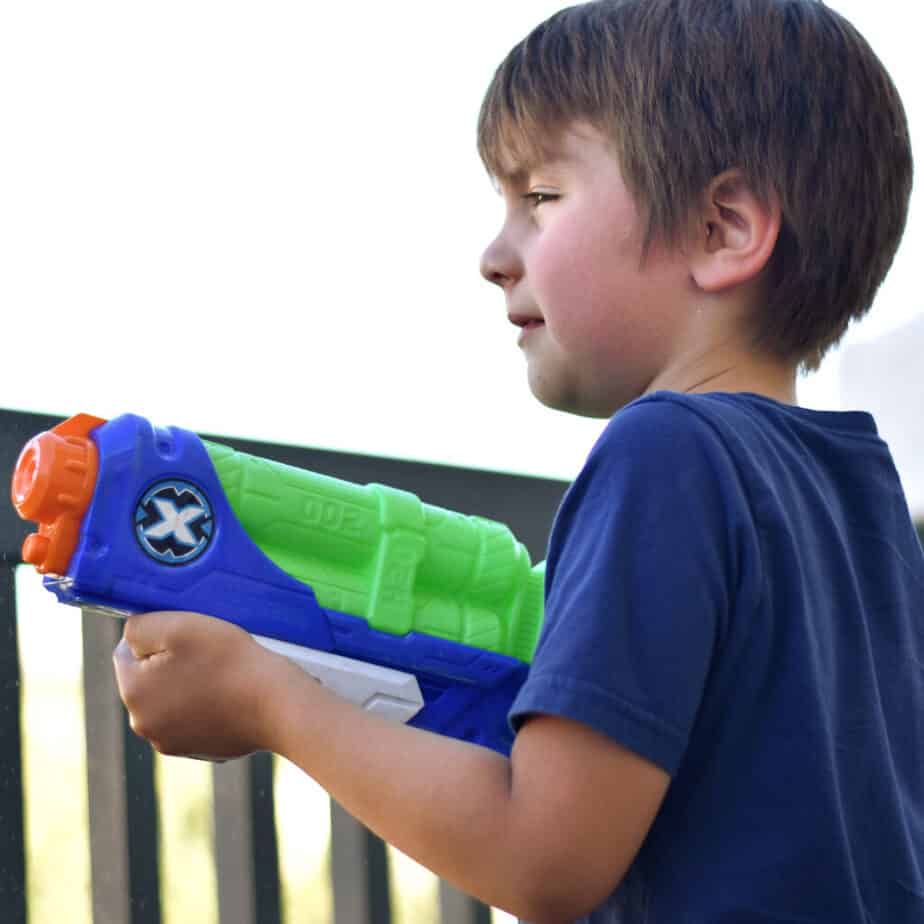 Exercise.
I read an article that said 30 years ago people typically spent 4-6 hours outside and now, on average, people spend only 45-90 minutes.
Can you believe that? That statement combined with poor nutrition and it's no wonder we have an obesity epidemic.
Active play is the best form of exercise for kids and is a great way to up the calorie burn for adults too.
One of our favorite parks has a loop full of small hills. The kids love to race each other on their bikes around this loop. I always run along side them while they do. We're all tired after a few laps!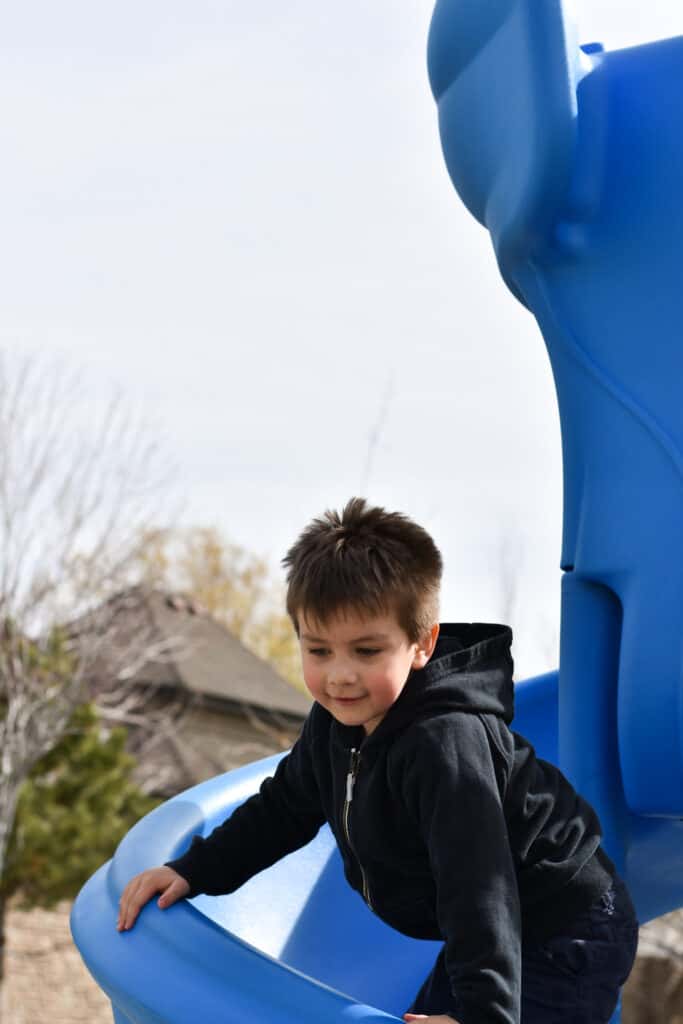 12 ways to get outside more.
I really quickly want to share some of our favorite ways to get outside. If you're struggling with this, I hope these inspire you.
I'm going to start the list with ones that you can do with or without kids and then add some extra kid friendly options near the bottom.
We rely so much on the media for entertainment, it can seem overwhelming to spend hours outside, but it is so worth it! After making it a habit, you actually start to crave that "unplugged" time.
Take a morning walk– whether it be with your kids in tow or not, this is a great way to start your day. In the Fall, we'll be walking David to kindergarten. If you don't have kids in school, a quick walk to grab your morning coffee is an easy one! Or just walk 10 minutes away from your house & turn around and walk 10 minutes back.
Bring a picnic to the park– another favorite of ours! I do need to be better about really planning the snacks we bring. I usually just throw a bunch of stuff in my cooler backpack on my way out the door. There's just something about a picnic that takes a park trip to another level.
Go on a bike ride– I mentioned this before, but we love a good bike ride. When the kids get a little older, I plan on riding alongside them. One bike ride I remember when I was growing up, was a 20 mile ride to the beach where we ended the night with a big bonfire and tons of food. So fun!
Walk to lunch or dessert– On days where we plan to indulge, we love walking to the food spot as a family. We have a few restaurants and ice cream shops within walking distance. If you don't live near any, odds are you work close to restaurants. Walking to get your lunch is a great, quick way to get outdoors and change things up a bit.
Walk to the store– If I'm only getting 1 or 2 things, I will pack the kids up in a double stroller or Radio Flyer wagon and walk to the store. The kids love these simple outings and actually get tired just from the fresh air!
Reading a book– My favorite location to read is outdoors. Either laying in a shady spot on the grass or at the beach. I don't do this one as often anymore though since I have to keep an eye on the kiddos while they play, but I could see myself doing it more often as they get older.
Sporty Date Nights– Scott & I are so competitive by nature, so we LOVE active date nights. Challenge us to a game of badminton, H-O-R-S-E, tennis, or barefoot soccer & we are so down!
Barbecue– When Scott & I first met, he would host a low key BBQ every Sunday down by the apartment pool. It quickly became a tradition that's still going strong for us 6 years later. We love to grill and just hang out by the pool.
Choose an outdoor mall– if you need to get some shopping done, outdoor malls are pretty easy to find. They will give you fresh air & usually require a little more walking which is great exercise. There's a great one in Irvine, Ca that has a Ferris wheel and some other attractions as well.
Host a water war– great for kids in the Summer! Squirt guns, water balloons, you name it! Oftentimes you'll see us with squirt guns at the park in the Summer.
Visit a splash pad– I don't remember splash pads existing when I was a kid, but they are definitely a huge hit with the kids.
Waterpark– If you have a local waterpark, consider buying season passes. We've had season passes every year of our marriage. You spend hours outside without even realizing it. It's a blast. Don't forget the sunscreen! (P.S. buy season passes during the off season, they're on sale & make great Christmas stocking stuffers!)
This post may contain affiliate links. For more information, see my disclosures here.