One of my favorite things about the holidays is making themed food and treats. And I love how these Halloween dessert quesadillas turned out!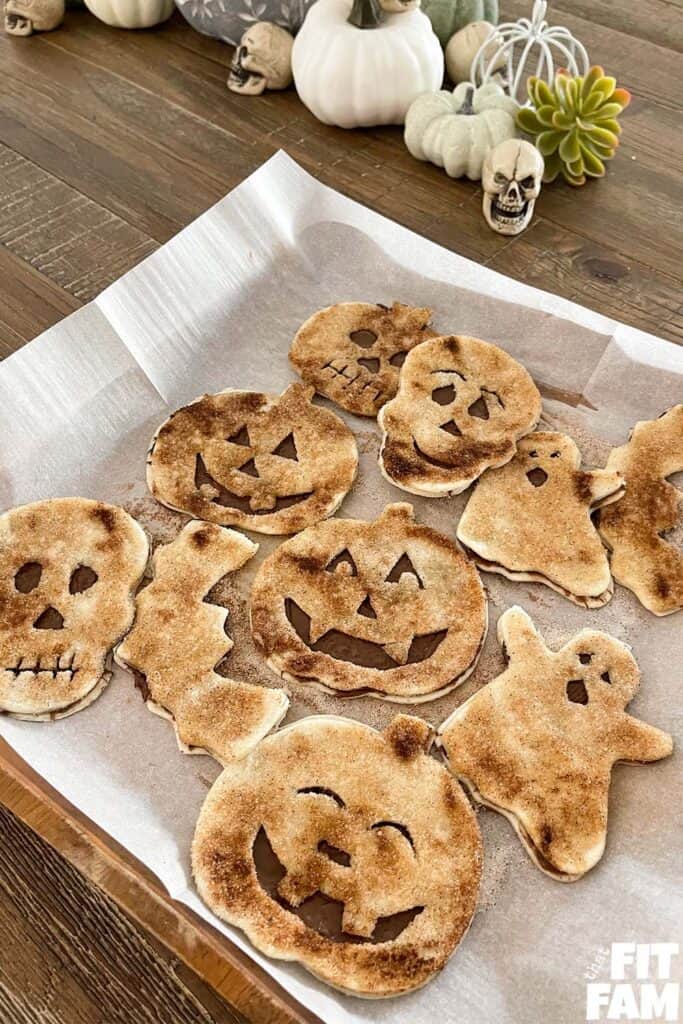 I have made savory baked quesadillas for Halloween before, but I thought it would be fun to do a sweet twist.
You can fill these with whatever you want, but I feel that caramel and nutella work best. Nutella with banana might be a yummy one as well.
These are very simple to make, let's break it down.
How to get the Halloween shapes: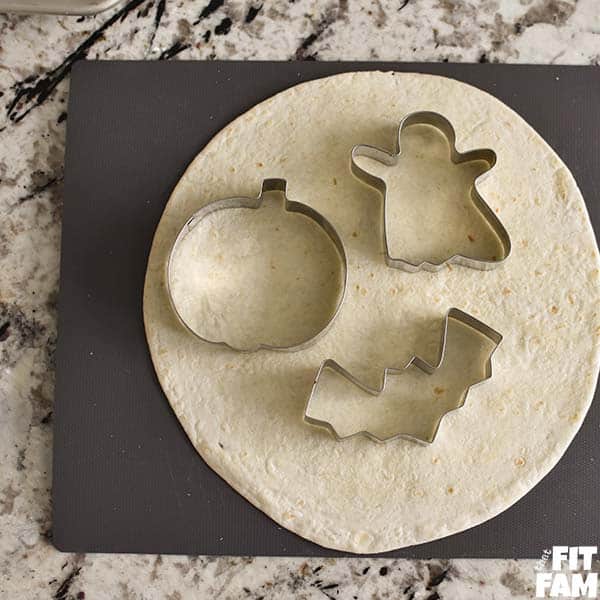 I just use basic Halloween/pumpkin cookie cutters. I have found that metal ones seem to work best.
Start by pressing them onto the flour tortilla and removing the excess. Make sure you create two of each shape, one for each side of the quesadilla.
Next is the fun part. I use a sharp knife to carve faces into the top tortillas. I like to use a small paring knife because I feel like I have a little more control with the cuts. It's surprisingly easy to carve these.
Cinnamon Sugar coating:
You can do this on both sides or just the top side of the quesadilla, it's up to you. I chose to just do the top because I didn't want a sugar overload.
To get the cinnamon sugar to stick the outside, I topped the tortillas with melted butter and then dipped them into the mixture. You could probably use oil spray as well. I thought the butter flavor would compliment the sweet coating.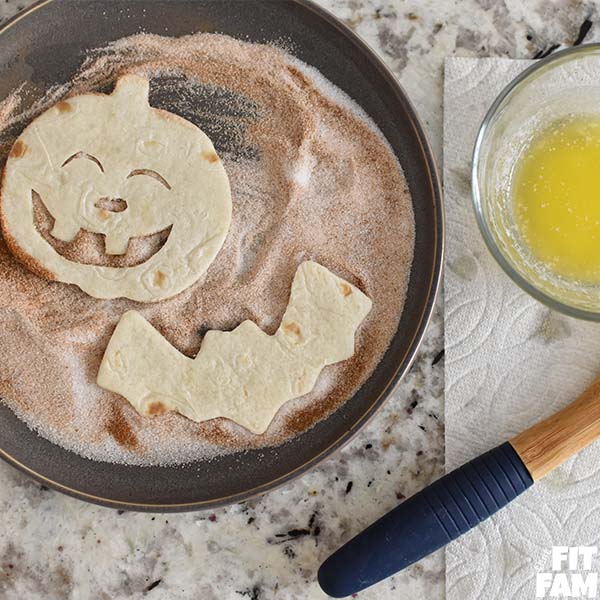 Filling:
I filled mine with a thin layer of Nutella. Caramel would be another great option. You could also add thinly sliced fruit, like strawberries or bananas. I wanted the faces to really show through, so I didn't.
Broil:
The next step is to broil the quesadillas for a couple minutes until they are slightly crispy.
My oven has two broil settings- high and low. I set mine to a low broil and left the Halloween quesadillas in there for about 3 minutes. You'll want to watch them because the exposed chocolate (from the cut out faces) could easily burn and nobody likes burnt chocolate.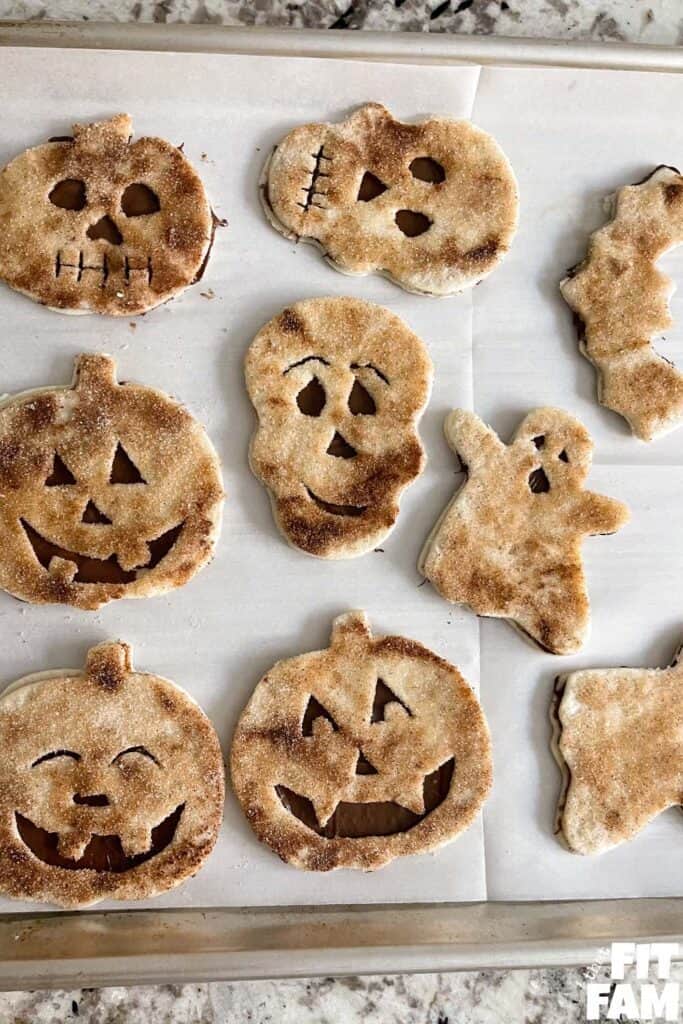 Halloween Dessert Quesadilla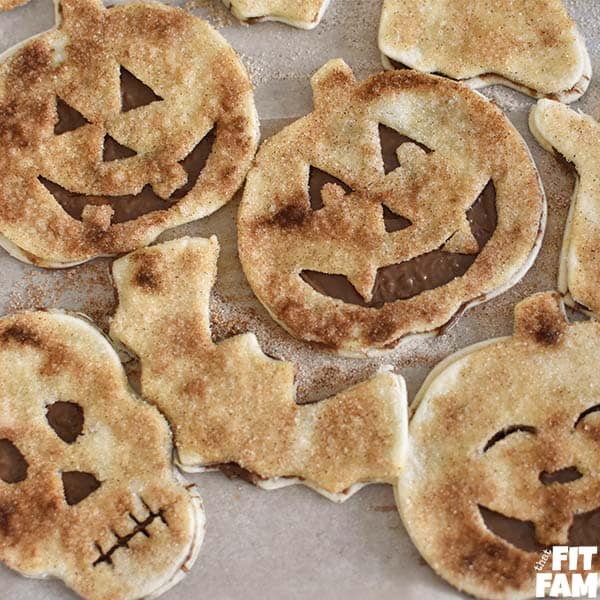 These cinnamon sugar coated quesadillas are the perfect spooky sweet treat for your Halloween party!
Ingredients
Flour tortillas
Nutella
Cinnamon sugar
Melted butter
Instructions
Use Halloween cookie cutters to cut a top & a bottom to each quesadilla.
Use a paring knife to carefully carve faces into only the top tortillas.
Spread a thin layer of nutella on only the bottom tortillas.
Brush melted butter onto the top tortillas and dip in cinnamon sugar.
Place the tortilla tops, cinnamon sugar side up on the nutella covered tortillas.
Broil on low for about 3 minutes being careful not to burn the chocolate. Take out sooner if needed.
Recommended Products
As an Amazon Associate and member of other affiliate programs, I earn from qualifying purchases.