These baked Halloween quesadillas are so easy to make and are an adorably perfect spooky party food.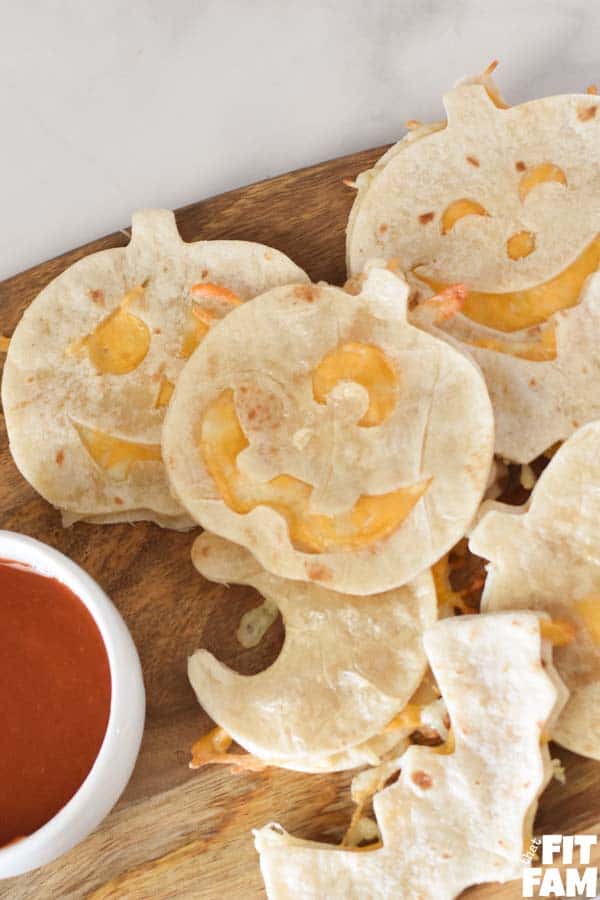 Because they are baked in the oven, you can make a large batch at once. This makes it the ultimate Halloween party appetizer.
I know it's weird, but I actually love serving quesadillas when we have company.
For these baked quesadillas, I use the Mexican blend cheese so that the orange shows through the cut-out pumpkin face. But, normally I prefer a white cheese in my quesadilla like Oaxaca.
That's the great thing about quesadillas, you can totally fine tune them to fit your preferences.
I usually prefer corn tortillas, Oaxaca cheese, some type of meat and a mole sauce to dip the finished product in.
How to make Halloween quesadillas:
This is actually super simple. Just take you flour tortillas, your Halloween cookie cutters & some shredded cheese and you are ready to go!
Basic cheese & tortilla works just fine. BUT here are some other optional mix-ins:
Shredded chicken
Shredded pork
Fajita veggies
Scrambled eggs (dip these ones into our black bean sauce mmmmm)
If I wanted to make ones with a heartier filling, I would make larger quesadillas. These ones were about palm size so I only filled them with cheese and served with chipotle salsa.
Check out these dessert quesadillas for a sweet spin!
How to make the Halloween shapes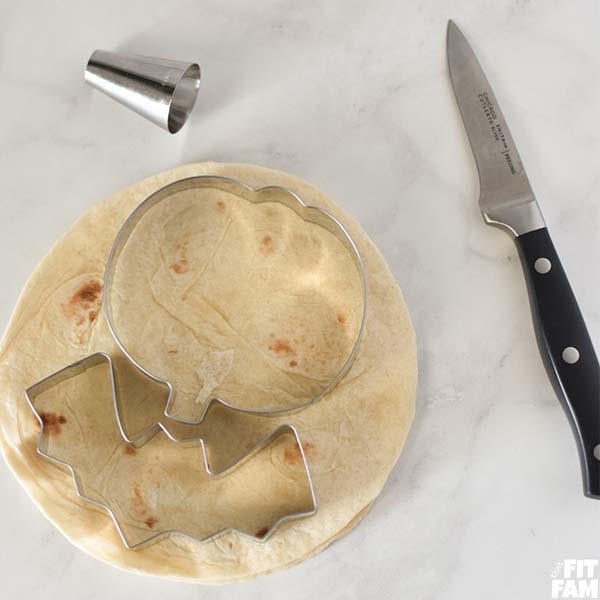 I used a sharp knife, Halloween cookie cutters, and an icing tip to cut into the top tortilla of each quesadilla BEFORE I assembled it. The knife & icing tip are only necessary if you plan on carving faces into your jack-o-lanterns.
Kitchen shears would be another great option.
I used smaller flour tortillas for this, but larger tortillas would work well too.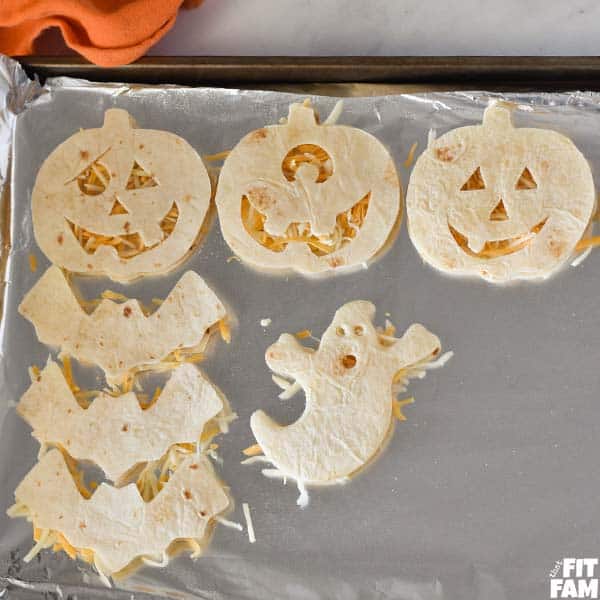 Basically, first I just pressed the shape into the tortillas until they popped out. Then I used the icing tip any time I needed a circular shape. I used the knife for the rest. It was surprisingly easy to cut the faces with a knife.
For face ideas, you can just search "jack o lantern" on Pinterest. We did a pirate, an alien, classic face, and a happy guy with a circle nose (first pic on here).
Why do you bake these quesadillas?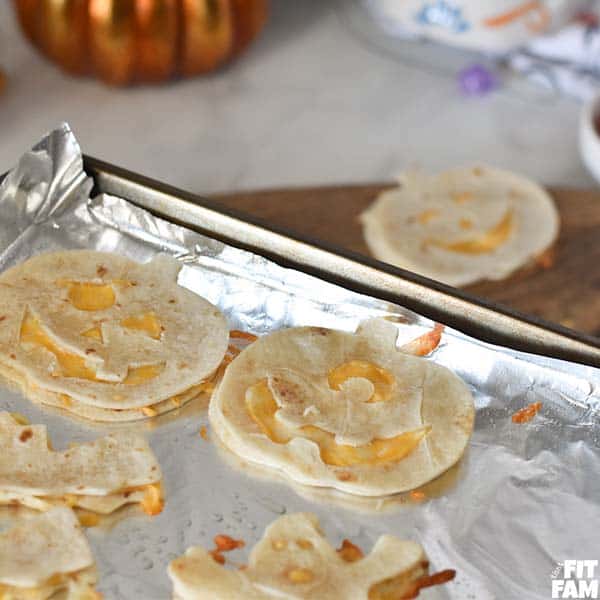 Normally you pan fry quesadillas similar to how you would with grilled cheese. But, the jack-o-lantern cut out faces would make a huge mess if you were to flip them over in the pan.
By baking them at 350 degrees, you can get the same effect without having to flip them. Plus, you can cook multiple at once. To bake them, just place your quesadillas on a greased baking pan & lightly spray the tops with more cooking spray. Cook for about 7 minutes or until desired level of doneness.
Halloween Baked Quesadillas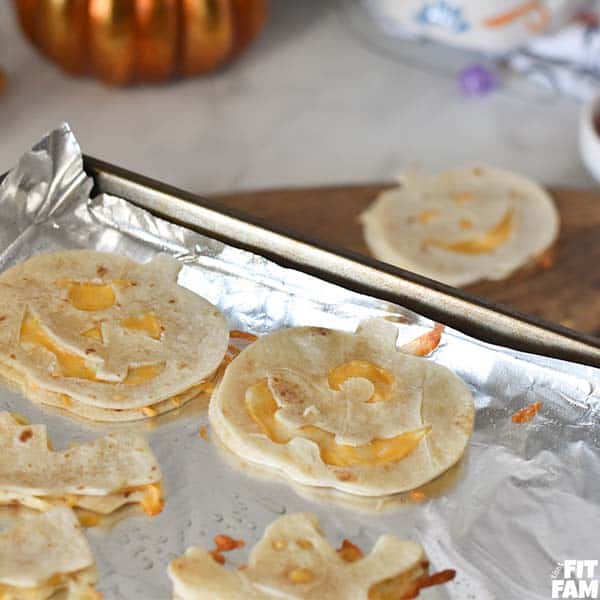 These adorable quesadillas will be a hit at any Halloween party! They are so cute and so easy to make.
Ingredients
Mexican blend cheese
Flour tortillas
Spray cooking oil
Instructions
Use a cookie cutter to cut shapes into flour tortillas. Make two per quesadilla.
On half of the tortillas, use a knife to cut out faces.
Spray a baking sheet with cooking spray.
Add the bottom tortillas and top with cheese. Then add the top tortillas.
Lightly spray with cooking spray.
Bake at 350* for about 7 minutes or until cheese is melty.
Notes
We used cookie cutters, a sharp knife, and a icing tip to cut out the tortillas. The icing tip was for any round shape.
Recommended Products
As an Amazon Associate and member of other affiliate programs, I earn from qualifying purchases.