It's hot. We are in full blown Summer mode now and it is time to find some healthy desserts to cool us down. This healthy peanut butter cookie recipe is a winner when you pair it with some low cal ice cream. It will definitely cool you down. Plus, you can add some colored sprinkles and it's automatically ready for holiday parties.
Red and Blue sprinkles with vanilla ice cream =Fourth of July or Memorial Day fun or even Green & Red for Cinco De Mayo. How perfect, right?
This peanut butter cookie recipe has no added sugar (with the exception of the chocolate chips) and is surprisingly delish. Now, let me make this clear. If you're just looking for a healthy PB cookie recipe and not adding ice cream, you might want to add a smidge of sugar. If not, it won't be taste bad, but you may be disappointed if you're expecting something similar to it's sugar-laden counterparts.
Honestly though, when you add the ice cream to these cookies, it's the perfect blend of vanilla and peanut buttery goodness. You won't miss that sugar AND if your 2 year old secretly sneaks one upon waking up at 7 am, you don't have to worry about any crazy sugar highs.
Our 2 year old did that the other day. I almost made him put it back and then I thought, well, it's has virtually no sugar, it's made with whole grain flour, and it has no butter, just eggs and natural peanut butter. Not a terrible breakfast. Granted it had half a serving of Halo Top ice cream, but whatever–it's Summer!
The secret to success:
Freeze your cookies after they've cooled. Like I said, there's no butter. If you're not careful these cookies can crumble BUT freezing them before adding the ice cream makes crumbling nearly impossible.
Now onto the recipe:
Healthy PB Cookie Ice Cream Sandwich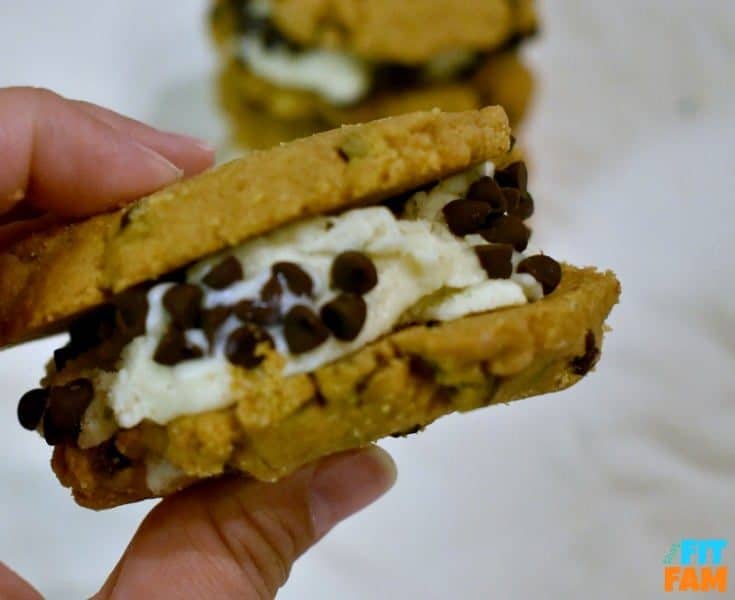 This peanut butter cookie recipe has no added sugar (with the exception of the chocolate chips) and has a layer of low cal Halo Top ice cream sandwiched in between.
Ingredients
1 cup peanut butter
1 cup Kodiak Cake Mix
2 whole eggs
1 pint, Vanilla Halo Top Ice cream
Chocolate chips optional.
Instructions
Mix all ingredients (except ice cream) until well combined.
Roll into balls and flatten.
Place on cookie sheet.
Bake at 350 for 8-10 minutes.
Let cool and then place cookies in freezer for 2 hours.
Remove from freezer, add desired amount of Halo Top ice cream in between two cookies and freeze until serving.