Scott introduced me to Cajun seasoning back in 2013 and things have never been the same. I now crave it! If you've been to Five Guys then you've probably had their Cajun fries before! We have been wanting those every week lately! Unfortunately, it's not the best for our diets. So, I created a healthier substitute: Cajun Zucchini Fries.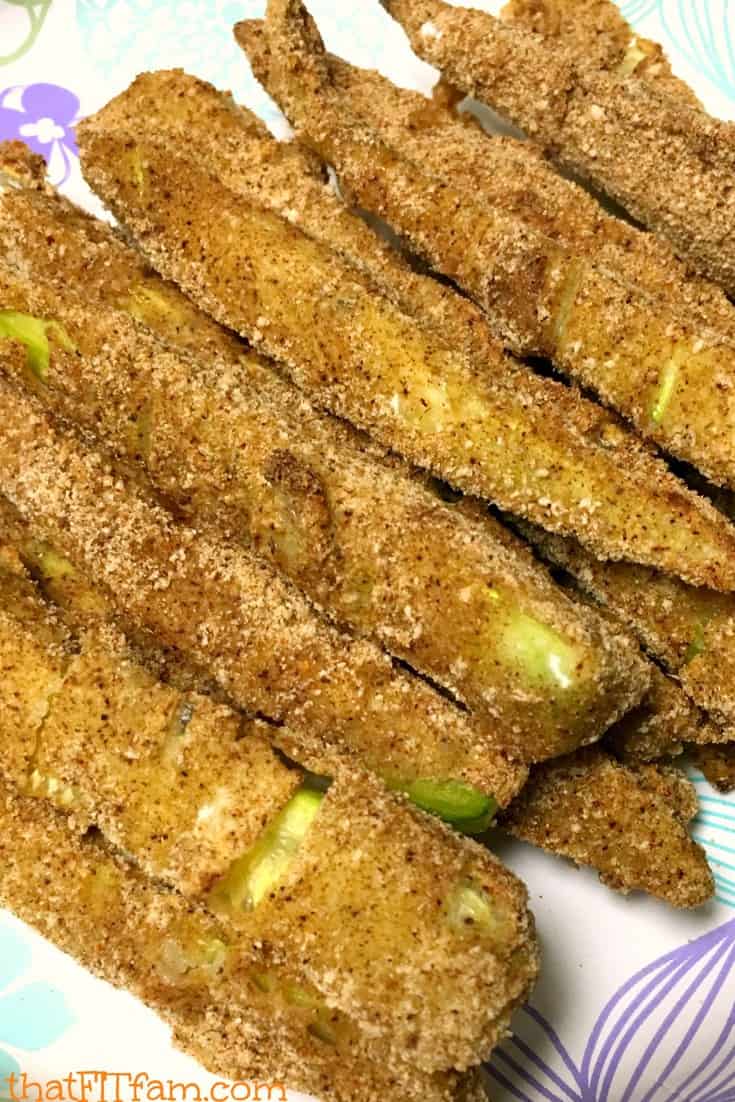 Before you even say anything, let me just interject: these do not taste like normal fries! Why? Because they're made with zucchini and not potatoes. But you know what? They're still delicious and, surprisingly, crispy. And they definitely hit the spot when we're craving the real thing!
Cajun Zucchini Fries were even a hit with my 2 year old! That is, until he realized they were veggies and then he picked off the breading, dipped it in ketchup and ate it, leaving the zucchini behind. Kids, right?!
Tips for success:
Peel the zucchini. The seasoning adheres much better to the zucchini if you've peeled the skin.
Cut fries as uniform as possible. The closer they are to the same size, the more likely they are to be done at the same rate.
Place the zucchini on a cooling rack on a baking sheet. This allows air to circulate around the fries so they can get crispy.
Bake at 400* for 20 minutes and then turn on the broiler for about 5 minutes to get them crispy. Watch closely to make sure they don't burn!
Serve warm. They're okay cold, but they do lose a little of the crisp. Best warm!
Cajun Zucchini Fries go great alongside: burgers, baked chicken tenders, and baked chicken wings! They even make a great appetizer for a party.
This recipe is definitely customizable. If you would like them a little spicier, add some more seasoning, or take some away if you prefer a mild heat. Just do a quick taste test before you start coating your fries. I always taste test the breading! If you forget, you can always sprinkle a dash more Cajun on top at the end.
Cajun Zucchini Fries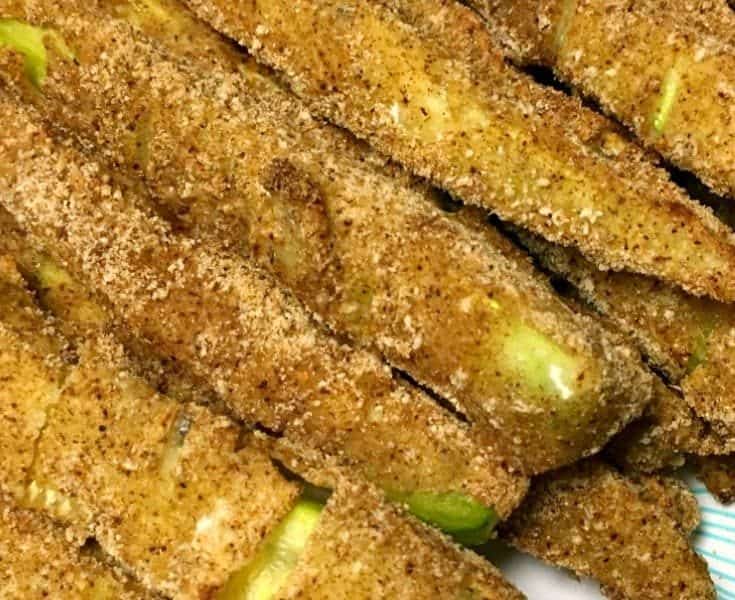 Ingredients
3 medium zucchini, sliced into fries
3/4 cup flour
2 eggs
1 Tbs water
salt and pepper to taste
1 cup bread crumbs, unseasoned
1 1/2 Tbs Cajun
1/2 Tbs Creole
1/2 Tbs Chili Powder
Instructions
Place cut fries into a ziplock bag with flour, salt and pepper.
Shake until zucchini is evenly coated.
Mix eggs with 1 tbs water, set aside.
On a plate mix bread crumbs, Cajun, Creole, and Chili Powder.
Dip coated fries into egg mixture then bread crumb mixture and place on a cooling rack that is on a baking sheet.
Bake 20 minutes at 400*
Broil 5 minutes, or until crispy.
Notes
Be sure to watch fries while broiling to ensure they don't burn!