We love to eat healthy, but we are definitely not the typical "I can eat a salad every day" type of family. We LOVE variety in our meals! We also love to find healthier ways to indulge in our favorites. Today, one of those favorites happens to be these Crispy Baked Buffalo Wings.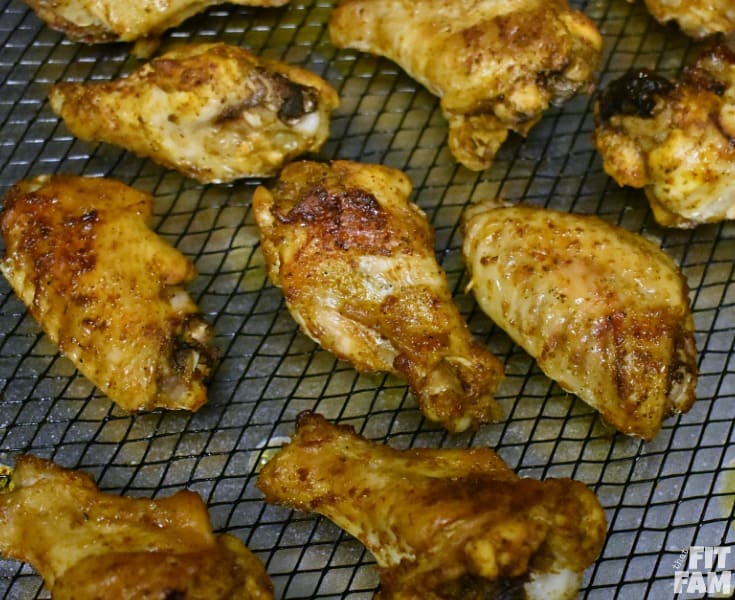 These wings are beyond easy! It's actually funny, but for some reason I always expected healthier to be harder. But honestly, it's almost always easier. Take mashed cauliflower for example, I don't have to cut, peel or boil potatoes. I just microwave in a steam fresh bag and then throw them in the Food Processor with some seasoning! That's two steps and done!
Recommended Read: Best Mashed Cauliflower
These crispy baked buffalo wings are just as easy! All you do is add some seasoning, throw them in the oven, then coat in some sauce! And the buffalo sauce has ZERO calories!! How awesome! And if you turn the broiler on, you can get a similar crispiness. But, in all honesty, I always just keep my oven at 400*, whenever I turn the broiler on, without fail, I forget about it and the food burns. So for me, it's not worth the risk lol plus it gets crispy enough just cooking at 400*
The secret to getting them extra crispy is our pan. It's a pizza pan by Wilton that we picked up at Walmart. Unfortunately I can't find the exact one on Amazon, but it's basically looks like a pizza shaped cooling rack. If you can't find it in-store, this Aluminum Pizza Screen is exactly the same thing but by a different brand. (Note: I do place a normal pizza pan underneath to catch any drippings)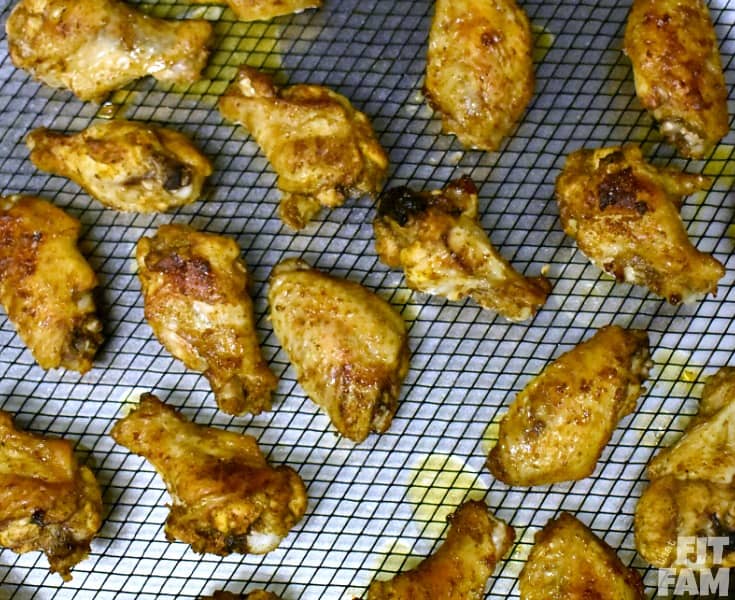 Crispy Baked Buffalo Wings Tips
This recipe makes a ton! We definitely had left overs! Because of this, I would definitely say this makes a great party food!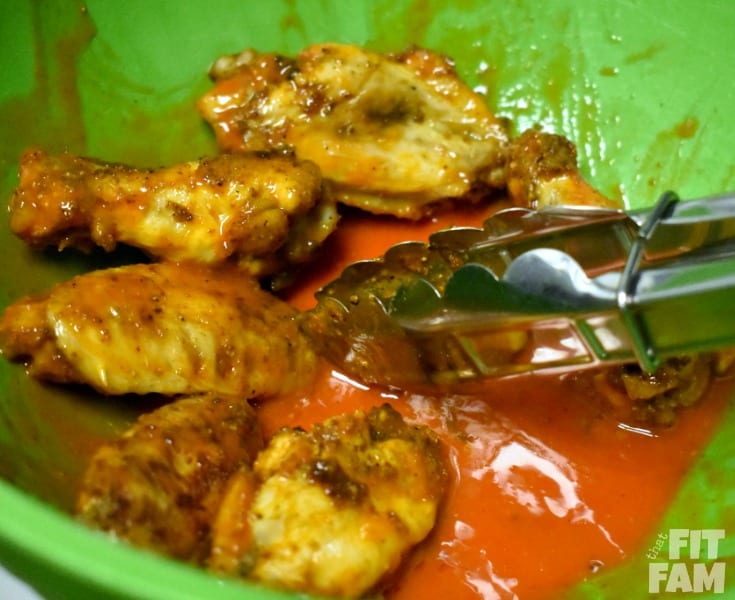 We use Frank's Red Hot Wings Sauce for this, but you could definitely change it up. Buffalo Wild Wings actually sells their wing sauces just at the front desk. Next time (especially if I'm making this for maybe a night we have people over watching Football) I would pick up a couple other sauces and mix and match. I might get the Caribbean Jerk (since my husband loves that) and their classic Medium Buffalo Sauce which I love and maybe one other. This gives us some good variety in an appetizer and I wouldn't need to change anything until the end when I throw the wings in a bowl of the sauce to coat them. Super easy, but definitely a crowd pleaser. Also, these go great with our Cajun Zucchini Fries!
Baked Buffalo Wings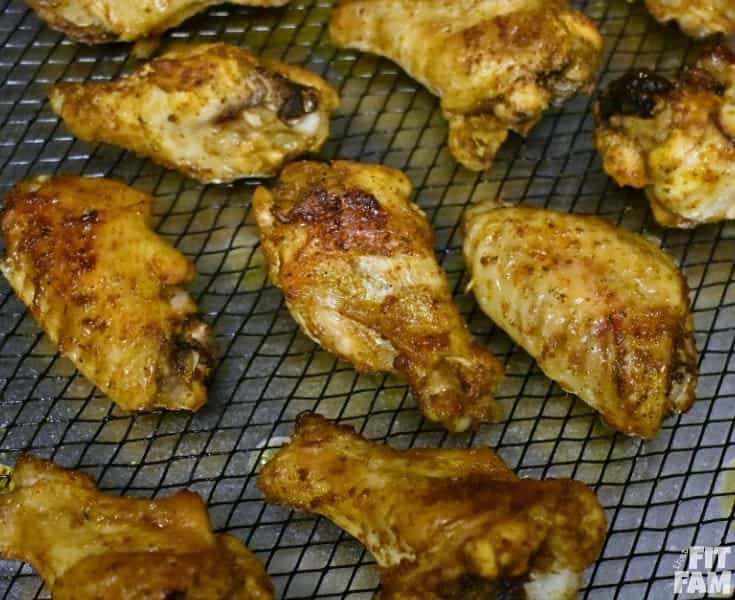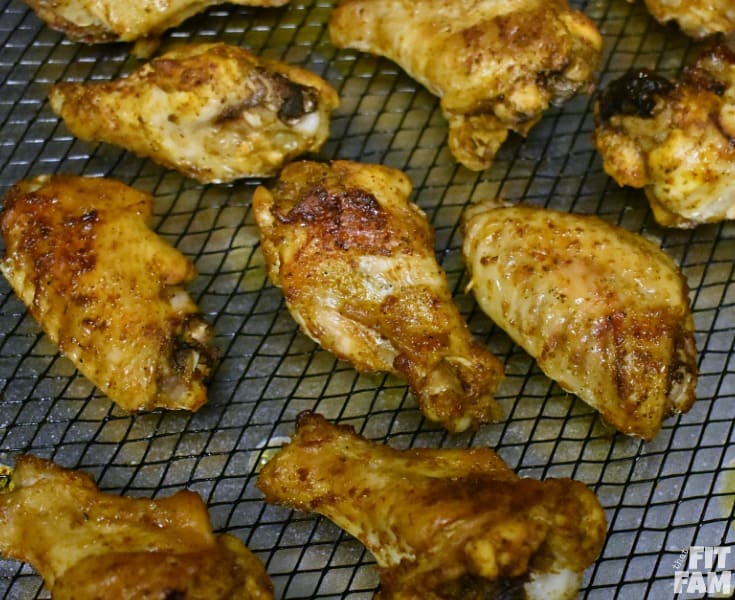 Ingredients
30 drumettes, skin on
1/4 cup distilled white vinegar
1 tbs paprika
1 tbs chili powder
1 tbs garlic powder
salt & pepper to taste
Frank's Red Hot Wings sauce
Instructions
Mix vinegar and spices with a few squirts of buffalo sauce to create a marinade.
Arrange wings in two 9x13 inch pans and spread marinade over wings. Let marinate for 30 minutes (covered) in fridge.
Heat oven to 400* and bake wings for roughly 35-40 minutes (or until cooked through & skin is crispy) flipping wings halfway.
Toss in as much Buffalo sauce as desired (we used about 3/4 cup total)
Serve hot
Notes
We prefer drumettes, you can also use wingettes (flats) or a mix of both. If using full sized wings, use 15.