Chickpea blondies are my favorite healthy snack to eat pre-workout. They are gluten free, refined sugar free, sooo moist and delicious.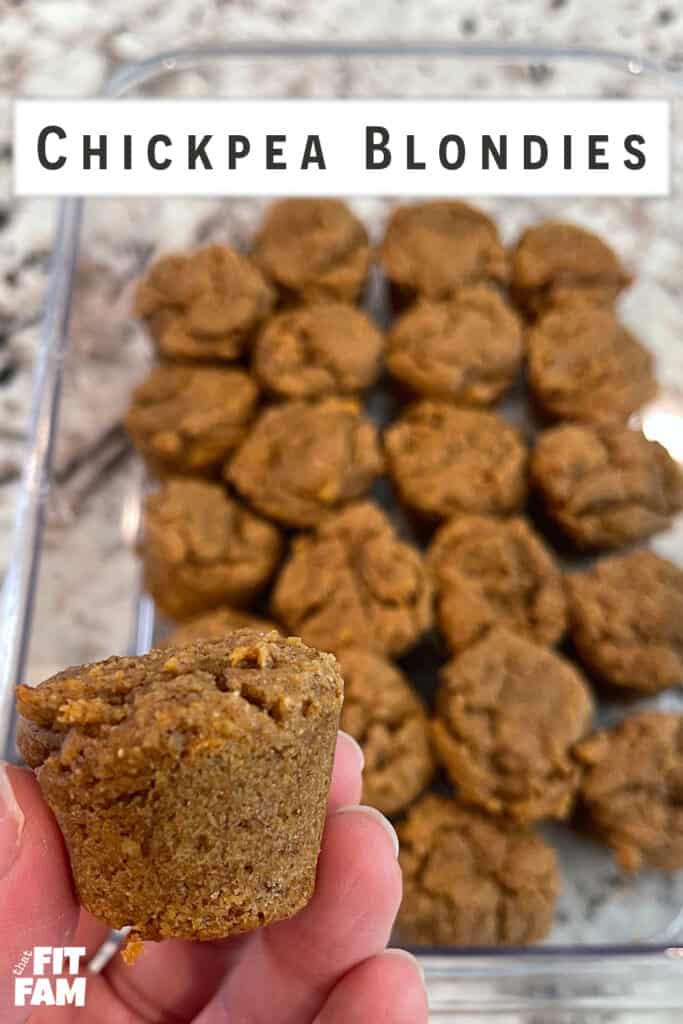 I've noticed some recipes include chocolate chips, I don't feel that they need them so I never add them. But, feel free to tweak this recipe as you need.
The best part about these is that they are kid friendly. Anytime I can get more nutrient dense foods in front my kids, I'm all for it.
How to peel chickpeas easily:
When making these, I ALWAYS rinse my chickpeas really well so that the skins come off.
The easiest and fastest way to do this is to put them in a large pot filled with water and shake them around with your fingers until the skins come off. The skins will float to the top, with the chickpeas staying at the bottom. Then if you tilt the pot slightly, the skins will just float out.
Removing the skins/shells from your chickpeas will make the batter creamier and will ensure your blondies taste like almond buttery goodness and not the secret ingredient.
After they're rinsed, you blend up the chickpeas in a food processor or blender. I like to blend mine with all the ingredients EXCEPT for the almond butter. I do not recommend blending all the ingredients together because the batter becomes very thick and is tough on a blender/food processor.
Once I've got the chickpeas (and maple) at a smooth consistency, I mix it in a bowl with the almond butter.
Storage:
I store mine in an airtight container in the fridge. I actually prefer mine cold and love to have 2-3 of these as a quick snack.
Chickpea blondie mini muffins
Ingredients
1 can chickpeas, drained & rinsed
1/2 c almond butter
1/4 c pure maple syrup
2 tsp vanilla
1/2 tsp salt
1/4 tsp baking powder
1/4 tsp baking soda
Instructions
Combine chickpeas, maple syrup, vanilla, salt, baking powder & baking soda in a food processor.
Puree until smooth.
In another bowl, mix the chickpea batter with the almond butter until well combined.
Spoon into mini muffin pan and bake at 350* until done. Roughly 10-15 minutes.
Notes
Removing chickpea skins during rinsing process will result in a much smoother & creamier batter.