You guys, Costco stopped carrying my favorite Brownie Batter Hummus! It's still at Whole Foods & Target, just not at as good of a price. I've had to come up with a replacement chocolate hummus to satisfy my cravings.
This hummus tastes like chocolate. It is delicious and beyond easy to make. Plus, my kids LOVE it. It makes the perfect side dish/fruit dip for parties. But, I am going to be honest with you– it is not like Delighted By's Brownie Batter hummus. It doesn't taste like brownie batter. At least, not to me. I don't know how they did it, but that company just really nailed that flavor! That being said, this chocolate hummus is still pretty good.
I think because the texture is light and fluffy, it tends to remind me of chocolate mousse and that makes me love it even more!
Chocolate Hummus Notes:
One optional step is to peel your chickpeas after you rinse them really well. I don't think it's necessary, but I typically do it because I have the time. If not, I'm sure you could just pureed them extra well and it would be fine.
For this recipe I used a mix of Truvia and honey to sweeten. I did this because I don't have regular sugar in my cabinet. Truvia contains stevia in it, which is not my favorite sweetener taste, so I tried to offset that with honey. You could definitely sub in your preferred sweetener if you would like.
Also, according to Delighted By's ingredient list they use coconut milk. I never use coconut milk and so I used almond milk instead. Maybe coconut milk is the secret to making it taste like brownie batter and I'm just missing out? I'm not sure…
Chocolate Hummus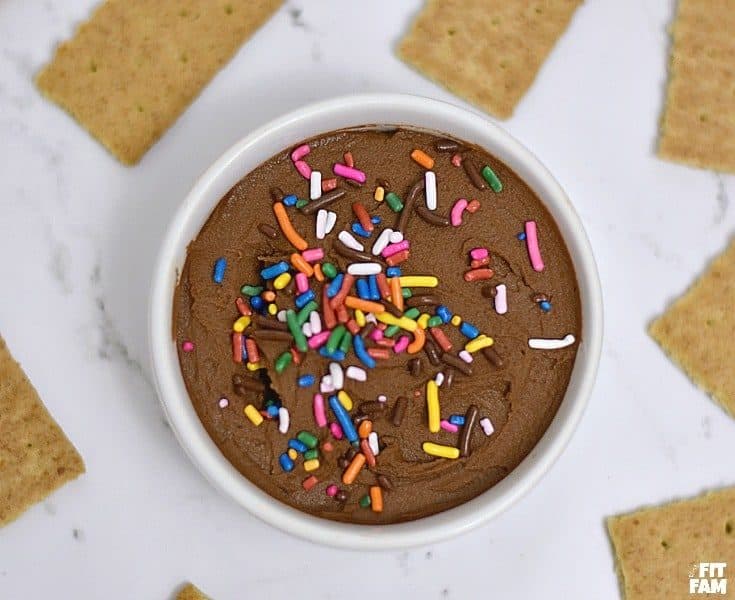 Super easy chocolate hummus recipe that goes great with fruit like apples & strawberries. It is the perfect healthy dip to serve at a party.
Ingredients
1 can of chickpeas, rinsed well
5 tbs cocoa powder
3 tbs Truvia
1 tbs honey
1/4 cup unsweetened vanilla almond milk
1 1/2 tbs coconut oil, melted
Instructions
Puree all ingredients in a food processor until well combined.
Add more liquid if needed.
Serve cold with fruit or graham crackers!