We currently are a vegan protein powder family! We are not vegan, but we love the way vegan protein powder makes us feel. We've been using it since the beginning of the 2018.
This review is of course based on my own opinion. I will be comparing 4 different brands of vegan protein powder and listing the pros & cons of each.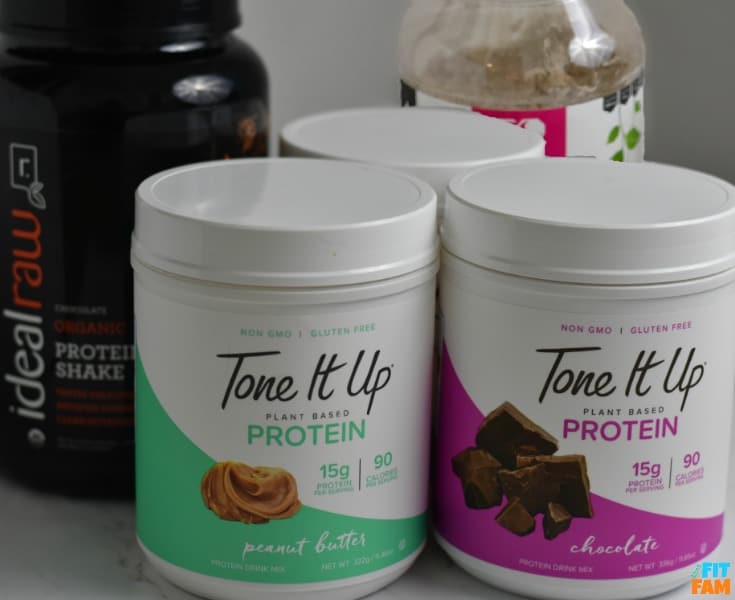 These three brands are ones I have personally bought as I searched for my perfect protein. The three are Ideal Raw, Women's Best, and Tone It Up!
Ideal Raw
Pros:
Chocolate flavor is super chocolatey.
All clean ingredients.
Usually on sale.
Ships from the U.S.
Bakes better than Women's Best (but not as well as Tone It Up)
Update: our fave protein to use in our healthy dessert–chocolate chia seed pudding
Cons:
Too sweet for me for a daily protein shake.
Sweetened with stevia (not a fan of the taste of stevia).
Super thin when blended with a frozen banana (other protein powders give a milkshake consistency, this is always watery)
The vanilla flavor is gross. I tried one serving and had to return it.
Higher carbs and higher fats than the other two options I'm comparing.
Women's Best
Pros:
Cons:
Ships from Germany, so it takes a while to get here (unless you order 2, it's shipped by weight & heavier items ship faster).
Contains sucralose.
A little gritty when mixed with only water, but not noticeable when blended with other ingredients.
Dries food out when used in baking.
Tone It Up:
Pros:
Smooth taste.
Clean ingredients.
No sucralose or stevia!
Pretty good macros.
Bakes the best! Doesn't dry out baked goods like most protein powders do.
Hands down the BEST tasting vanilla vegan protein powder I've had. Totally surprised by this. Normally chocolate is my go-to flavor, but vanilla is quickly becoming my favorite. Their chocolate flavor is not great.
Convenient (sold at Target, Whole Foods, & CVS, organic line available through Amazon!)
Cons:
Cost per serving is the most expensive of the 3, but there is no shipping cost since it is sold at Target, so it's really not a huge price difference.
Chocolate flavor isn't as strong as others, not a fan.
New & improved flavor supposedly isn't good. I haven't tried the new version yet.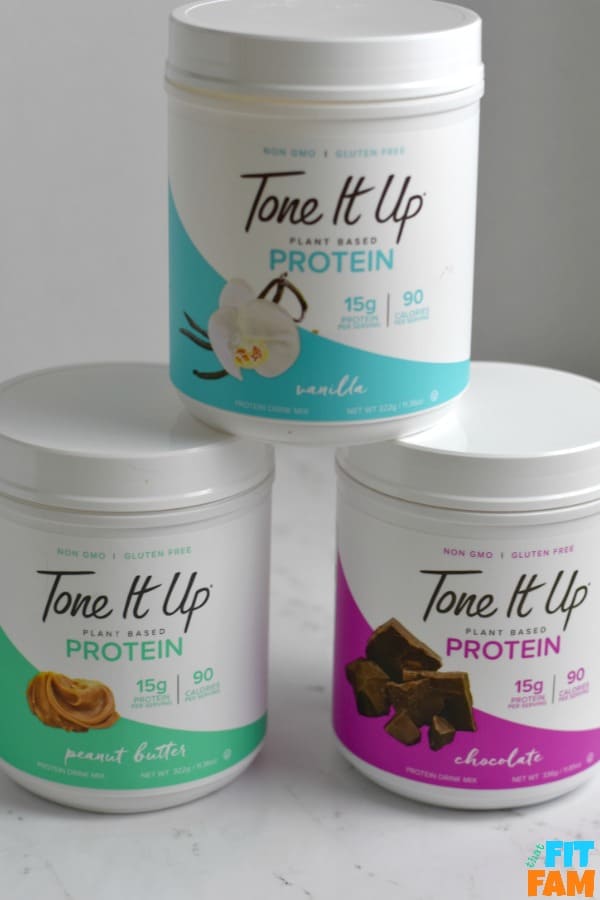 Pescience
Pros:
Both Chocolate and Gourmet Vanilla taste good
Has a variety of vegan flavors: Wild Berry, Peanut Butter Delight, Cinnamon Delight, Chocolate, and Gourmet Vanilla
No sucralose
Discount & free shipping available through autodelivery with The Vitamin Shoppe
Cons:
While this brand is available at health food stores, I've had to buy the vegan line online.
A little gritty
Conclusion
So. I've personally decided against IdealRaw. It's not my favorite. It's too sweet, the macros aren't great, and I couldn't even finish the Vanilla tub. I tried it once and then immediately returned it. I still have half of my chocolate and I dread using it. I liked it at first, but it's just too sweet for me. That stevia is super prominent.
Update: still too sweet for normal use, but we LOVE using it for healthy desserts like our chocolate chia seed pudding. This is really the only thing we use their chocolate protein powder for. Use this referral link for 10% off your order.
I love my Women's Best, but even when you factor in a discount code, you have to add in the shipping cost so it's not really saving you much money unless you do a big order since the shipping cost doesn't change. Plus, it has sucralose and stevia. I'm doing my best to avoid those because they make me bloated.
My favorite is Pescience. Pescience was the last vegan protein I tried. I love their pre-workout and now, I love their protein.
I love this mixed in proats, chocolate banana almond butter protein shakes, and acai protein smoothies (recipe coming soon).
Other vegan proteins:
I know there are other vegan protein powders out there. For example, a lot of people love Orgain, especially since it's at Costco, but it has erythritol in it, so I'm just not interested..
I make my decisions based off of nutrition facts (since we track macros) and ingredient lists. Pescience has good macros, a large variety of vegan flavors and tastes great in my opinion.