These chicken stuffed bell peppers are so cute and a great dish to serve during the month of October.
Not only is this a healthy meal option, but it is so festive it's sure to get the kids excited. I know for my kids, if the food has a festive shape or a holiday spin on it, they will devour it!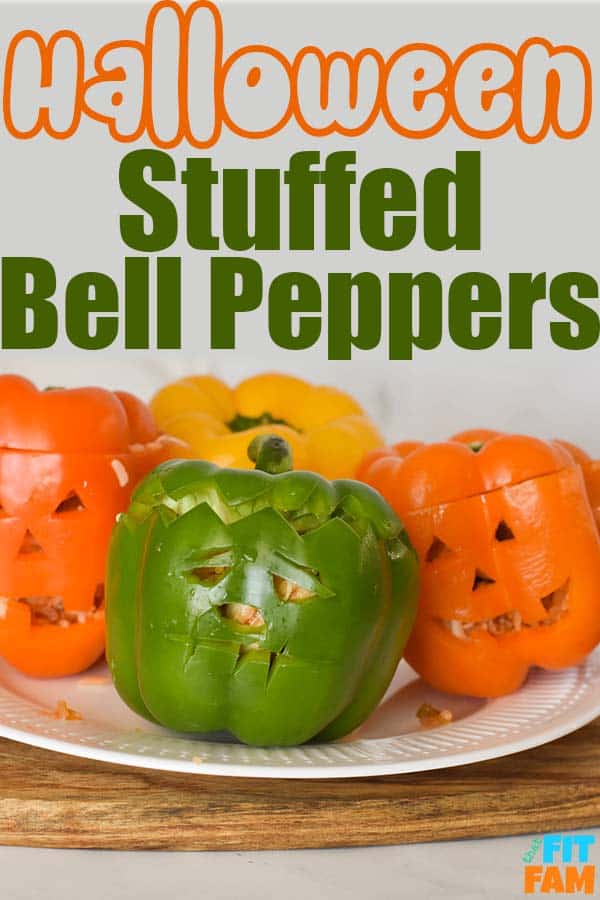 Salsa Chicken filling:
The chicken filling is the EASIEST part of this recipe. It is so simple and so delish.
I'll explain this in the recipe box below, but all you do is stick some chicken in the crock pot with your fave salsa.
I used Pace salsa and bone-in chicken breasts. I feel like bone-in adds more flavor than boneless, but you can use whichever you prefer.
This took my crock pot about 4 hours on low to cook BUT just cook until the chicken shreds easily with a fork. I have a really old crock pot that I think cooks slightly faster than others on low. Whenever I've done a crock pot recipe in the past I've noticed comments that they needed to cook their food longer. So I guess the cooking time will vary…
Once this is done, I remove the bones and shred the chicken. Then I return to the pot on the "keep warm" setting and add in pre-made Mexican rice.
That chicken & rice mixture is the filling for these bell peppers!
How to carve the bell peppers: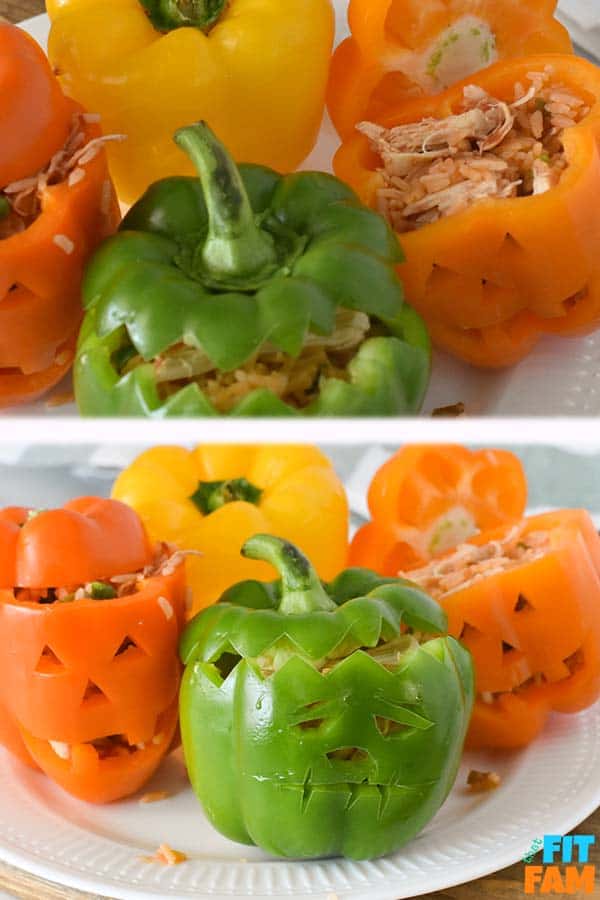 Slow & steady is key here! I sketched what I wanted my peppers to look like beforehand for reference, but I learned that any round shape would be problematic.
I did an oval for Frankenstein's nose and that was tough! I originally wanted to do a pirate pumpkin like I did on these baked Halloween quesadillas, but after the hard time I had on Frankenstein, I opted for a more traditional jack-o-lantern face instead.
I did a clean cut on the tops of the pumpkins, but a jagged cut on the Frankenstein to look like his hair.
Use a small knife and start higher up on the bell pepper to make sure you don't run out of room.
I wonder if cooking these bell peppers first would make them easier to carve since they would be softer? I would think so… I will have to try that next time.
I didn't cook these peppers at all. I left them raw. It's fine to eat bell peppers raw, so I just left them like that to simplify the recipe.
Yield: 4
Chicken stuffed bell peppers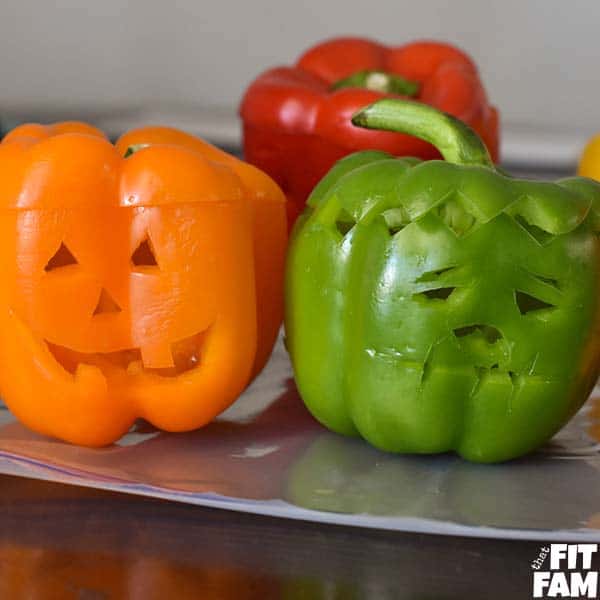 Ingredients
2 chicken breasts
1 jar Pace salsa (medium)
1 pack store bought Mexican rice
4 bell peppers, green & orange
Instructions
Place chicken breasts and salsa in crock pot on low heat.
Cook until easily shreds with a fork (4-5 hours)
Shred chicken, return to crock pot on "keep warm" setting and mix in Mexican rice.
Carve Frankenstein & jack-o-lantern faces into bell peppers. Stuff with chicken & rice mixture.