Personal trainers, nutritionists, and long time preppers give us their best tips on how to meal prep successfully!
Pretty much everyone in the fitness industry will tell you that meal prep is key. Why? Because it saves you time, money, & gives you access to healthy meals quickly.
I specifically remember times in the past where I'd run to buy all the ingredients to make a healthy dinner for my family but by the time I was done at the store, I was too hungry to cook a meal so I'd just drive through some fast food. We've all been there right?
All the other benefits are great, but the convenience factor is what really sells me. Think about it. When are you most likely to fall off the weight loss wagon? When you're unprepared & hungry.
The best way to combat this is to plan ahead & meal prep.
If you need help learning how to meal prep for weight loss, to stay healthy, to keep on budget, or even just to eliminate the stress of dinner time, we've got the best tips for you!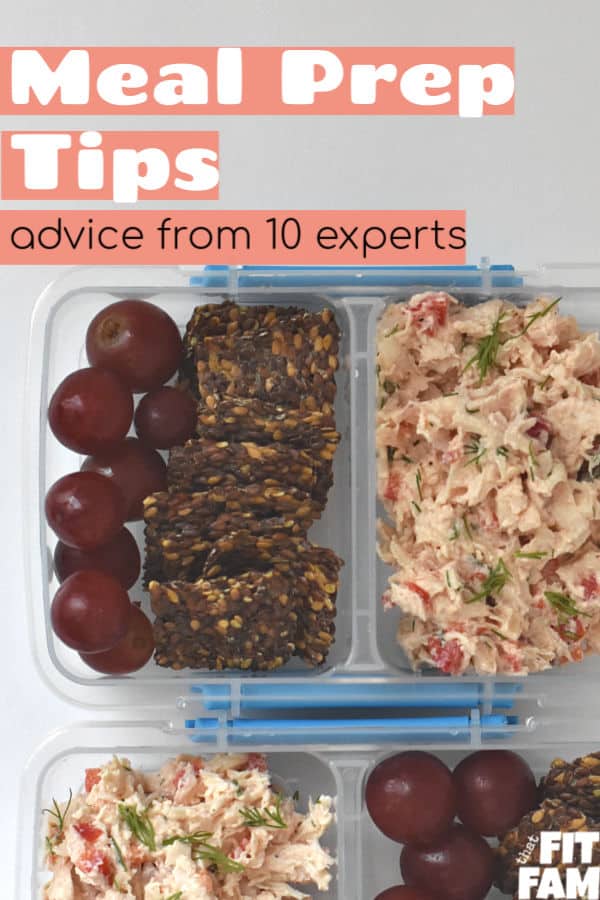 Meal prep tips from our expert panel:
Becky from Glue & Glitter says:

My only hesitation with meal prep was always that I wouldn't want to eat the same lunch all week long. Now, I keep things interesting with sauces! I love to create a somewhat neutral dish, like rice with veggies and tofu, then spice it up with different sauces on different days. You can use homemade sauces and salad dressings or store-bought – whatever works best for you!
Carrie from Clean Eating Kitchen says:
Cook what you love. If you know you're going to make a tried and true recipe, you'll be more likely to follow through with meal prep.
Sarah from The Fit Cookie says:
One of my favorite ways to meal prep is to create a 2-week menu every pay-period, and plan and cook enough food each dinner to create planned leftovers for the following day. I don't do a lot of weekend meal prep, but this method keeps us eating healthy during the week and it changes each day so we're not eating the same thing every day. We have enough for dinner, then lunches the next day. I plan our menu to rotate different proteins so we're eating a variety of foods.
Adrienne from Whole New Mom says:
I buy pretty much EVERYTHING in bulk. But focusing of course on things that already store well or that I can store easily myself. That way, I have what I need at the ready almost all the time–no need to run to the store.

Keep a list of things you need to purchase in one location (a list on the fridge is great–you can take a photo of it with your cell phone when you head out the door), or just keep the list on your phone, but a list on the fridge is something the whole family can add to.

I like using dried organic minced onion as a chopped onion substitute–works great for picky eaters and saves all that chopping time! Minced dried garlic is great for saving time too!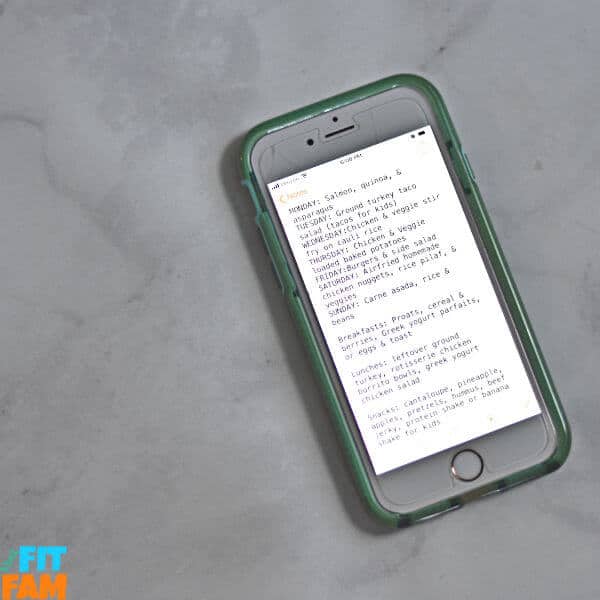 Carlee from Cooking with Carlee says:
I have an app on my phone for my grocery list. It keeps me organized and I don't have to worry about forgetting ingredients… or worse forgetting the list at home. My husband can also add items from his phone and they will show up on my list. I also write up a weekly menu so I'm ready to face dinner each night.
Jamie from Love Bakes Good Cakes says:
My favorite tip is to have a designated place to keep a list of things you need to pick up at the store. A whiteboard in the kitchen or a small pad of paper on the fridge makes it super easy. As you use things and realize you need more, quickly jot it down so you don't forget to add it to the grocery list!
Bintu from Recipes from a Pantry says:
Batch prepare your meals for freezing. Get all your ingredients together and spend a couple hours creating a big batch of various meals ready for freezing. Save them in the portion sizes that you will need, label them and freeze. You can easily prepare a months worth of meals in a couple hours and prepping and cleaning up is more efficient that way.
Prajakta from Profusion Curry says:
I extensively use InstantPot to create multiple dishes at once. The key is to make dishes that require same amount of cooking time. So beans and meats with brown rice, potatoes and white rice or veggies with quinoa cooks all once. Then you can create several combinations of bowls from it. And most of the cooking is done without much monitoring.
Gwendolyn from Finding Sanity in our Crazy Life says:
Create a menu, make your grocery list of ingredients you need that you don't have, set aside time on Saturday or Sunday to do the prep, wash veggies and fruits before, use divided containers for lunches or quick micro meals.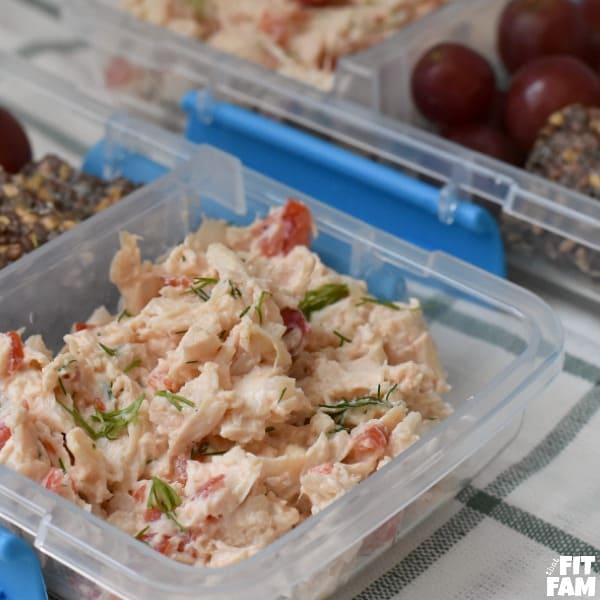 Some of our tips:
Check what's on sale. A lot of our meals for the week revolve around which foods are the most affordable. Pick in season fruits & veggies, as well whichever meat is on sale.
Buy Costco rotisserie chicken! It's $5 for a giant rotisserie. That's cheaper than making your own & works for any meal requiring shredded chicken. We love this for our Greek Yogurt Chicken Salad.

Don't experiment.

It's always great to try new recipes, but if you're going to make something in bulk, be sure you know you like it first.

You don't need to prep full meals.

This is a huge misconception. Most of the time I just prep sides & snacks. I love to have black beans ready for burrito bowls, salads, and sides. I also cut up cantaloupe & pineapple, & pre wash all berries.

Pick a good meal prep container.

I love having meal prep containers that come in various sizes like these.
We hope these tips will help you tackle the meal prep game this week! Let us know what you're meal prepping in the comments!