This is just a super basic, healthy chicken salad recipe. There's nothing super fancy about it except for maybe the dill. Is fresh dill fancy? Anyway, the recipe itself is easy, delish, and takes about a minute or two to make.
The beauty in this recipe is definitely the fact that it just comes together so quickly and is perfect for meal prep. Plus, you can totally eat it guilt-free since the mayo is completely replaced by Greek yogurt.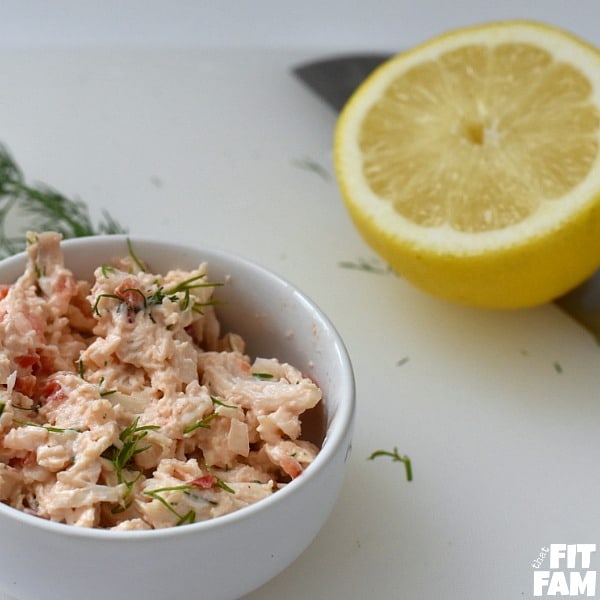 I know a lot of people like to add different fruits to their chicken salad (like grapes, apples, cranberries, etc) so feel free to add to this basic healthy Greek yogurt chicken salad recipe and make it your own. Scott & I just don't really like sweet meat, so mixing fruit & chicken isn't something we ever do which is why those ingredients are excluded.
If you want to add this to your weekly meal prep, we love these glass meal prep containers. If you like to mix things up, another great option for meal prep Sundays is our healthy egg salad recipe. This recipe actually uses whipped cottage cheese to replace the mayo (not Greek yogurt) which is a better swap in my opinion. The reason I don't use cottage cheese in the chicken salad recipe is because I love the "fresh" taste the Greek yogurt gives and I've still got healthy probiotics on my brain after our brief anti-candida stint a couple months ago.
Seriously though, if you don't meal prep, you need to! It makes our lives so much easier to have ready-made healthy snacks on hand. If we get hungry we have no excuse. No McDonalds for us! lol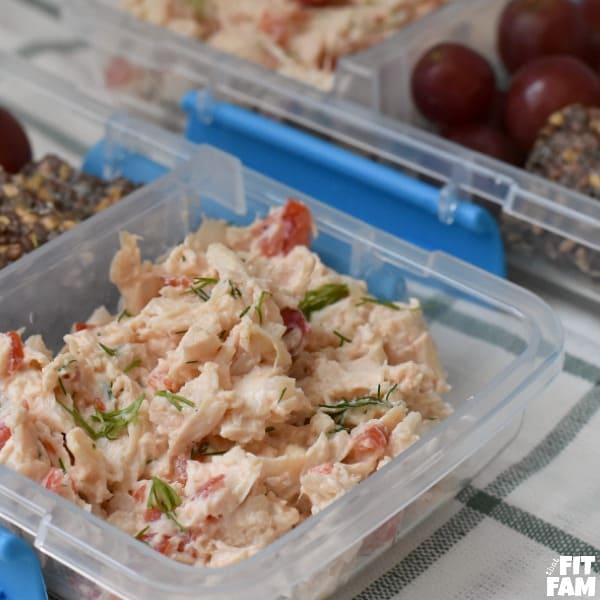 Meal prep can seem super overwhelming, but once you get into a rhythm it's really very simple. I personally don't do all my meal prep on the same day. I spread it out throughout the week. That way I can rotate out my meals and don't have a bunch of food about to go bad toward the end of the week.
So for example, if tonight's dinner is chicken fajitas, I'll double the recipe for tomorrow's lunch. And then if I'm making this meal for today's lunch, I'll double up and make it for lunch the day after next too. So now I have two extra days of lunch prepped with hardly any extra effort. Tomorrow I'm out of my pre-workout mini muffins, so tomorrow I'll make another batch that usually lasts me about a week. I just prep as I go. Prepping everything in one day just doesn't work for me. I love to cook, but spending hours on my feet in the kitchen is not my ideal way to spend a Sunday. Anyway, those are just my two cents on the topic…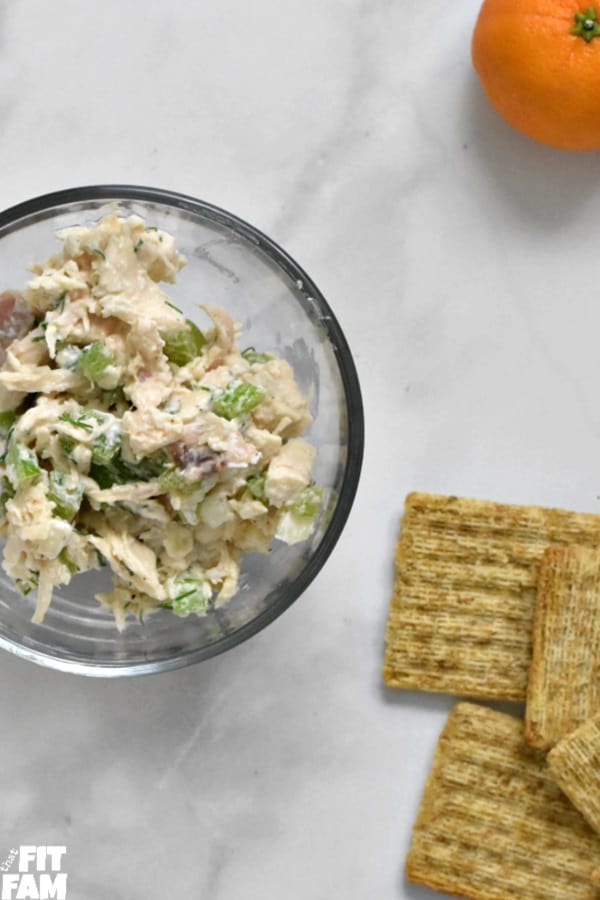 I really love eating this healthy chicken salad with Savory Flackers. They are so good and naturally gluten free. The savory flavor is "garlic, onion, basil, & red chili pepper." I took a chance on Flackers and so far, I love them! And then, if I choose to eat this on toast instead, I will usually add a little mustard (personal preference). Enjoy!
Yield: 3 servings
Greek Yogurt Chicken Salad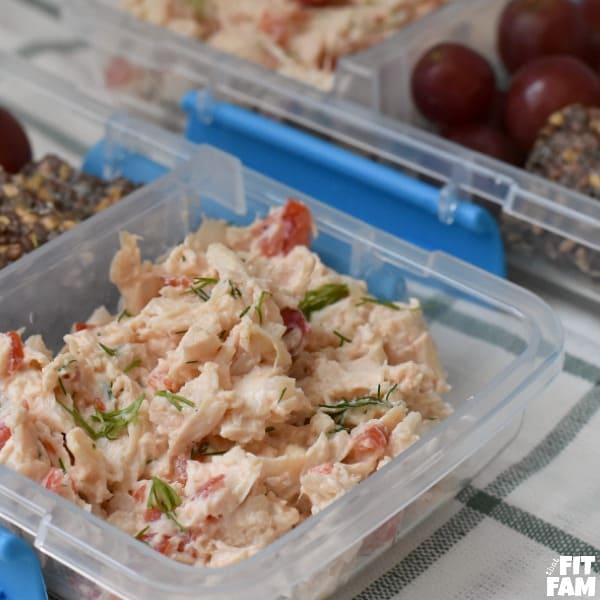 Easy healthy Greek yogurt chicken salad that comes together in minutes. This is the perfect addition to your Sunday Meal Prep routine. Enjoy!
Ingredients
8 oz shredded chicken
1/4 c plain Greek Yogurt, nonfat
1/2 lemon, juiced
3Tbs finely chopped onions
1/4 of a large bell pepper, finely chopped
3 sprigs fresh dill, chopped
1/8 tsp creole seasoning
Salt & pepper to taste
Instructions
Mix all ingredients in a bowl and serve with crackers or bread.
Nutrition Information:
Yield:
3
Serving Size:
1/3
Amount Per Serving:
Calories:

122
Total Fat:

2.2g
Saturated Fat:

1g
Trans Fat:

0g
Sodium:

206mg
Carbohydrates:

3g
Fiber:

0g
Sugar:

2g
Protein:

21.6g