These mummy enchiladas are easy, adorable and a perfect Halloween food for the whole family to enjoy!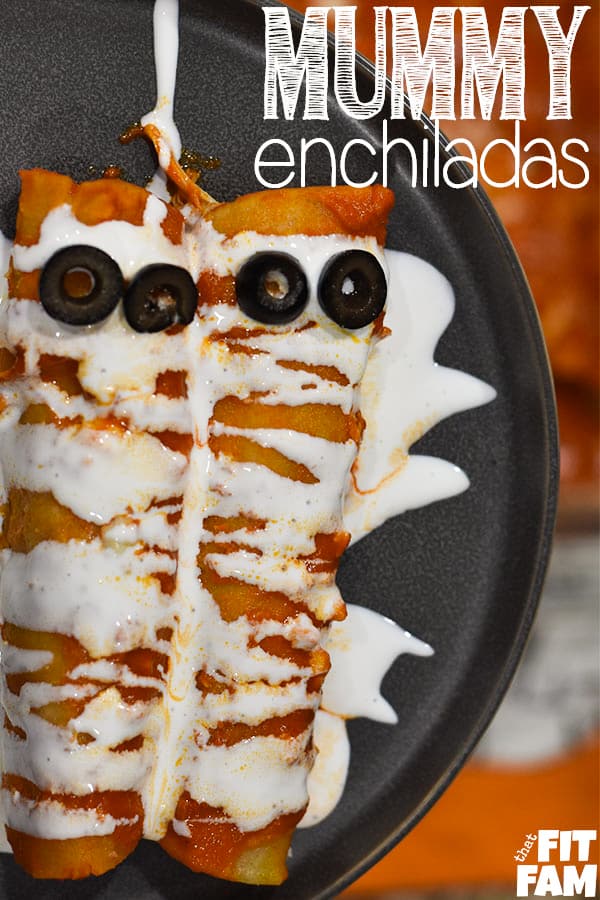 I just couldn't help myself with this one. If there's one thing I love, it's holiday themed food. So, when this idea popped into my head I just couldn't stop thinking about it until I actually made them.
I also couldn't wait to eat them, so the pics aren't perfectly "staged." Although, they never really are on this blog.
How to make mummy enchiladas
It's ridiculously easy to make these mummies. All you need is your fave enchilada recipe, some crema mexicana, sliced olives and whichever toppings you prefer.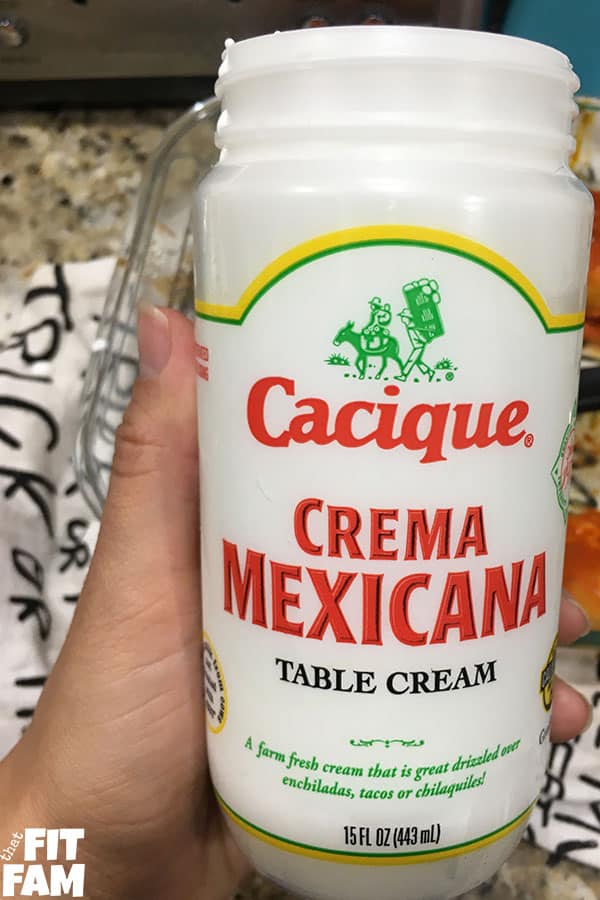 This is what the crema looks like. Most grocery stores should have it. This is what you use to drizzle the mummy bandages onto the enchiladas.
Then you just set two sliced olives at the top like "eyes" and you're all set.
For the kids, I added additional toppings on the side so the enchiladas stayed looking like mummies. For the adults, I just added our toppings directly on top like normal.
We love to add shredded lettuce, diced onion, and queso fresco to our enchiladas.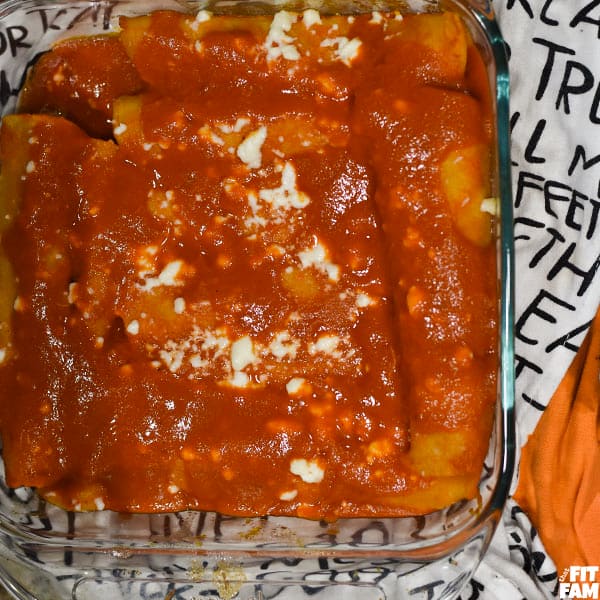 I did not add the crema until the very end on each persons individual plate. You could probably do it all in the baking dish, but I was afraid they'd get messed up as I was trying to serve them.
Mummy Enchiladas
Mummy enchiladas are a fun Halloween twist on a classic recipe.
Ingredients
12 Corn tortillas
Shredded chicken
Crema Mexicana
Sliced olives
Queso fresco
Oil for frying
Shredded lettuce, diced onions (optional toppings)
Instructions
Lightly fry each corn tortilla in oil for about 20-30 seconds until they are pliable. DO NOT fry them crispy.
Dip one tortilla into enchilada sauce and place in baking dish.
Fill with shredded chicken. Roll into an enchilada.
Repeat with remaining tortillas. Top with queso fresco.
Bake in the oven at 350* until cheese is melty (roughly 5-10 minutes)
Drizzle with crema Mexicana to resemble mummy bandages.
Add two olives to each enchilada for eyes.
Serve with shredded lettuce and diced onions and more cheese if desired.
Notes
For the filling, I used chicken thigh meat that I cooked in the crockpot with chicken stock.