Authentic red enchiladas use a sauce made of dried ancho & guajillo chili peppers. Top them with shredded lettuce, queso fresco, & a little onion for a delicious, family friendly meal.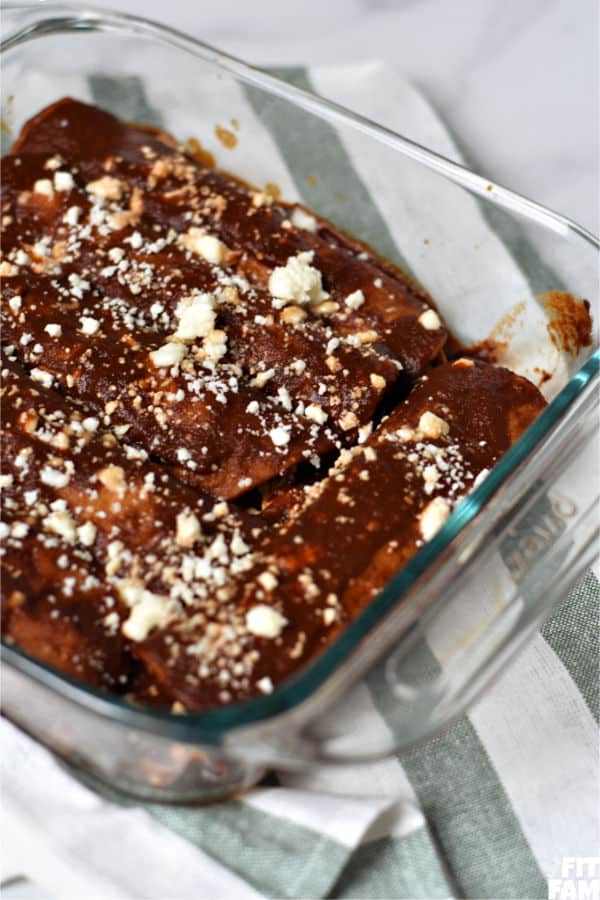 This is the third recipe in a row that I've posted in the "Mexican" category. Can you tell I'm a little obsessed?
My dad is from Mexico so we pretty much grew up on Mexican food. It's what I crave every day.
My kids are this way too. They'll eat anything if you pair it with a fresh corn tortilla.
These red enchiladas are such a great, cheap meal to make that the whole family will enjoy.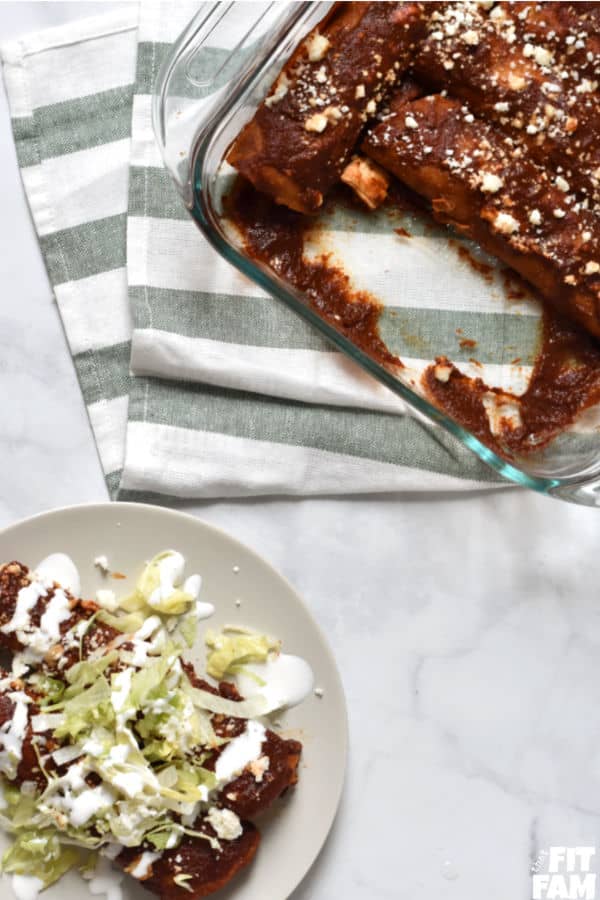 What makes these authentic?
The ingredients. Some people will make a homemade enchilada sauce with a ton of chili powder, but it's not the same.
These red enchiladas are made with a combination of guajillo and ancho chili peppers.
I personally LOVE ancho peppers and so I like to add them in, but you could do all guajillo. It's just personal preference.
They sell these dried peppers at most grocery stores, but also at Mexican markets. The Mexican market will the ideal choice because they will be fresher and more pliable.
Even though we will be re-hydrating these, you do not want a brittle pepper. You can feel them through the package to make sure they are still fresh & pliable.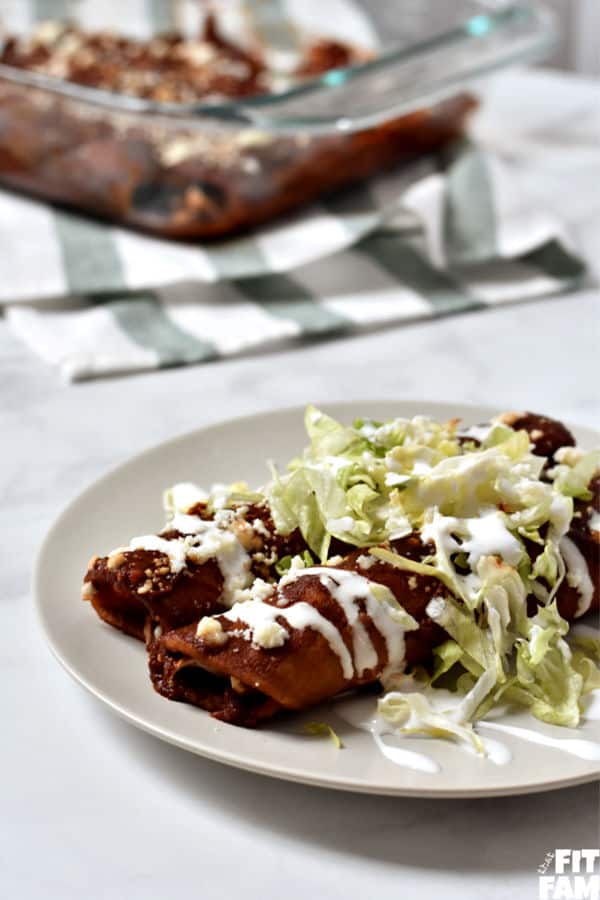 The recipe I am sharing is for chicken & cheese enchiladas. You definitely want to use a Mexican cheese like queso fresco or cotija. Please, please, please do not use a yellow cheese.
Like I mentioned earlier, the flavor of this sauce blends perfectly with the flavor of this crumbly cheese. You will definitely be sorry if you swap it out.
Authentic red enchiladas vs Americanized ones
Aside from the sauce & type of cheese, truly Mexican enchiladas use corn tortillas NOT flour.
These are typically flash fried in oil to keep them from falling apart once covered in the sauce.
Another difference is cooking time. American versions use flour tortillas and are then baked in the oven. Maybe this is to heat up the flour tortillas? I'm not sure.
It is not necessary in our version. All the ingredients are already cooked & the tortillas were warmed during the quick fry.
Sometimes I will still put them in a casserole dish and stick them in a warm oven until the whole family is ready to sit down & eat, but they're only in there for about 5 minutes, not the 20-30 most are used to.
Last thing…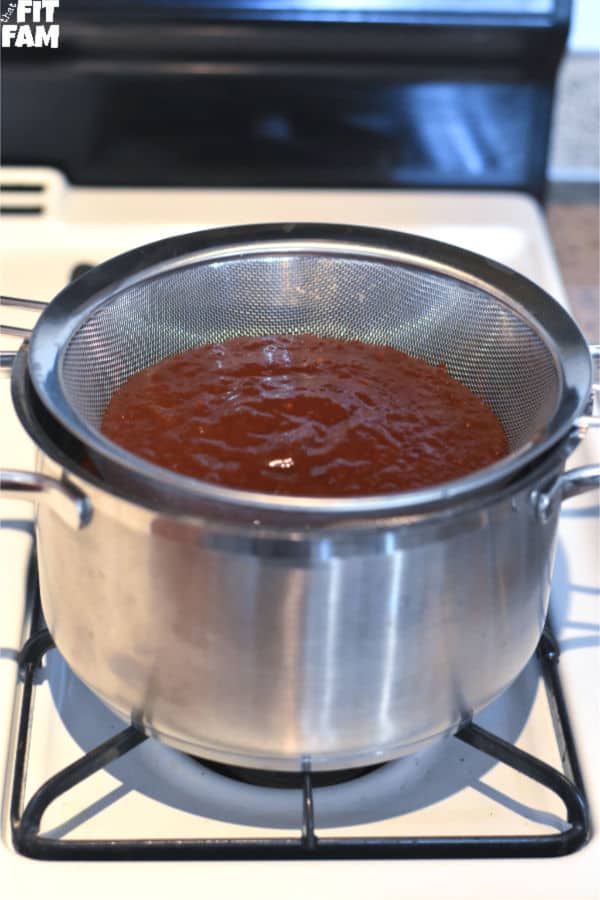 Definitely strain the sauce using a fine mesh strainer. The last thing you want are little bits of unblended chili pepper skin in your sauce. They have a plastic-y texture and will ruin your meal.
Authentic Red Enchiladas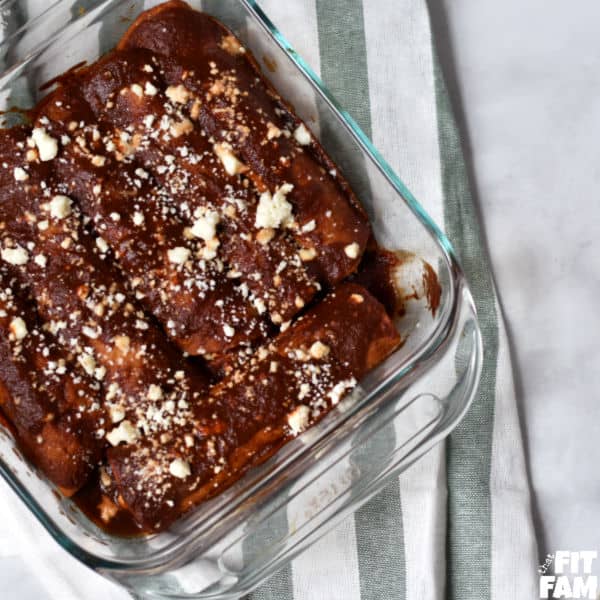 Authentic red enchiladas use a sauce made of dried ancho & guajillo chili peppers. Top them with shredded lettuce, queso fresco, & a little onion for a delicious, family friendly meal.
Ingredients
8 gaujillo peppers
4 ancho peppers
2 garlic cloves
1/4 small onion
1/2 tbs Knorr suiza chicken boullion powder
1/4 tsp oregano
salt & pepper
1/2 c water
Corn tortillas
Oil
Queso Fresco or Cotija Cheese
Shredded Lettuce
Diced onion for topping
Instructions
Remove stems & seeds from dried peppers.
Place in pot with water and boil for 10 minutes, then remove from heat & let sit for additional 5-10 minutes until softened.
Put chili peppers, garlic, onion, powdered bouillon, oregano, salt, pepper, & water in a blender.
Blend really well.
Pour sauce mixture through a fine mesh strainer into a pot.
If there is a lot of pulp in the strainer, empty the pulp into the blender, add more water, and blend again, then pour through strainer again.
Simmer for 5 minutes.
Heat oil in a frying pan and quickly fry cold corn tortillas for about 10 seconds per side. They should remain pliable, don't let them fry too long.
Dip each lightly fried tortilla into sauce and fill with chicken/cheese. Roll them up and place side by side on a plate. Add on additional sauce.
Top with shredded lettuce, cream, & additional cheese if desired.
Notes
If you are making a lot, you can put them in a baking dish and put in the oven at 350* for about 5 minutes to keep them warm.
Recommended Products
As an Amazon Associate and member of other affiliate programs, I earn from qualifying purchases.