I am all about cream sauces for dinner time. I love them. In the past I've shared recipes where I've lightened up the typical cream sauce (like in this Cajun Chicken recipe) and you really can't taste the difference with my healthy swap. Well this Mustard Chicken dish is no different. It is still just as satisfying as any other recipe with a cream sauce, but it eliminates a good chunk of calories with an easy swap!
What's the healthy substitute for heavy cream? Evaporated milk.
It's really that easy. Grab the 2% Carnation Evaporated Milk or even better their Fat Free Evaporated Milk which for some reason my store doesn't carry, but you can order it off Amazon here (Fat Free Evaporated Milk). I always use the 2% since that's what my store does have (it's just a lot more convenient for me). But having the fat-free as an option is nice too.
This Mustard Chicken dish is super easy, and as long as I have the evaporated milk, I typically already have all these ingredients in my fridge/pantry ready-to-go which makes this a quick, fairly inexpensive weeknight meal.
The best part about this mustard chicken is that you feel like you are really indulging because of that cream sauce but it is actually extremely healthy!
Cooking the chicken:
So, I'm going to be honest with you. The directions I have below for cooking the chicken is my all time favorite way to cook chicken! For me it beats out the oven AND the crock pot and the reason it does is the taste.
It is so simple, but for some reason cooking chicken in a pan with some olive oil, a clove of garlic, and a little salt & better is just the most delicious thing! Plus, it's quick and since you're standing over the meat you can really make sure you don't overcook it. There's nothing worse than dry chicken!
Favorite Pairings:
This dish goes great with our garlic & herb mashed cauliflower "potatoes"! Another easy dish that I don't have to stop at the grocery store with. I always have frozen cauliflower in our freezer ready to go. I usually use two 12 ounce bags to feed me, my husband, and our 2 year old. This last time I gave some to our almost 7 month old as well! As these kids grow, I might have to up it to 3 bags soon! Everyone loves this side dish and it is surprisingly EASIER than making mashed potatoes, not to mention healthier.
Oftentimes, I will use the mashed cauliflower as the only side dish since it's a veggie, but if I have it, mustard chicken also pairs great with broiled asparagus.
Mustard Chicken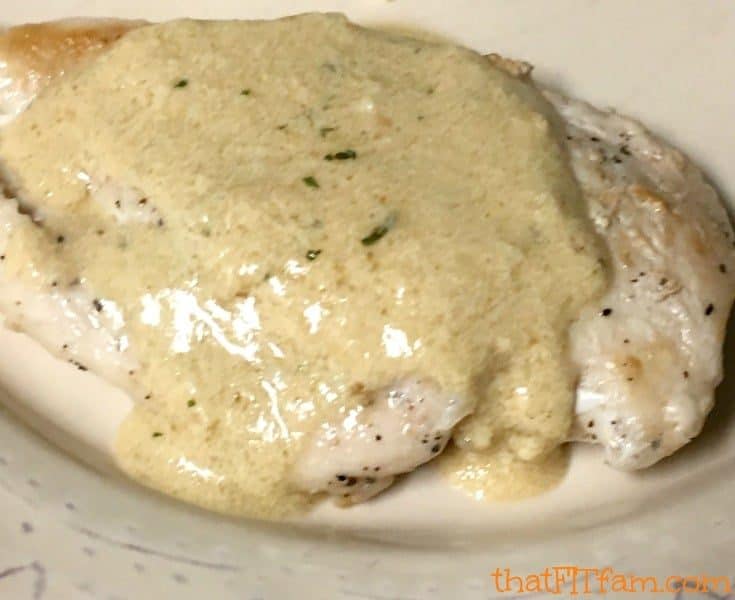 Ingredients
3 - 4 (6 oz) boneless skinless chicken breasts
Salt and freshly ground black pepper
2 Tbs olive oil
1 clove garlic, finely minced
1/3 cup low-sodium chicken broth
1/2 cup 2% evaporated milk
2 Tbs dijon mustard
1 Tbs dried parsley
Instructions
Heat olive oil in a large skillet over medium-high heat, add garlic.
Season both sides of chicken with salt and pepper.
Add chicken to hot oil in skillet and cook 4-5 minutes per side until cooked through.
Transfer to a plate, cover with foil to keep warm.
Add chicken broth, evaporated milk, parsley, and mustard to pan and cook, stirring constantly, until thickened slightly, about 1 - 2 minutes.
Serve chicken with sauce over top.
Notes
adapted from Woman's Day (http://www.womansday.com/food-recipes/food-drinks/recipes/a11408/chicken-creamy-mustard-sauce-recipe-122720/)