It's Day 11 of the 12 Days of Christmas Blog Hop and today's topic is Sweet Treats. So today I'm sharing my favorite recipe for Oatmeal Chocolate Chip Cookies.
Now, I don't want to get you too excited, but not only are these my favorite cookies, they are Santa's favorite as well 😉
Day 11 of the Fourth Annual 12 Days of Christmas Series!
We have teamed up with 50 plus bloggers to bring you tons of DIY Ideas and Recipes to make your holiday season merrier. There are 12 different posts in the series and we have spread them out over a four week period with three posts per week. Now is the time to subscribe!
GO HERE for the complete list of Dates and Topics plus a collection of most popular holiday ideas including ornaments, games, recipes and more from all 50 plus talented bloggers!
It's Day 11 and we have been in the kitchen making something sweet to share!
---
Oatmeal Chocolate Chip Cookies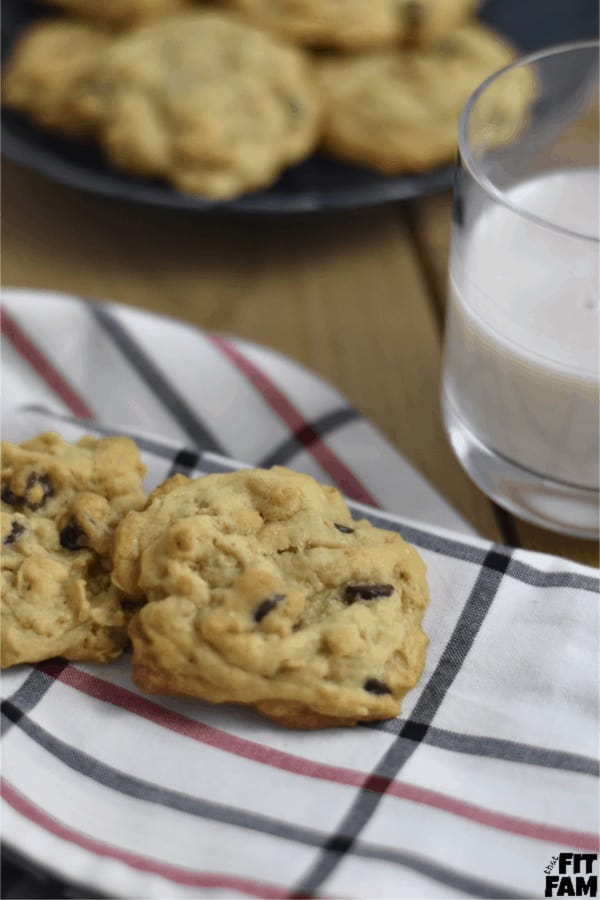 So, I want to start off by saying that I know this is a health & fitness focused blog. So you might think that a recipe for oatmeal chocolate chip cookies should definitely not be on here–well, unless I managed to make some healthy swaps (which I did not).
But here's the thing, if we had to eat perfect all the time, being healthy just wouldn't be realistic. The reason diet's fail is because they are not sustainable long term.
The sooner you figure out how to incorporate your favorite treats without derailing your progress, the more likely your healthy habits will become a lifestyle. And that truly is the goal. This is why we love flexible dieting. If I want a cookie today or any day of they year, I can eat the cookie.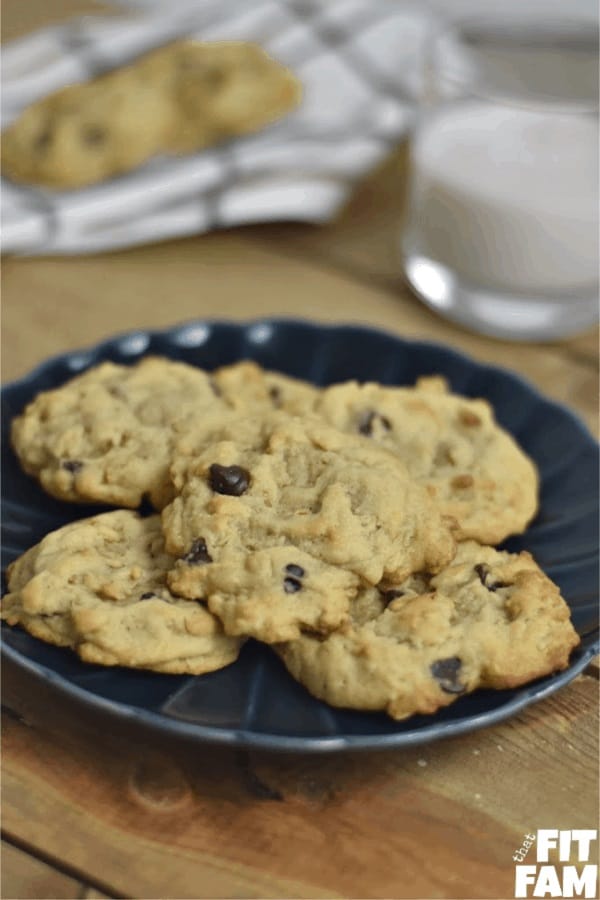 So before I share my all time fave recipe for oatmeal cookies, I am going to share how WE incorporate these treats into our lifestyle (& our macros).
We like to do 1 of 3 things:
Make a half batch. The nice thing about this recipe is that it is easy to halve! Don't you just hate recipes that call for only 1 egg? There's no way to split that in half, ever!
Make the full batch of cookie dough, BUT only bake a few cookies. Then, ball up the rest of the cookie dough into single servings and place in a tupperware container in the freezer so they're ready to go. Next time you're craving cookies, bake just 1 cookie per family member, leaving the rest in the freezer for next time.
Lastly, gift them! Keep a couple for yourself and give the rest away to family members, neighbors, or co-workers!
It doesn't matter how much self control you think you have, if there's a plate of cookies in front of you they are so hard to resist! You may not eat them all at once, but by the end of the day a good amount will have ended up in your stomach. The best way to keep that from happening is to try one of our 3 tips above. Or. I guess, just not make cookies ever, but what fun is that?
Yield: 36 cookies
Oatmeal Chocolate Chip Cookies
DELISH oatmeal cookies with chocolate chips!
Ingredients
2 sticks butter, room temp
1 c brown sugar
1/2 c white sugar
2 eggs
1 1/2 tbs vanilla extract
1 1/4 tsp salt
1 tsp baking soda
1/2 tsp baking powder
2 1/4 c flour
1 c rolled oats
3/4 c semi sweet chocolate chips
sea salt
Instructions
Preheat oven to 350°
Beat butter and both sugars until well mixed.
Mix in eggs and vanilla.
Add in salt, baking soda, baking powder and flour, mixing until just combined.
Stir in oats.
Stir in chocolate chips.
Bake for 8-10 minutes until golden around edges.
Sprinkle with a pinch of sea salt & enjoy!
Scroll down for even more Sweet Treats to make this holiday season!
---