Okay, let's talk healthy Costco favorites! I've shared some Costco hauls on here before (I'll link below), but truthfully, our Costco staples tend to change every few months.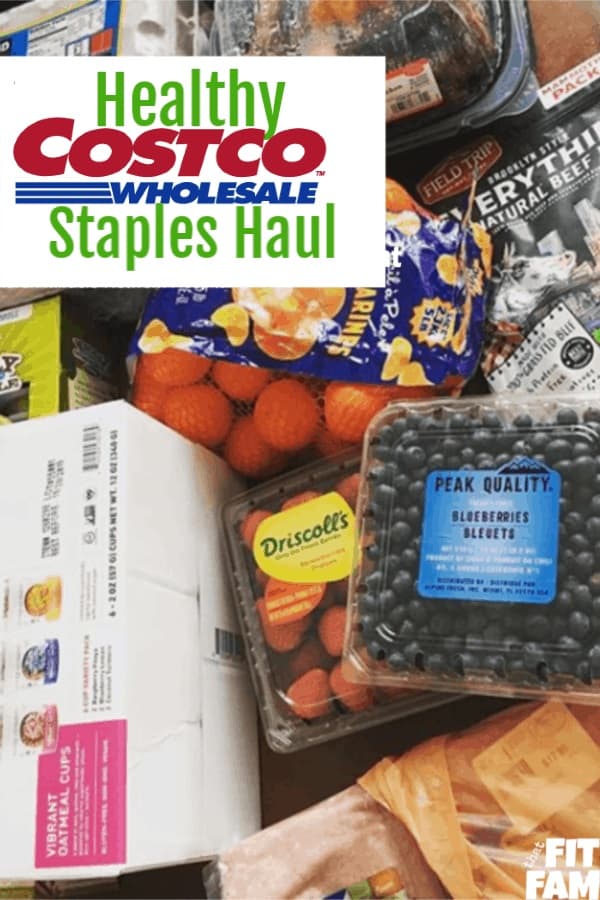 We like variety, so while there are some constants (like rotisserie chicken), we switch it up a lot.
For example, on all previous Costco hauls, you would've seen their frozen meat. This used to be a staple. But no more!
Their frozen meat is still a great deal, but we were coming across too many frostbitten chicken breasts–even when we'd get the chicken breasts in the vacuum sealed packs! So we haven't bought their frozen meat in months.
Another change would be Kodiak Cakes. These are delish. And if they are a staple in your diet, definitely get them from Costco. But, we've cut them out. We're moving toward less wheat/flours in our diets.
Okay, now onto the fun stuff.
First off. I wanna say this. Costco can be intimidating. A lot of people think you have to spend hundreds of dollars when you shop there and that everything is in bulk, so unless you have a huge family, it's not worth it. WRONG!
We are a family of 4. Our kids are only 2 & 4 years old, so we have a relatively small family. But guess what? We literally go to Costco EVERY WEEK. Every freaking week.
I'm not really positive that anyone else goes to Costco as often as we do. We probably spend between $40 and $70 each time we go. We tend to go so often because we buy (& eat) a lot of produce.
This is a list of healthy Costco favorites, so it is a food haul. We buy other things from Costco like TP, etc. But that's not the point of this list.
Here are the foods you will typically see in our carts.
Our Top Faves:
Produce: (most of what we buy weekly is produce)
Hearts of Romaine. You get 5 hearts of Romaine for the cost of a bag of packaged Romaine at the grocery store. That means you get 10x the salads for the same price! Steal! (also, this lasts a surprisingly long time in the fridge)
Broccoli. Also lasts a surprisingly long time. And is way better fresh than frozen.
Bell peppers. We buy these maybe every 2-3 weeks. You get 6 in a pack for a great price. We love these in this oven baked fajitas recipe from Real Mom Kitchen)
Vine Ripened Tomatoes. We use up half the box in this tortilla soup recipe!
Blueberries. Scott's daily staple.
Strawberries. The kids' daily staple.
Baby Potatoes. My daily staple. These come in a 5 pound bag, which is a lot. But I go through the bag weekly! Quarter the potatoes, spray with cooking spray & season liberally with salt & garlic powder. Bake at 400 degrees until crispy! Mmm!!
Mandarin oranges.
Apple slices. So convenient!
Avocados. Delish in this guac recipe!

We also like Wholly Guacamole when avocados aren't in season, but we prefer fresh avocados. The pre-made guac never compares in taste.
Refrigerated Sections:
5 dozen eggs. Eggs last a while, so we always are able to eat them before they spoil.
Almond milk. We don't buy this right now because it comes in a 3 pack & our fridge is too small, but one day…
Butter is a great buy too! Stick the extra sticks in the freezer until you need them.
Butterball ground turkey. Comes in a 4 pack. Each pack is about 1.5 pounds. We just separate them all and freeze them.
Tikka Masala– We LOVE having this in the fridge. It is so great for a quick dinner. Just pair with some minute rice and you're good to go!
Frozen (& other refrigerated) Section:
I mentioned we don't buy a lot of frozen, but we still have a couple staples from this area:
Ground beef– these are portioned into 1 pound logs. Super convenient.
Kirkland brand nonfat Greek yogurt– it's not frozen but it's in this section.
Naked juices– This is a new staple for us. We love having these as an easy snack for the kids to grab & go.
Water:
We get both the 1 liter packs & the 16 oz bottles. Scott & I re-use our liters several times (refilling them with our Brita Water Filter Pitcher) and the kids love reaching for the mini bottles.
Dry Foods:
Nature's Path Organic Pumpkin Seed Granola.
Chia Seeds. Huge bag, lasts us a while. It's a staple. We use this in our Chocolate Protein Chia Seed Pudding & in our Strawberry Jam.
Purely Elizabeth Vibrant Oatmeal Cups.
Seeds of Change Quinoa & Brown Rice microwavable packs.
Kirkland brand Almond Butter. This is not a bulk item. It comes in a single jar and the only ingredient is almonds!
Honey & Maple Syrup. We don't buy these often since they last a while, but we have them in stock in our pantries at all times.
Field Trip Everything All Natural Grass-fed Beef Jerky. Costco seems to switch up it's beef jerky suppliers fairly often, so right now we're loving this one.
Madras Lentils These microwave in just 1 minute and are sooo good. Don't let the word "lentils" turn you off. My 4 year old loves to eat this with tortilla chips!
Bread– Whether it's sourdough, english muffins, wheat or just plain old white bread (we mix it up). We grab a pack and throw the extra loaf in the freezer.
Misc.:
Rotisserie chicken. Sometimes we'll hit up Costco JUST for the rotisserie & nothing else. It's worth it. Just, don't go during an especially busy time & it won't be so bad…
So there you have it. Our updated list. I would definitely consider these healthier Costco buys. Of course, everyone has different goals. What we eat on a daily basis might not align with your goals.
We track our macros and are not afraid to eat carbs.
You may also like: