If you're stuck in a dinner rut lately, we've got you! This Chickpea Taco Bowl recipe is so quick & easy, we love it! It's also vegetarian, if that's you're thing.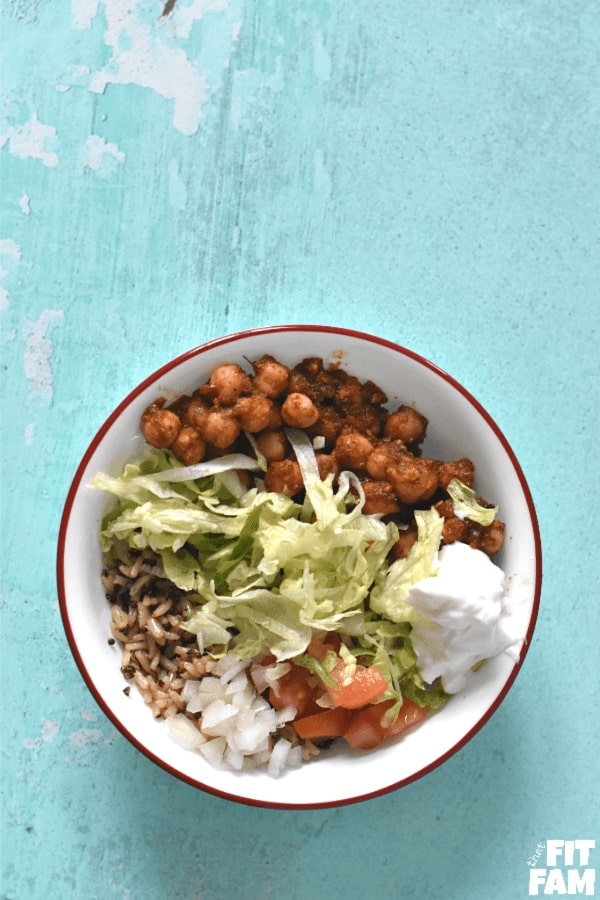 Scott & I are not vegetarian, but we do our best to limit our intake from animal protein. Why? Well, our bodies just tend to function better when we eat a more alkaline diet. So, we limit our meats & look toward vegetarian protein sources. We also are huge fans of Vegan protein powder to help supplement our diet.
A lot of you may not know this, but many years ago I was actually a vegetarian. This is when I first started subbing in chickpeas (garbanzo beans) for taco meat. We keep things super simple and just add pre-made taco seasoning to it.
We like to use the McCormick brand (pictured below) but feel free to use your favorite. And yes, we do buy the big bulk jar. Taco seasoned food is a weekly food staple in this house. Sometimes it's for chickpeas and sometimes we sprinkle it on ground turkey.

So this recipe is super easy. You just drain & rinse your can of chickpeas, then add them to a pan on medium-high heat. Next add some water & taco seasoning & bring to a boil. Then you just reduce heat & let simmer until the chickpeas are tender. This takes about 10 minutes.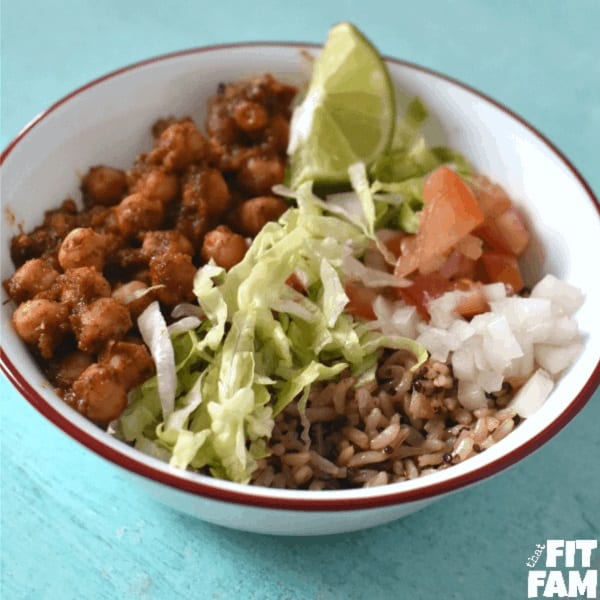 Then, just add all your favorite ingredients to a bowl & you're set. We love shredded lettuce, tomatoes, onions, lime juice, a dollop of greek yogurt, & 1/2 cup of brown rice & quinoa. For the brown rice & quinoa blend, we actually just buy the microwaveable stuff. They have Minute brand at the grocery store & the Seeds of Change brand that you can buy in bulk at Costco. Both brands are just unbelievably convenient.
We didn't add any black beans to this, but you can. Just keep in mind it will make this a pretty carb heavy meal if you track macros. One option is to add in the black beans, and replace the quinoa/brown rice with cauliflower rice. This won't change your macros up much but it will add volume.
Yield: 2 servings
Chickpea Taco Bowl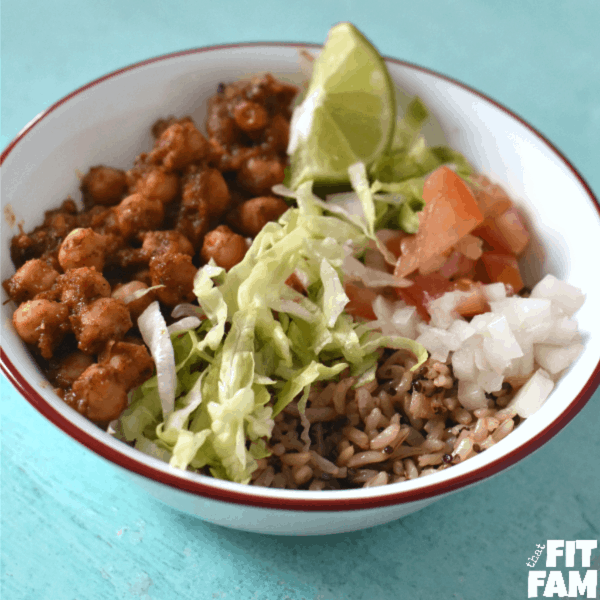 Such an easy healthy meal to toss to together when you need a quick lunch.
Ingredients
1 can chickpeas (15 oz)
3 tbs taco seasoning
3/4 c water
1 cup quinoa/brown rice (microwavable- pre cooked)
desired toppings: diced tomatoes & onions, shredded lettuce, lime juice, etc.
Instructions
Drain & rinse chickpeas
Put chickpeas in a skillet on medium-high heat. Add in water & taco seasoning.
Stir & bring to a boil then reduce heat.
Let simmer 10 minutes, or until chickpeas are tender & most of the water is absorbed.
While the chickpeas simmer, follow directions on microwavable brown rice & quinoa packet.
Assemble bowls with 1/2 c quinoa/brown rice mixture, 1/2 the chickpeas & toppings as desired.
Notes
For the brown rice & quinoa microwavable packet we like to use either Minute Brand or Seeds of Change brand.
Recommended Products
As an Amazon Associate and member of other affiliate programs, I earn from qualifying purchases.