Okay, so it's Monday morning. You had a great, hopefully relaxing weekend, and now you're back at it. It's time to take the kids to school, get to work, or possibly even get to school yourself. You are on time! (surprising since you hit that snooze button twice.)
Sleeping in that extra 10 minutes didn't take away from your morning routine, but it did take away from your time to make and enjoy a balanced breakfast. Breakfast is a great way to jump start your metabolism and wake you up for the day, but so often we skip it because we just don't have the time.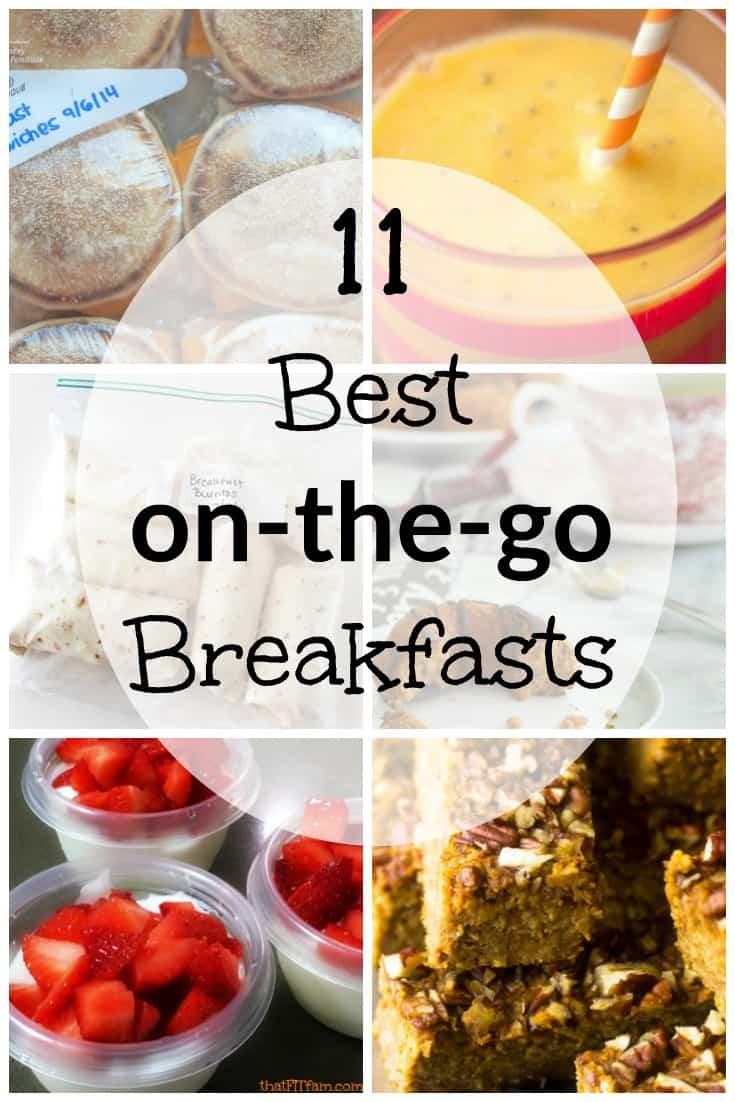 In the beginning of our marriage I was a great wife. I would wake up early and make a hot breakfast of scrambled egg whites and some smoked sausage for my husband, set it in a tupperware container with a plastic fork and send him off. That habit quickly ended around the 1 year mark. Now Scott's lucky if I remember to prep him some hard boiled eggs for part of his lunch. Because of this, any on-the-go breakfasts hit a home run with us.
I'm a stay at home mom now which means that I get the privilege of enjoying a balanced breakfast every morning around 8am with my son (who always steals my extra slice of multigrain flax toast). Even though I get this luxury, I know a lot of people (my husband included) do not. So here are some of our favorite on-the-go breakfasts!
(Be sure to click on the links to get the recipes!)
Freezer Breakfast Burritos

These breakfast burritos from Handle the Heat are loaded with chicken chorizo, scrambled eggs, potatoes, onions, and peppers and can be frozen and reheated in the microwave every morning

Yogurt Parfait

Yes, we love our vanilla yogurt parfaits! We meal prep these babies every week! So easy and so perfect when you're in a rush!

French Toast Sticks

These french toast sticks from Happy Healthy Mama are so easy. Just throw them in the toaster and you've got a great homemade breakfast with time to spare!

Paleo Chocolate Pumpkin Donuts

If I could eat donuts everyday I would! And maybe I can! These Paleo chocolate pumpkin donuts from Healthy Seasonal Recipes are grain free AND dairy free!

No Bake Peanut Butter Bars

Coffee Protein Muffins

These muffins from Southern in Law are not only Paleo, but include protein and coffee for those of you that need that morning pick me up 😉

Pumpkin Protein Bars

How freaking good do these look? These are packed with protein and are pumpkin! Ah I'm obsessed. Time to meal prep some of these right now! Thanks Food Faith Fitness!

Freezer Breakfast Sandwiches

If you crave those Egg McMuffins from McDonalds then check these out! These breakfast sandwiches from Damn Delicious are 10 times healthier and cheaper, sooo why not?9. Florida OJ Sunburst Smoothie

Florida OJ Sunburst Smoothie

This smoothie from Florida Citrus is loaded with Vitamin C and Potassium so it'll give you just the boost you need to start your morning off right!

Another oldie but a goodie that we love is either a protein shake or some fruit.

What's great about these on-the-go breakfasts is that they are all pretty healthy, and most of them can be made ahead of time which is perfect when you're in a hurry to get to work!