Anyone else out there just craving soup like crazy right now? Normally my husband has me make chicken tortilla soup every week. But about a week ago I decided to change things up & I made this Pozole Rojo recipe instead.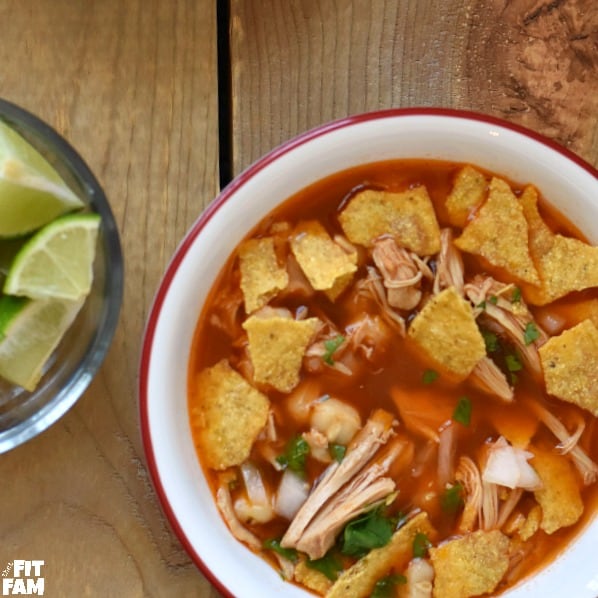 Pozole Rojo is a little more special than your average soup because we don't make it nearly as often. It is a spicy Mexican soup usually reserved for special occasions and holidays like Christmas.
It's made very rarely because of how long it supposedly takes to cook. Not many people truly make soup from scratch anymore, so it doesn't take as long as before.
If you'd prefer a quicker meal, the chicken tortilla soup I linked earlier comes together in about 30 minutes, unlike this recipe.
Why don't you use Pork?
Traditionally, Pozole Rojo is made using pork BUT my mom has always always always made it using chicken instead.
Growing up, she would do this because us kids wanted a less spicy soup. She would put a whole chicken in a stockpot to make the soup broth and then split it in half.
Half would then become Sopa de Fideo (Mexican chicken noodle soup) for the kids and the other half would be the spicy Pozole Rojo for the adults.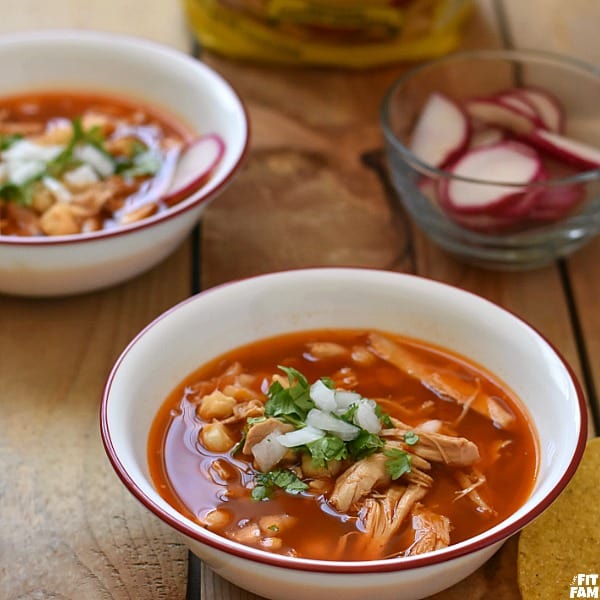 I've continued this silly tradition on as well with my family. Although, last week when I made it, my kids devoured all their Fideo soup and wanted more so I gave them some Pozole to try and they loved that too.
Now, I'm not sure if that'd be the case for all 2 and 4 year olds, but mine are pretty accustomed to spicy. So I guess it just depends on your kids' taste buds.
Anyway, you can definitely make this with Pork as well if you want to be more traditional, but our chicken version is just as delish. I know we're not the only Mexicans who make their Pozole Rojo with chicken either. Everyone has their own variation.
The main commonality between all the variations is that it's a slightly spicy soup with hominy instead of noodles.
What is hominy?
And, in case you're wondering, hominy is just dried maize kernels. It looks like giant white pieces of corn (probably because that's exactly what it is) and is super tender like a noodle when it is in the soup.
In the US it is harder to find the dried version, so we buy the canned, already soft hominy. We love the Juanita Brand Hominy . You can usually find it on the Latin Foods aisle of your local grocery store.
Our store is actually funny and has hominy on two aisles: Latin Foods and Soup. BUT they only have the La Juanita brand on the soup aisle, the other aisle has a different brand of canned hominy.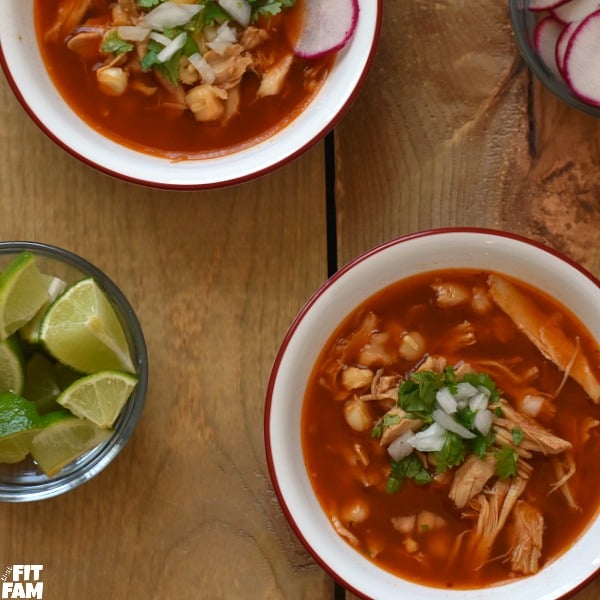 Which dried peppers and where to find them.
Everyone uses different chili peppers in their pozole recipe. There's no real right or wrong here. The peppers for this soup are dried chili peppers. They are pretty easy to find. Most grocery stores carry them either on the Latin foods aisle or over by the spices on the baking aisle. I've also seen them on their own display near the produce. They come in clear baggies.
When choosing a bag of the peppers, I always try feel the dried peppers through the bag.
I love my Guajillo and my Ancho peppers to be slightly pliable. If they are super dried and immediately crunch when I try to bend them through the bag I will not buy them. Those are not very fresh and don't rehydrate nearly as well as the fresher, more pliable ones.
When it comes to Arbol chili peppers though, those will never be pliable. I just try to pick a bag where the Arbol chilis are very red in color as opposed to the oranger colored ones.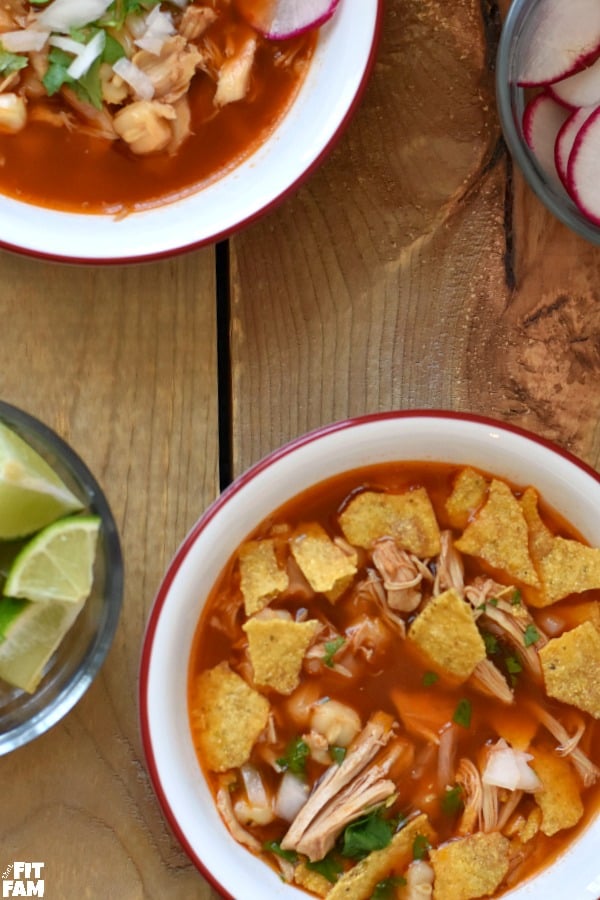 For this pozole rojo, I use Guajillo chili peppers AND a few Arbol chili peppers to kick up the heat a bit. New Mexico chilis and California chilis are also a popular dried chili peppers to use for this soup.
Not everyone uses Arbol chili peppers. The reason I choose to add them in is because, no matter how many Guajillo peppers I add to the soup, it never gets very spicy. Arbol chilis are super spicy, so you just need a few to make a difference.
Pozole Rojo (with chicken)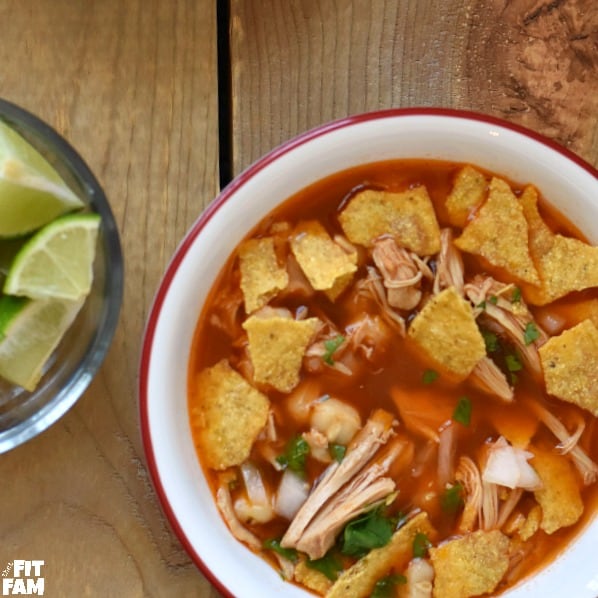 A spicy Mexican soup served with crunchy tostadas, lime wedges, radishes, and shredded lettuce.
Ingredients
4.5 quarts water
5 pounds chicken thighs (bone in)
6-7 chicken bouillon cubes (Knorr brand)
1/4 tsp Cumin
1/2 tsp Oregano
2 cloves garlic
1 onion
9 Guajillo chile peppers, seeds & stems removed
3 Arbol chiles, stems removed
2 (25 oz) cans white hominy
limes, radishes, shredded lettuce, and tostadas for garnish
Instructions
In a large stockpot, heat water, onion, chicken thighs, and 6 bouillon cubes on medium-high heat until chicken is cooked through and falls off the bone easily.
Skim any foam off the top of the water while it cooks.
Remove chicken from pot and let cool before shredding.
Discard onion.
Shred chicken and discard bones and any rubbery parts.
In a separate, small pot of water bring guajillo peppers to a boil and boil for 5 minutes. Then remove from heat, cover and let sit for an additional 10 minutes until tender.
In a blender, blend guajillo peppers, dried arbol peppers, garlic, cumin, and oregano with a half cup of water until smooth.
Using a metal mesh strainer, add the sauce to the broth.
Add in hominy and chicken. Cook on medium heat for about 10 minutes.
Taste test, if additional flavor is needed, add an extra chicken bouillon cube.
Serve with garnishes on side. Recommended garnishes: fresh lime juice, tostadas, shredded lettuce, and sliced radishes.
Recommended Products
As an Amazon Associate and member of other affiliate programs, I earn from qualifying purchases.