Sopa de Fideo (Fideo Soup) is basically a Mexican version of chicken noodle soup. But, it has slightly different ingredients and, in my opinion, tastes way better.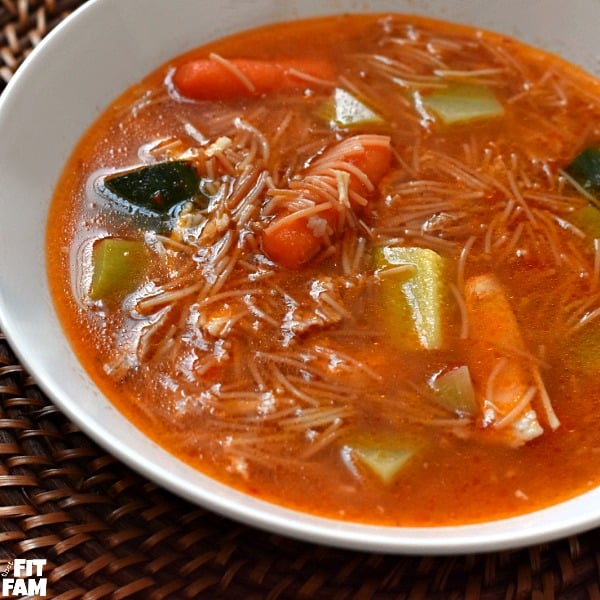 Anytime anyone in our house is sick, I make Fideo Soup. Anytime it's just a little too cold outside and we need something to warm us up, I make Fideo Soup. Anytime I'm making Pozole, I also make Fideo Soup. (Sometimes Pozole is too spicy for kids).
Why is it called Sopa de Fideo?
This Mexican comfort soup gets its name from the noodles. The noodles are Fideo noodles.
You will typically find these on the Latin Foods aisle at your local grocery store. They are about a half an inch in length and slightly thinner than angel hair pasta. I will link them here so that you know what you're looking out for.
Tips on how to make Sopa de Fideo:
One of the most important steps when making this soup is to fry your noodles BEFORE you add them to your soup mixture to cook.
In a frying pan, add about 2 tbs of oil (enough to coat all noodles) then add the noodles. When you fry these you will notice they are initially a little translucent.
You will fry them, stirring constantly, until they are all opaque. Don't worry if some of the noodles turn brown or even look super burnt. I've done this before and they never taste any different. The reason we do this step is because it keeps the noodles from getting super soggy.
In the past, I've been tempted to use spray oil in an attempt to cut fat calories, but when I did this even though I fried the noodles until they were no longer translucent, they still eventually got soggy in the soup. They were fine on day one, but too soggy for leftovers the next day.
Warning
When it comes time to add the noodles to the soup pot to boil, add them SLOWLY.
These are oil coated noodles being added to a pot of boiling water. Water and oil don't mix well and can splatter.
If you add these slowly you won't have an issue, but if you add them quickly the water may splash you and that would definitely hurt. So please be careful.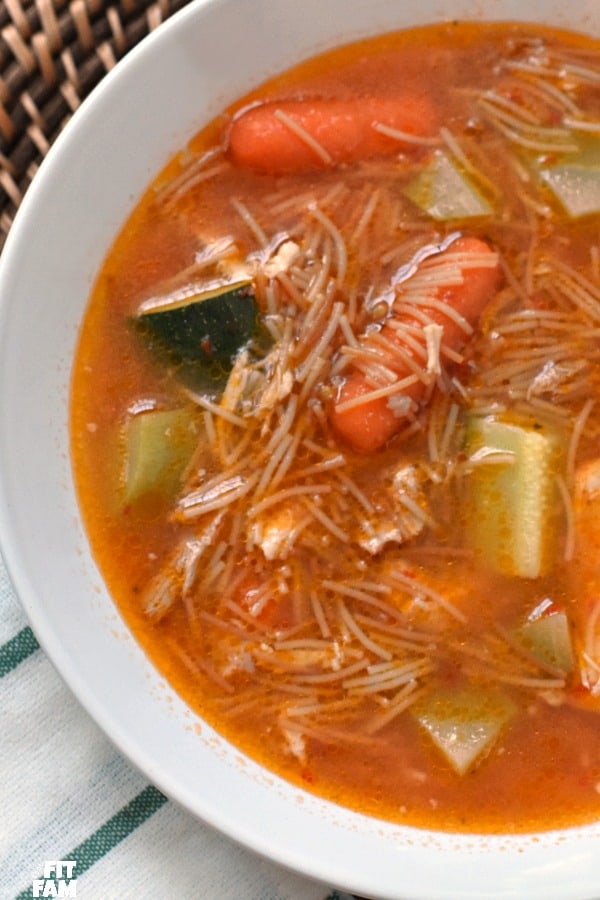 If you are sick…
If you are sick or are making this soup for someone who is sick, I recommend adding an extra bouillon cube. Why? Because when you are sick with a cold or have a stuffy nose, a lot of flavors become muted.
The extra bouillon cube will add a little more flavor (and salt) making the soup taste better to someone who is sick.
I remember growing up, my mom would always make this soup when I was sick and I thought it tasted so watered down. Down the road I realized why.
I actually don't add any salt to this soup. All the salt comes from the bouillon cubes. I choose to do it this way because it adds more flavor than just salt alone.
The bouillon cubes I swear by are the Knorr Chicken Bouillon Cubes. They have the BEST flavor hands down. No other brand compares. If you attempt to make this soup without using the Knorr brand chicken bouillon, I can't promise it will turn out as good.
Again, these are bouillon cubes, but I also always always always have a giant jar of the Knorr brand granulated chicken bouillon in my pantry too. If anything needs a little extra flavor, I'll add a sprinkle of this.
How much water
So, I did actually measure the water this time. I don't usually do this. But, for me, I used 4.5 quarts of water (18 cups) with 5 pounds of chicken thighs. I like to cook this in a large 12-quart stock pot like this one so that I don't have to worry about it boiling over.
Also, like I said I did use chicken thighs. I used to use a whole chicken, but that was always a little difficult to remove from the pot after it had cooked. Chicken thighs are easier. Plus everyone in this house loves dark meat. So it's a win-win.
Be sure to use bone in chicken so you get that extra flavor. Sometimes, after I remove the chicken from the bones, I'll keep the shredded chicken in a bowl until later and add the bones back into the broth to cook a little longer for some extra flavor.
Sopa de Fideo (Fideo Soup)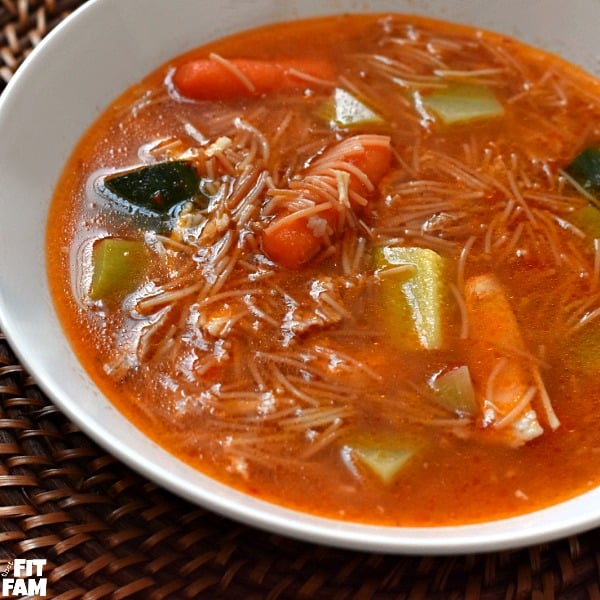 This sopa de fideo (Mexican Fideo Soup) is made with a tomato based broth and is so full of flavor. Perfect for sick days or colder weather.
Ingredients
4.5 quarts water
5 pounds chicken thighs, bone in
1 onion
6 cubes Knorr chicken bouillon
3-4 vine ripened tomatoes
2 cloves garlic
1 7oz bag of fideo noodles
2 tbs oil
baby carrots
2 zucchinis, cut in chunks
1 chayote squash, cored & cut in chunks
Instructions
In a large stockpot, add chicken thighs, onion, all 6 bouillon cubes and water.
Cook on medium heat until chicken thighs fall apart from bone easily, about 1 hour.
Make sure to skim any foam off the top of the water while the chicken is cooking.
Remove the chicken thighs and let cool.
Discard onion from the pot.
Shred chicken, discard any bones or rubbery parts.
At this point, taste test the soup broth. If it is too watered down add 1 more bouillon cube.
In a blender, take 1/2 cup of soup broth, tomatoes, and garlic and blend until smooth. Add to soup mixture.
Add veggies to the pot and begin to boil them until tender.
While veggies are cooking, take a frying pan and heat 2 tbs oil. Add the fideo noodles and stir constantly. When all the noodles are opaque, transfer them SLOWLY to the soup pot. Be careful. This can splatter if you add them too quickly.
Return chicken to the pot.
When all the veggies are cooked through and the noodles are soft, the soup is ready.