This authentic tortilla soup recipe is something I've been making a lot lately. It is so quick & easy, it literally comes together in 30 minutes; PLUS our whole family LOVES it.
The best part about this is you can keep it super simple. I usually already have most of the ingredients on hand, I just need the chicken. You could cook your chicken with the soup, but I always just use the pre-cooked rotisserie chicken from Costco (or I have used leftover shredded turkey breast from Thanksgiving too!) to make this quicker.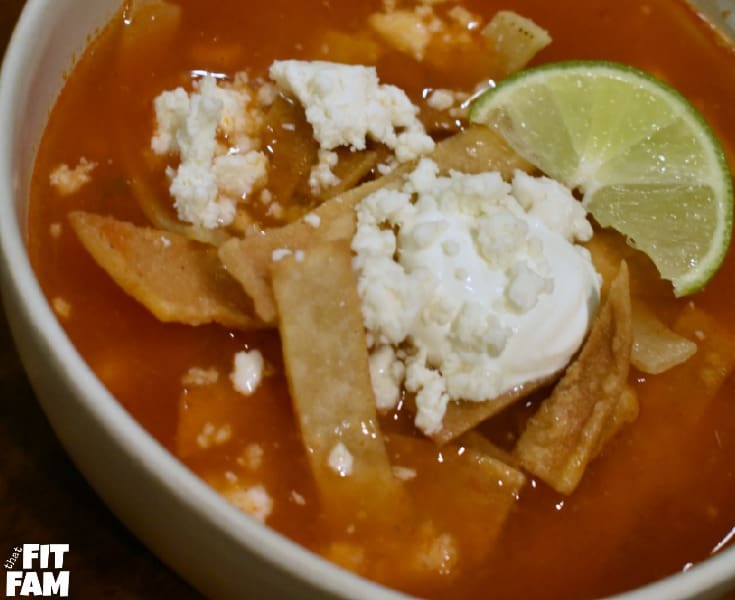 An authentic tortilla soup actually doesn't need all the corn and beans the Americanized version tends to have, it's literally just a tomato-based soup with tortilla strips in it and a few other toppings.
For this recipe, I use Knorr Granulated Chicken Bouillon. I do not recommend replacing it with chicken broth. I just don't personally think it tastes as good. It tastes fine, but the granulated chicken bouillon tastes way better. Granted, it's what I grew up on, my mom never used chicken broth/stock, so it could just be a preference based on that.
Step-by-Step
First, you need to remove the stem and seeds from the Pasilla Chile Pepper and then rehydrate it by soaking it in hot water for about 15-20 minutes or until soft.
Now blend the pepper, tomatoes, garlic clove, and a cup of water until smooth.
In a pot, heat a tablespoon of oil and pour in the tomato mixture. To this you will add the onion, epazote, cilantro, bouillon and additional water. Cook until color turns from pale orange to a bright orange/red color. Using a slotted spoon remove and discard the epazote, cilantro, and onion and serve with desired toppings!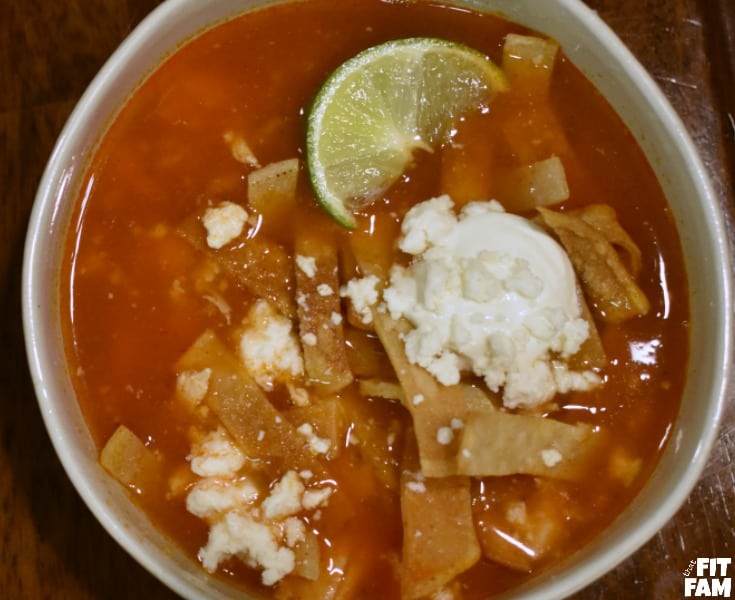 To serve:
This is where the recipe gets good. The broth is great, but the toppings are what make this soup recipe soo good!
A lot of people will cut a dried pasilla pepper into strips and quickly fry that and offer it as a topping. Truthfully, it's not my favorite. Something about the texture makes me feel like I have little pieces of plastic in my mouth. BUT if you like it, a lot of people do it so you can definitely add it as a topping.
Typically, I will take a bowl, add in my shredded chicken (or turkey), add the broth, then squeeze half a lime over it and top with fried tortilla strips, avocado chunks, and cheese. Sooo good!
Yield: 4 servings
Authentic Tortilla Soup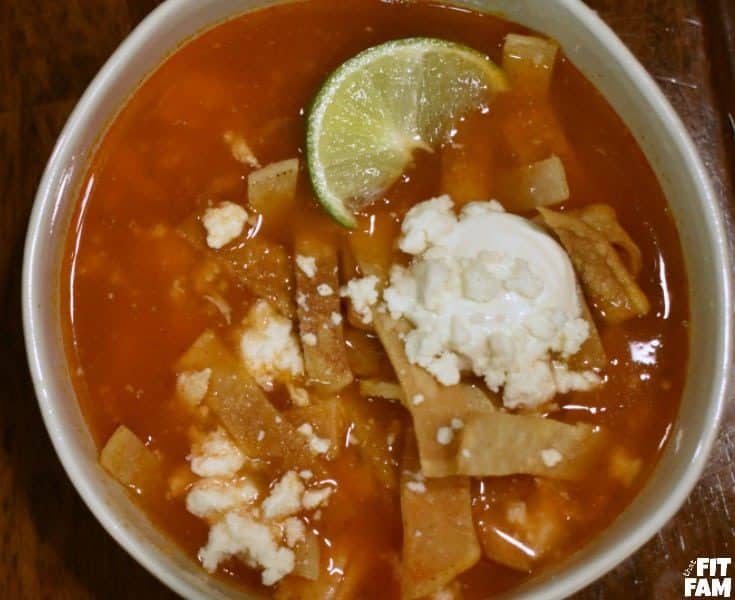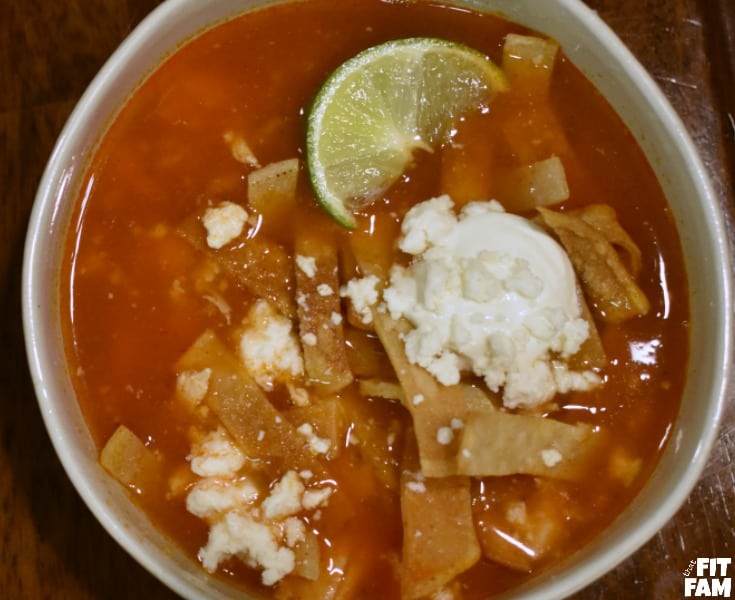 This authentic tortilla soup recipe can be made very quickly and is very diet/ macro friendly.
Ingredients
6 tomatoes
1 clove garlic
1 dried pasilla chile pepper, rehydrated
3 1/2 cups water
half of an onion
2 tbs knorr granulated chicken bouillon
3 sprigs of cilantro
1 sprig of epazote, optional
salt & pepper to taste
tortilla strips
shredded chicken or turkey breast
avocado, optional
panela cheese,optional
sour cream, optional
lime
Instructions
Blend tomatoes, garlic, rehydrated pasilla pepper, and 1 cup of water until well blended.
Heat 1 tbs oil in a pot over medium heat & add in tomato mixture.
Add onion, bouillon, cilantro, epazote, and remaining water.
Bring to a boil and cook until color changes to a deep orange/red (about 5 minutes).
Discard onion, cilantro and epazote.
Add salt and pepper to taste.
Serve in a bowl with shredded chicken or turkey, tortilla strips and desired toppings (avocado, cheese, sour cream, lime juice)
Notes
Nutrition facts based on 1 bowl with 4.5 ounces of shredded chicken, lime juice, & 1/2 cup serving of Kroger brand tortilla strips. Optional toppings not included.
Nutrition Information:
Amount Per Serving:
Calories:

296
Total Fat:

7.2g
Carbohydrates:

19.9g
Protein:

35.2g