If you just care about this delicious recipe for pumpkin bars with cream cheese frosting then by all means, skip ahead, BUT if you could also use some tips on how to eat these while avoiding weight gain, then read on…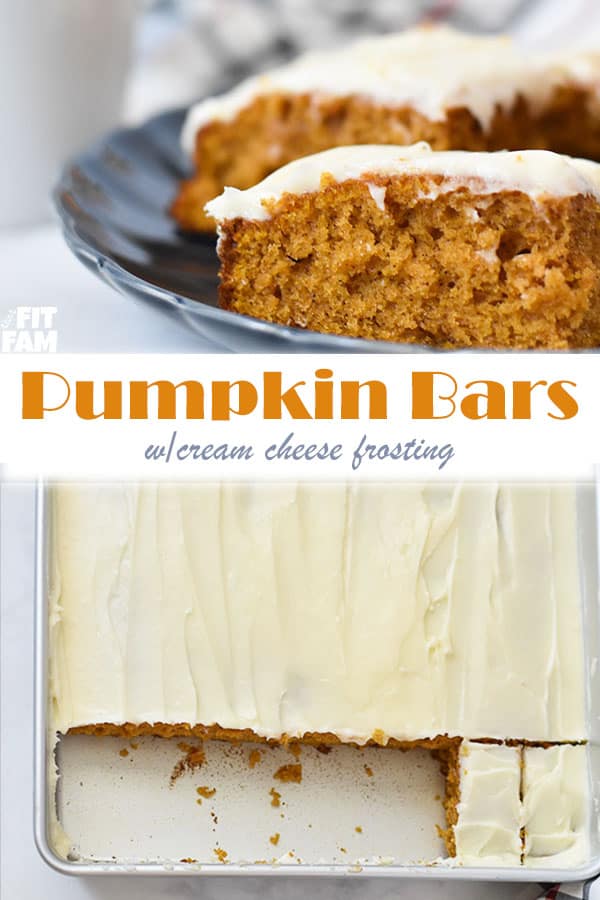 I am currently on a cut. If you don't count macros that just basically means I'm eating in a caloric deficit to lose fat.
Since my goal is to lose weight, it may seem counterproductive to have this moist, pumpkin-y dessert around. But, trust me when I say that you don't have to cut out treats when you're trying to lose fat.
Most of the time, the problem with the sweet treat is not that we ate it, it's that we OVERate it.
Weight loss comes down to calories in vs calories out. As long as we eat in a caloric deficit then we will lose weight. The type of food doesn't necessarily matter (although certain foods may affect water weight).
So it's really just a self control issue.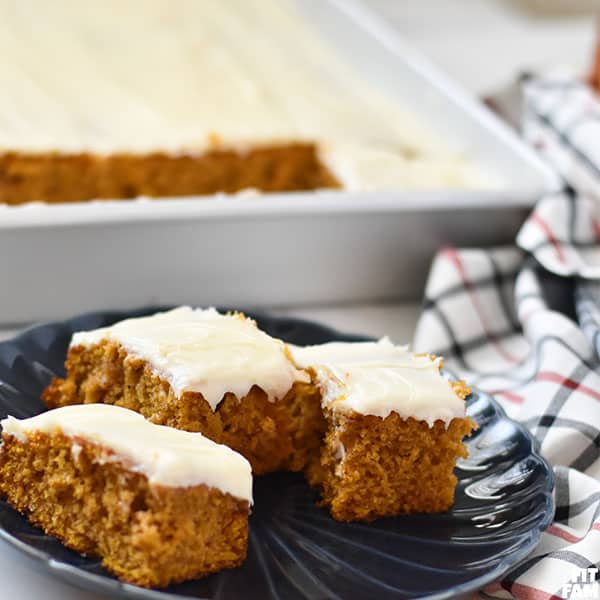 Can you stop yourself after just one?
One thing I've realized is that whether I eat 1 portion or 4, I'm left with the same level of satisfaction. ⠀⠀⠀⠀⠀⠀⠀⠀⠀
⠀⠀⠀⠀⠀⠀⠀⠀⠀
But if I ate 4 that satisfaction is coupled with a bit of remorse and disappointment in my lack of self control.
Why? Because if I'm left with the same level of satisfaction & those extra 3 portions didn't make any significant difference, then they were really just a waste of calories that kept me from my goals.
I used to remind myself this, but now it's become second nature. I have ONE treat. I enjoy every bite of it and then I move on.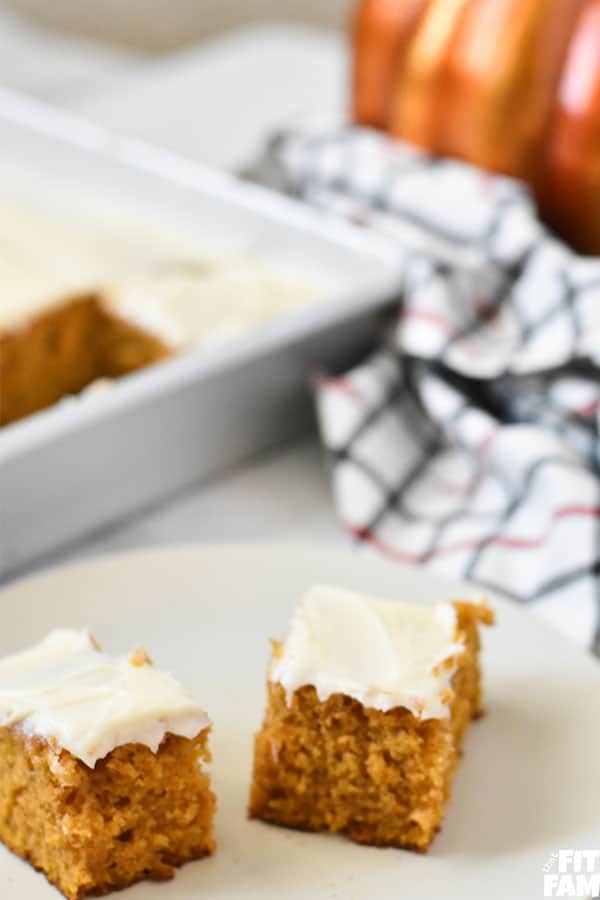 If you struggle with self control around baked goods, try this:
Reserve 1 or 2 for you and gift the rest of baked goods right away (like I did with these pumpkin bars)⠀⠀⠀⠀⠀⠀⠀⠀⠀
Freeze the extras. Most cravings need an immediate fix, having to wait for something to thaw is enough to discourage you from overeating. This works best with cookies and chocolate!⠀⠀⠀⠀⠀⠀⠀⠀⠀
Have a rule where you never have sweets in the house. If you want some sugar, you have to get dressed & head to the store/ dessert shop. The extra effort is an awesome demotivator. For me, laziness trumps cravings every time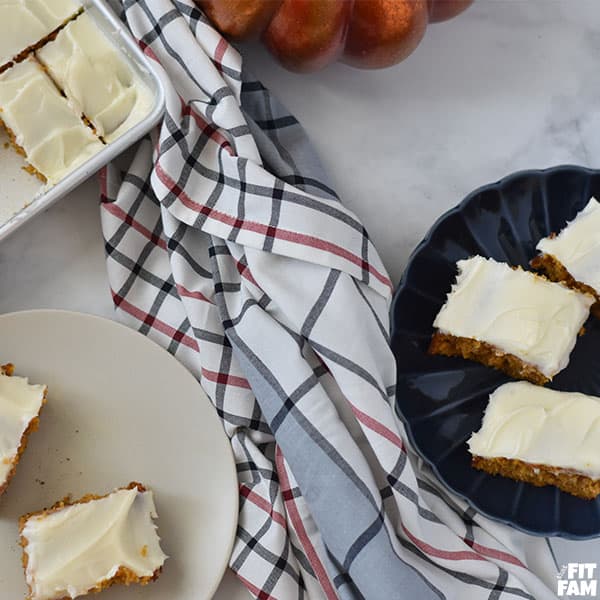 Yield: 35 bars
Pumpkin Bars with Cream Cheese Frosting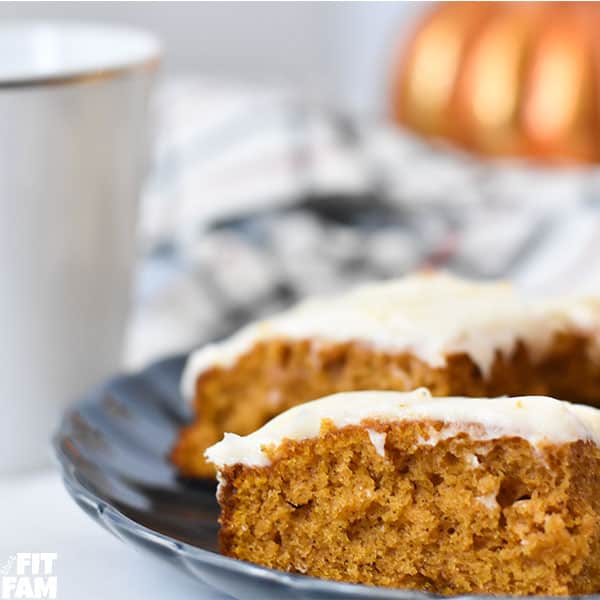 These pumpkin bars come out perfect every time and are always a crowd favorite. Great on day 1, but even better on day 2 after the cream cheese frosting has had a chance to really soak into the bars.
Ingredients
4 eggs
1 2/3 c sugar
1 c canola oil
1 can (15 oz) pumpkin
2 c flour
2 tsp ground cinnamon
2 tsp baking powder
1 tsp baking soda
1 tsp salt
Cream Cheese Frosting
1 pkg (8 oz) cream cheese, softened
1/4 c butter, softened
1 tsp vanilla
1/2 pkg powdered sugar (about half of a 2 pound bag)
Instructions
In a bowl beat eggs, sugar, oil & pumpkin.
Combine flour, cinnamon, baking powder, baking soda, & salt and add them gradually to pumpkin mixture.
Coat a jelly roll pan with cooking spray and pour mixture in.
Bake at 350* for 20 mins or until fork comes out clean when poked.
For the frosting: beat all the ingredients in a bowl until smooth. Spread evenly on pumpkin bars only after they have cooled completely.
Notes
Cooking time depends on your oven. My current oven cooks these in just 15-20 minutes, my previous oven took 25-30. I have a gas oven now, so that could be why. Either way, just check around the 15-20 minute mark to avoid overcooking.
Recommended Products
As an Amazon Associate and member of other affiliate programs, I earn from qualifying purchases.
Nutrition Information:
Yield:
35
Serving Size:
1
Amount Per Serving:
Calories:

215
Total Fat:

10g
Carbohydrates:

28.8g
Protein:

2g