In this post we cover ways to avoid holiday weight gain and what common mistakes we can avoid this time of year.
As I sit here at my computer chowing down on one of the cookies I made tonight (just because mini m&m's were on sale at the grocery store) it dawns on me: the holidays make me want to justify ANY excuse to bake. Even the lame "it was on sale" excuse.
Why do we want to bake in the Fall/Winter? I blame cold weather & advertisers. Have you ever noticed that baking ingredients are ONLY on sale during the holidays?
What I learned last year when I was pregnant with little Farrah, was that I have the power to say no.
I don't have to eat everything in sight just because I have a craving or because I'm afraid of appearing rude at a party. I realized that I can stop eating after just one cookie, I don't need to finish off the whole plate. If I'm really needing a soda, I don't have to finish the whole can for fear of being wasteful. I can stop once my craving has been satisfied.
I also realized that not only is excess pregnancy weight gain completely avoidable, so is holiday weight gain. I can even avoid holiday weight gain while indulging!
How is this possible? I could sit here and preach moderation, but it's actually a little more than that.
Instead, what I've personally found to be the most effective in avoiding holiday weight gain is to correct these simple mistakes you may be making and replace them with 10 easy, new habits!
10 mistakes that lead to holiday weight gain:
You never set goals. Simple enough. If your goal is to maintain your weight, you need to make decisions to support that, but if you have no healthy goal, there is no reason to make healthy decisions.
You don't strength train. Yep. Simply put, the more muscle mass you have the more calories your body burns at rest (source 1, 2). If you aren't strength training you really aren't maximizing your time in the gym.
You go to a party hungry. I used to make this mistake all the time. I did it intentionally. I would wait to eat until I got to the party because I was excited to fill up on all the tasty, yet unhealthy foods. Having a protein rich snack beforehand can help curb your appetite and allow you to pay better attention to hunger cues. This simple change can help you make sure you don't overdo it on the holiday food.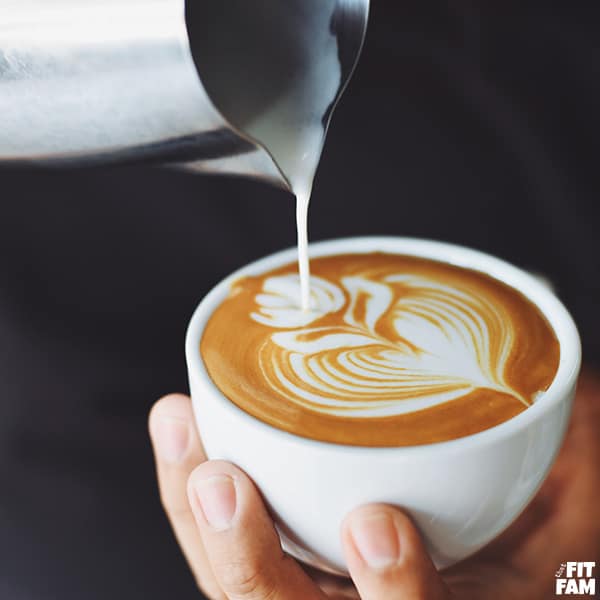 You drink your calories. It wasn't until I tracked my macros a few years ago that I realized how many calories (mainly carbs) I was actually drinking a day! It benefited me in no way. It didn't make me feel full and if it was a caffeinated beverage it only left me feeling MORE thirsty the next day. Just for fun take a look at the nutrition facts on that juice in your fridge and then be sure to measure out an accurate portion. 8 ounces is a lot less than you'd think! Skip the juices & sodas for the next couple months and watch that scale go down!
You stand near the food at a party. This is easy. You start talking to someone while putting your plate together and the next thing you know an hour has passed and you've snacked on an infinite number of brownies, cookies, and chips! Just motion your friend over to a chair on the other side of the room and continue your conversation. A simple action save you from mindless eating.
You plan get togethers around food not activities. It's easy to set up a double date at the Cheesecake Factory or Olive Garden, but another fun date idea is going dancing, bowling, or even to a pottery class like Color Me Mine. Planning get togethers around an activity instead will not be something you regret!
You turn your cheat day into a cheat weekend or more. If you've read our article on the science behind cheat days then you know we are pretty anti cheat day. We save those for special occasions like holidays, birthdays or anniversaries. We do however recommend higher carb ("refeed days") or even the occasional cheat meal. Just make sure you limit it at that. Get back on track the next meal! It's okay to not finish off your leftovers or toss the rest of that soda.
You keep sugar in your house. I would like to meet the person who can have a whole container of oreos in their cupboard and not devour them. Let's be real, having sugary snacks in the house just makes it so much harder to stay on track. We are sugar-free in our house for that reason. That doesn't mean we never eat sugar, it just means we never have it on hand so it's more difficult to get ahold of. This is so helpful.
Recommended Read: 10 tips for quitting sugar
You don't plan out your meals. It is so easy to get take out when you're unprepared and hungry. If you need food fast salad with hard boiled eggs or shrimp are great options. Shrimp defrosts soo quickly, cooks even faster and is super delicious. We love to pair it with our tepanyaki style veggies!
Lastly, you let traveling get the best of you. I know, when we're traveling we can't always control the food we eat–ESPECIALLY if we're staying with family and aren't cooking for ourselves. It can be tricky. Pay attention to portion sizes and if you eat out, you can order a salad (with dressing on the side). Also, don't be afraid to say no. Don't let the social pressure get to you. You can turn down dessert, you can turn down seconds and thirds, you can do all this while still being gracious and not upsetting anyone.
Please avoid these mistakes to prevent unnecessary holiday weight gain. Remember, I'm not saying don't indulge, I'm just saying be smart about it! Happy Holidays!