It's Fall!! The start of the holiday season is upon us! Pumpkin chocolate chip cookies are a great recipe to really ring in the new season.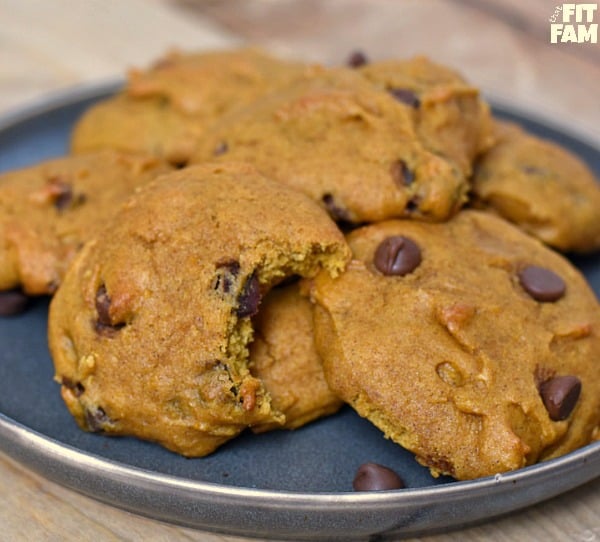 If you remember from my pumpkin pancakes recipe, I'm not a huge fan of overly pumpkin spiced anything. It's a nice flavor but you can definitely overdo it in my opinion. I prefer a little more subtlety.
That's how these cookies are. Still delish, just a little less overpowering than other recipes that I've come across for pumpkin chocolate chip cookies.
It's not just food either, even candles need to be a little more subtle. If you're like me, and happen to be in search of a good Fall candle, I will say that Bath and Body Works has a very nice candle called "white pumpkin" and it's perfect. They have over 10 different pumpkin scented candles right now, but this one is just the right amount of pumpkin. Definitely not too strong, so be sure to check it out!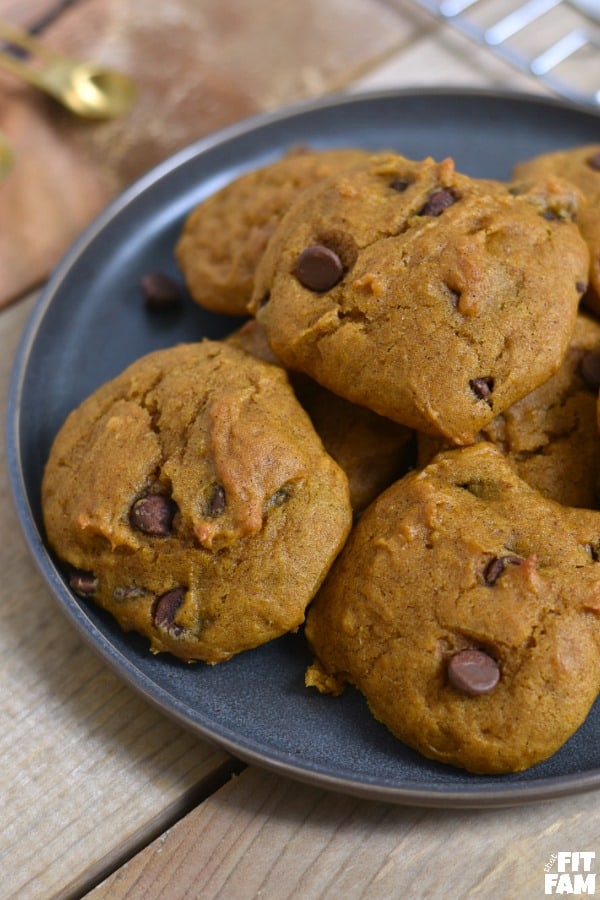 Back to these cookies.
This recipe is very hard to mess up. I have the steps written out in a way that I think is acceptable to the baking world, but I will be honest with you, that's not really how I make these.
I'm not the type to dirty 2 bowls when I'm baking. I'm the one who has to do the dishes in this house. No way will I put all the wet ingredients in one bowl and then grab a completely separate bowl for the dry ingredients and then gradually mix them together. Nope. I just one bowl this recipe and call it good.
People say there's a science to cooking and if you don't make something in a specific way, it won't turn out.
Well, I disagree. I always just throw the ingredients in ONE bowl and mix as I go. I mix after each new ingredient is added.
I've never had any issues doing it this way. This is why I think these cookies would be pretty hard to mess up. But, just in case that's not your style, I wrote the recipe using the usual 2 bowl method.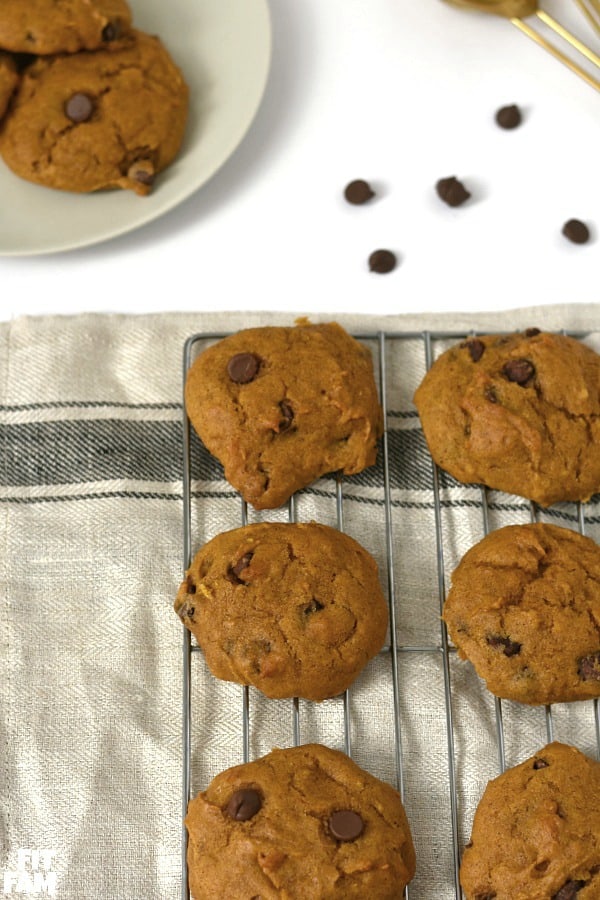 Another thing. I didn't put a measurement for chocolate chips. I always notice recipes with precise measurements for chocolate chips and I just think that's bizarre. Do people actually measure their chocolate chips? When it comes to a treat, like cookies, I definitely don't. I just gradually keep adding more until it seems like a good amount.
However, the exception to this is if I'm making a single serving of something and want to track the exact calories in My Fitness Pal. For example, if I'm adding chocolate chips over the top of my waffle, I will weigh that.
One serving, by the way, is basically one chocolate chip per waffle hole. This discovery alone convinced me that chocolate chips and waffles were meant to be eaten together. Yum!
Pro tip: if you skip the maple and add whipped cream instead, your macros really aren't changing much but you get a little treat!
Pumpkin Chocolate Chip Cookies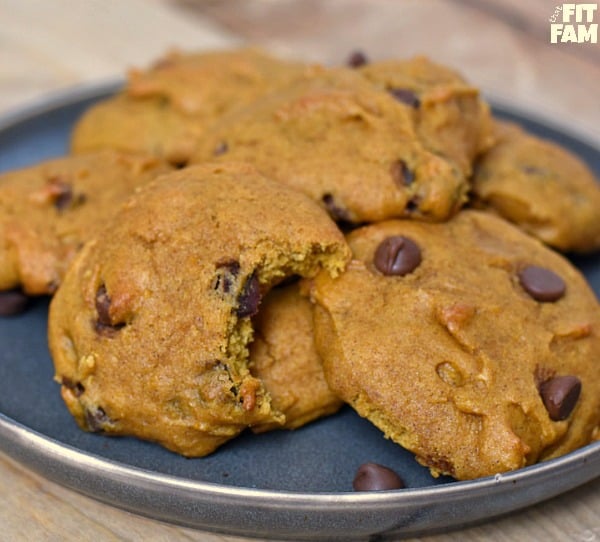 Pumpkin chocolate chip cookies are the perfect pumpkin recipe to ring in the Fall season, we love these for Halloween, Thanksgiving and Christmas!
Ingredients
1 cup canned pumpkin
1 cup white sugar
1/2 cup vegetable oil
1 egg
2 cups flour
2 tsp baking powder
2 tsp ground cinnamon
1/2 tsp salt
1 tsp baking soda
1 tsp milk
1 Tbs vanilla extract
milk chocolate chips
Instructions
Combine pumpkin, sugar, vegetable oil and egg in a small bowl.
In a separate bowl, stir together flour, baking powder, cinnamon, and salt.
Add flour mixture to pumpkin mixture and mix well.
Dissolve baking soda with the milk and add to mixture.
Add vanilla and chocolate chips
Drop by spoonful on greased baking sheet and bake at 350 degrees for 10-12 minutes.