Chocolate chip pumpkin pancakes are a staple in this house, year-round! My kids absolutely love this recipe and request I make pumpkin pancakes a couple of times a week.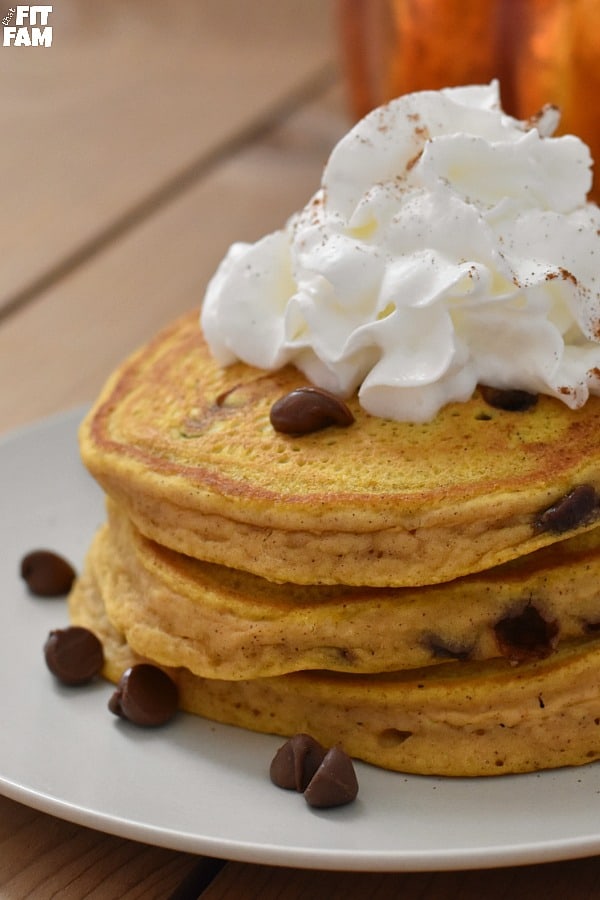 We LOVE these pancakes. I can't tell you how many different pumpkin pancake box mixes I've gone through trying to find an easier way. But, they just aren't nearly as good as homemade.
I love pumpkin, but the flavor in the box mixes is just wayy too strong for my taste. This homemade version is super subtle in its pumpkin flavor, but still delish and will definitely leave you wanting more.
Making pumpkin pancakes from scratch isn't even that much more difficult than using a box mix.
My big hang up with it is that it only uses 6 tbs of pumpkin puree so it requires me to find another use for the rest of the can of pumpkin.
What I've found is that I can use 6 tbs for this recipe and then I have just enough left over to also make some pumpkin chocolate chip cookies.
I think I originally stumbled upon this pancake recipe on the Martha Stewart website years ago? And then I made some minor tweaks to the recipe based on the ingredients I normally have on hand and my preferences (I don't like pumpkin pie spice).
Also, for anyone who doesn't typically drink normal cow's milk, I will say that I have successfully made this with almond milk and it's still great.
I'm not sure cashew milk would work though because it has a stronger flavor and is a little thicker. But yes to normal milk and yes to almond milk.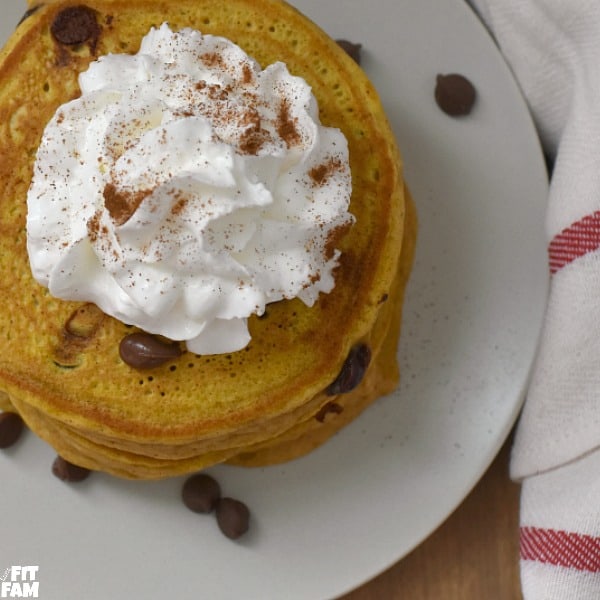 Toppings are optional, but I will usually top with chocolate chips and whipped cream. I don't even put any maple on them, just extra whipped cream! The brown powder in the pic is just a little cinnamon sprinkle over the whipped cream.
We love making these pancakes to kick off the Fall season. For us, this recipe makes the perfect amount for our family of 4. Keep in mind, we do have 2 little kids, ages 2 & 4, so if you have big eaters in your family, you may want to double the recipe.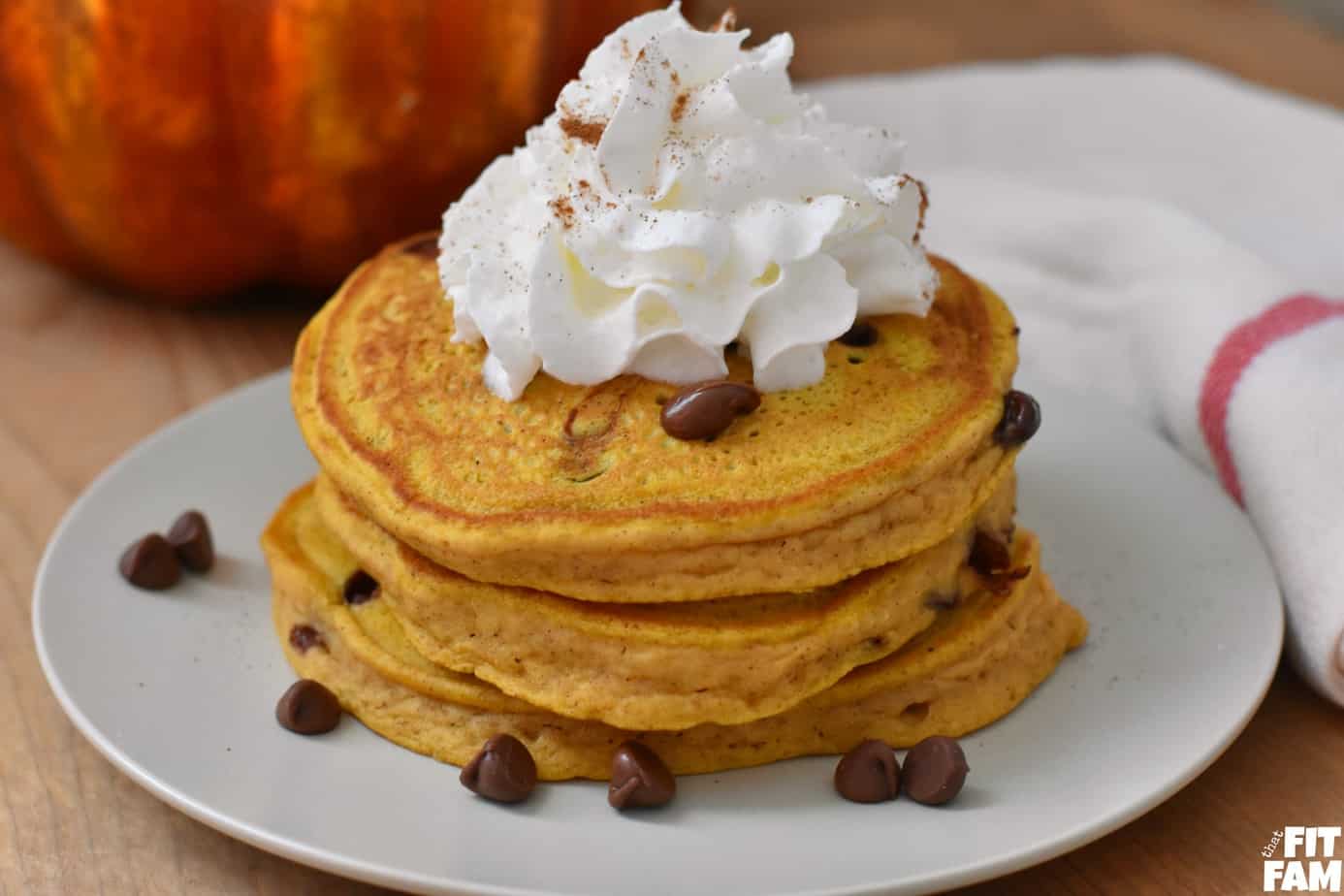 Pumpkin Pancakes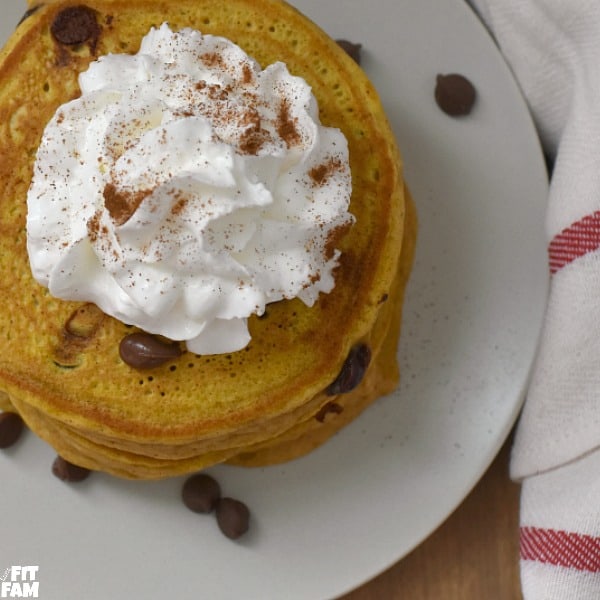 Yummy chocolate chip pumpkin pancakes are a family favorite at our house in the Fall. Perfect subtle pumpkin flavor to keep you wanting more!
Ingredients
1 c flour
2 tsp baking powder
3/4 tsp cinnamon
1/8 tsp nutmeg
1 c milk
3 tbs sugar
1/2 tsp salt
6 tbs pumpkin puree
1 egg
chocolate chips
Instructions
Mix all ingredients together in a small bowl, adding chocolate chips last.
On a hot griddle, pour 1/4 c batter for each pancake.
Flip when you see bubbles start to form on the surface of the pancake.
After about a minute (after flipping) remove from griddle and top with more chocolate chips and whipped cream.