A step by step tutorial on how to use MyFitnessPal sharing all my favorite tips/hacks!
When I first started tracking macros, there were so many times I had decided to use MyFitnessPal, opened up the app, tried to log a food, and then deleted the app moments later.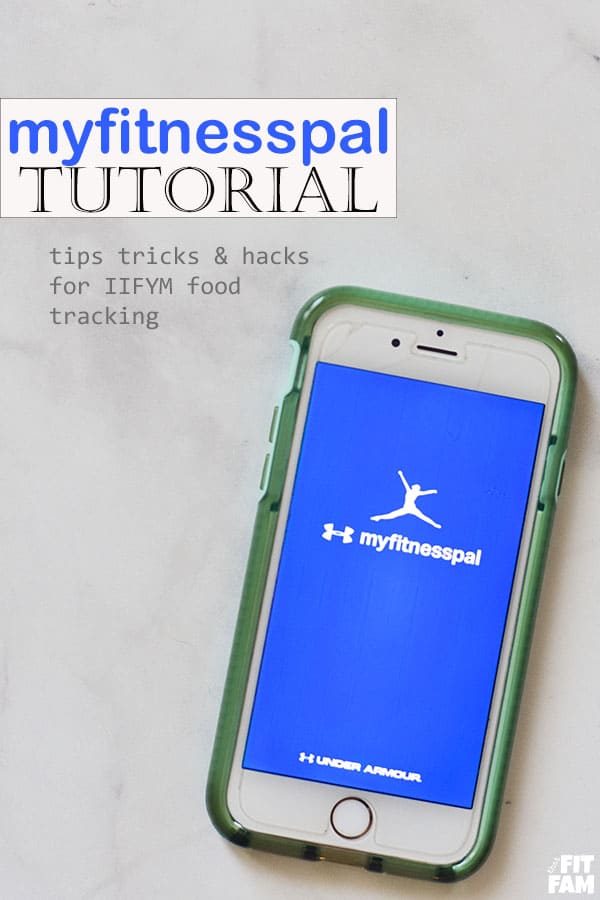 People rave about it, but it just wasn't my thing. I didn't mind tracking what I ate on a piece of paper instead of my phone; I preferred it even.
It wasn't until I really gave the app a fair shot, that I learned to love it and use it for both mine and my husband's fitness goals.
I think what helped me to really "get" MyFitnessPal was viewing the site on my desktop computer as opposed to my phone.
I found that because the screen is a lot larger and I have an actual keyboard, I got a lot less frustrated looking up the foods I typically eat.
When I'm on my phone, I really don't want to take the time scrolling through each food listing to make sure it's nutrition facts are accurate (yes, I double check every food item the first time I log it).
I also find it is easier to upload recipes on a desktop rather than the app (I'll explain why later) and recommend doing it this way if you can.
MyFitnessPal Tips for Success:
Step 1: Go to MyFitnessPal.com or the app and set up your profile. It will prompt you to set up your profile and your goals.
Step 2: Setting your goals.
Enter your starting weight, your goal weight, height, gender, DOB, activity level, & goal. (Note** I put "Sedentary" as my activity level & input no exercise plans because the calories burned based on the more active settings aren't necessarily accurate and will affect the calorie/macronutrient totals they give you for your goal).
MyFitnessPal will then give you a recommended daily calorie goal & macronutrient breakdown, adjust this as needed.
For example, the site gave my 205 pound, 6'2″ husband an unrealistic goal of only 1500 calories/day.
In Jillian Michaels' book Making the Cut, she says that if you want to lose weight you should not go below your BMR and, instead, create your calorie deficit from your work outs.
Scott's BMR is 2,034 calories, so MyFitnessPal's recommendation is not the best for everyone. I love tdeecalculator.net (screenshot below) for calculating my BMR.
After you get your calorie goal, you can edit the number of calories in your "daily nutrition goals" and it updates your macronutrients for you based on percentages.
These numbers are a good starting point, however, if you are familiar with IIFYM, you can adjust your macronutrients to what works best for you by switching up the percentages of each category. I always end up raising my protein and lowering my carb goals (if I don't I end up too hungry during the day).
Step 3: Logging Food
So this is pretty straight forward, but you go to your food diary & click the add food button.
If you're on a desktop, you type the food in the search bar and select the correct brand/item. Update the number of servings and click add.
On the app, the add food button is a + sign. Do the same, search for your food, update the number of servings and click the check mark to add it to your day.
Barcode Scanner. If you are using the app, the easiest way to upload food is to scan the item's barcode.
You'd be surprised, even fruit has a barcode. I scanned my mandarin orange in last night.
The barcode scanner looks like a barcode and is located on the screen following the add food + sign. It is in the top right corner. Once you scan it, update your serving size and click the check mark. This is my favorite feature of the app!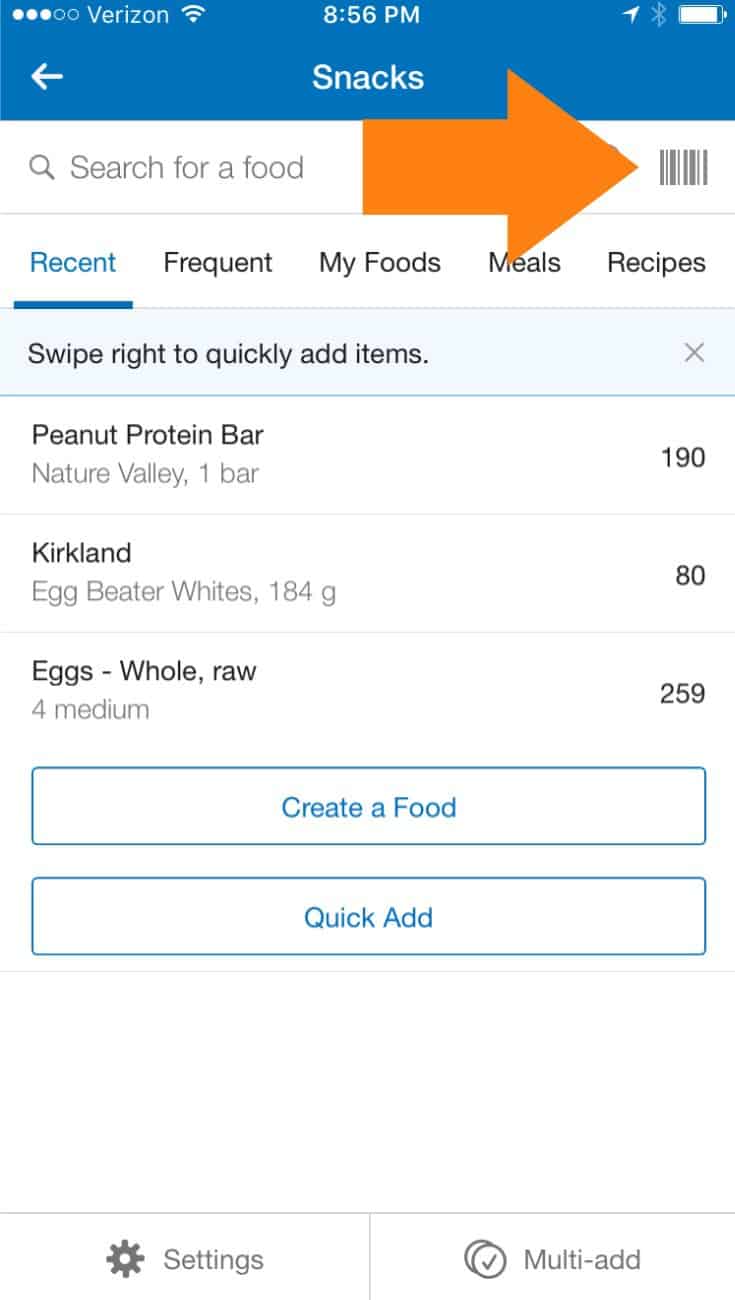 Saving meals. If you have "typical" meals you eat, the best thing to do is to save that meal after you enter it for the first time.
I eat the same breakfast everyday and typically the same snacks, so I save them.
To do this (on desktop) when you are looking at your food diary, click on the "quick tools" button and select "remember meal." You can then name this meal whatever you want.
On the app, click on the three dots (…) and click "save as meal," then name your meal & save.
To enter this into your day, go to add food, select your meal time (breakfast/lunch/dinner, etc), and then the meals tab & add it to your food diary.
Copying meals. Something similar to saving meals is the copying meals feature. When looking at your food diary, just hit the three dots (…) and it says "copy from date" or "copy to date." Then you just copy to whichever day you would like.
Importing a recipe. Importing a recipe is easiest from a desktop, in my opinion. All you do is hit "add food" then click the "recipes" tab then "create recipe" (or use a recipe you've already created).
At this point, you have a few options: (1) type your recipe manually, (2) select a recipe on the spot from one of the sites they recommend, or (3) copy & paste the url of the recipe you are using and then upload it to the site. The third is my favorite option. I can pick any recipe from Pinterest that I've been eye-ing and MyFitnessPal does all the work!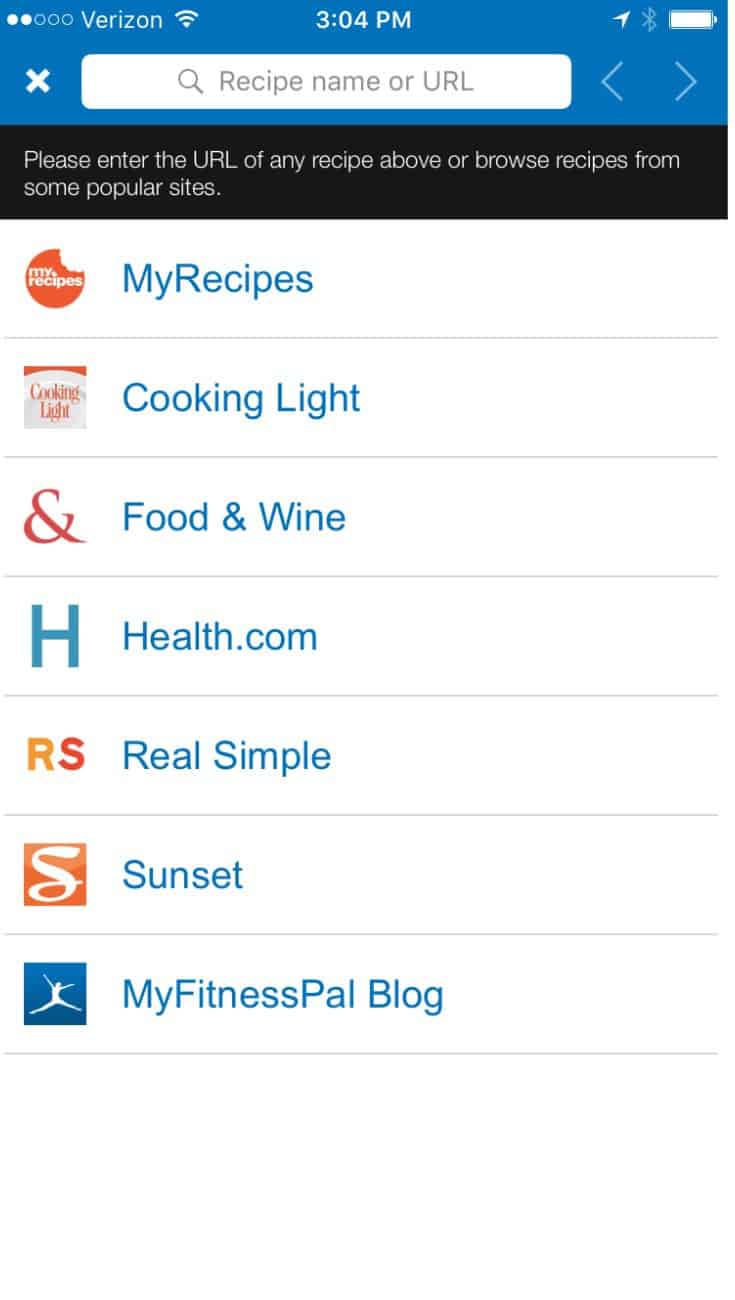 Tip: double check all the ingredients and make sure it all looks right. One recipe I used called for a 28 ounce can of tomatoes, MyFitnessPal logged it as twenty-eight, 28 ounce cans of tomatoes.
Logging food when it isn't a perfect portion. Don't get overwhelmed. Your chicken does not have to weigh a perfect 4 ounces, in fact, none of your food needs to weigh exactly 1 serving for you to log it. Here's what I do:
Find/scan your item into MyFitnessPal but don't add it yet.
Weigh out what you are going to eat using a digital food scale.
Now do some simple math. For example, the other day I decided that my son's chicken strips sounded a lot better than my salad, so I weighed out a portion for myself. This came to 3.7 ounces.

Well, one serving is 3 ounces. Instead of breaking apart my chicken strip to try and get exactly 3 ounces, I just take my number in ounces and divide it by the serving size in ounces (3.7/3=1.23) I now know that I am going to eat 1.23 servings of Tyson chicken strips.

Now the last step is to change your number of servings to 1.23 servings and you're done! It's that easy!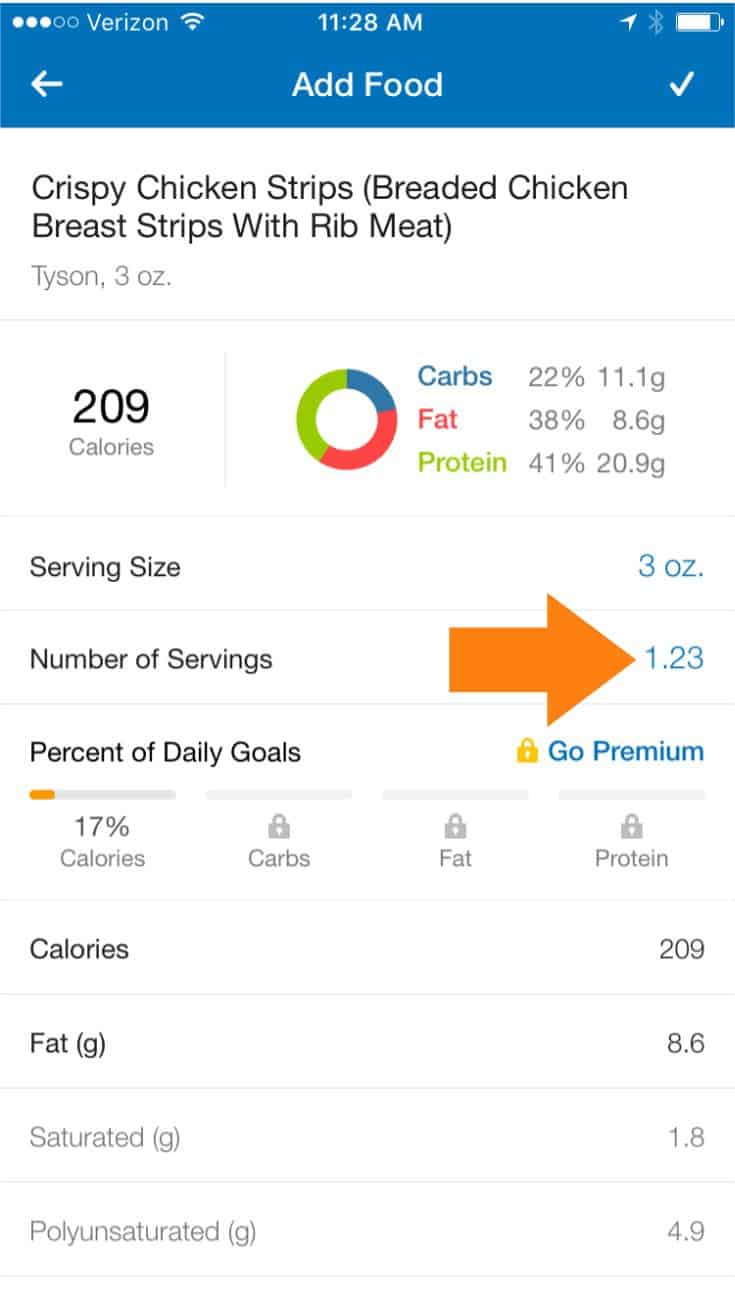 I use this method alllll the time because sometimes I don't want a full serving of what I'm eating. Sometimes I only want a small handful of broccoli or potatoes or in this case, a bigger portion of chicken strips 😉
Tip: weighing your food in grams is going to give you the most accurate measurement. I chose to weigh the chicken strips in ounces because the nutrition facts were in ounces and I didn't want to do extra math. Most nutrition facts (other than meats) will be in grams.
Step 4: Completing your day.
While this step isn't necessary, it is my favorite. After you've logged all your food you hit the button at the bottom that says "complete diary." MyFitnessPal then tells you how much you would weigh in 5 weeks if you ate like this every day! How cool is that!
Tips and tricks:
If you are on your food diary on the app, you can turn your phone sideways to see the macro break down instead of going to the menu & then the nutrition page.
If you want to add just carbs, just fats, or just protein, you can search "carbs," etc and you'll find entries for them. This is an easy way to quickly add in macros when you don't want to spend the time creating a recipe and already know the nutrition facts.
You can do a similar "hack" for alcohol macros. I go into more detail on tracking alcohol here.
From the home page, you can also get to your food diary by clicking the calories remaining bar at the top.
You can set reminders to log your food or weight. (click "more" and then "reminders")
You can log your entire day in advance. I love planning my meals in advance, so I always do this. If you don't end up eating what you planned, just delete the item and scan in the new one. Super simple.
If you go over or under your goals or forget to track, don't stress. Just do better tomorrow.
There is a community that you can interact with and ask questions to in the group forums.
New Feature:
There is a new feature where you can now use MyFitnessPal to create exercise routines as well. For example, you could enter in your favorite leg day routine and keep track of the weight, reps, and sets you complete.
Don't expect success overnight, this is an ongoing process. Trust it! If you are starting a new work out routine especially, you may see the scale go up initially. No, you probably didn't gain muscle that quickly, but weight gain from working out is real and due to other factors. It will take a couple weeks for that to go away.
I hope you found this tutorial helpful! Have a great day!
If you liked this post, you may also like: