We've only recently discovered the deliciousness that are whole grain pancakes. After writing our post on quitting sugar, we decided that we should come up with a new pancake recipe that avoids the use of white flour since white flour has little nutritional value. Lately our substitute has been protein pancakes, but we wanted a recipe that we could share with our toddler as well.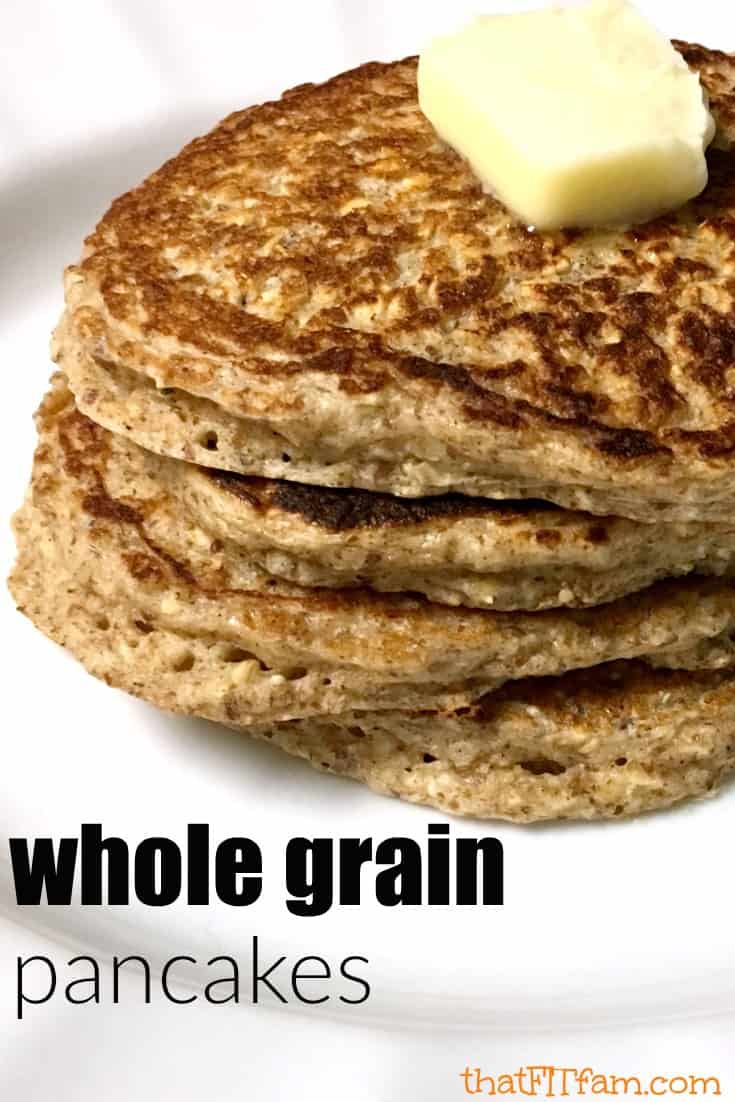 These whole grain pancakes are tasty, fluffy, and better yet have a serving of whole grains, healthy fats (through flax seed & egg yolk), tons of fiber and some good protein in there as well. This recipe really incorporates every macronutrient and is so delicious my toddler can't get enough! I love topping mine with a chocolate protein sauce, but for David we usually drizzle some Agave and he loves it! Truthfully, these pancakes are so healthy, I wouldn't even mind using normal syrup, but we don't have any =(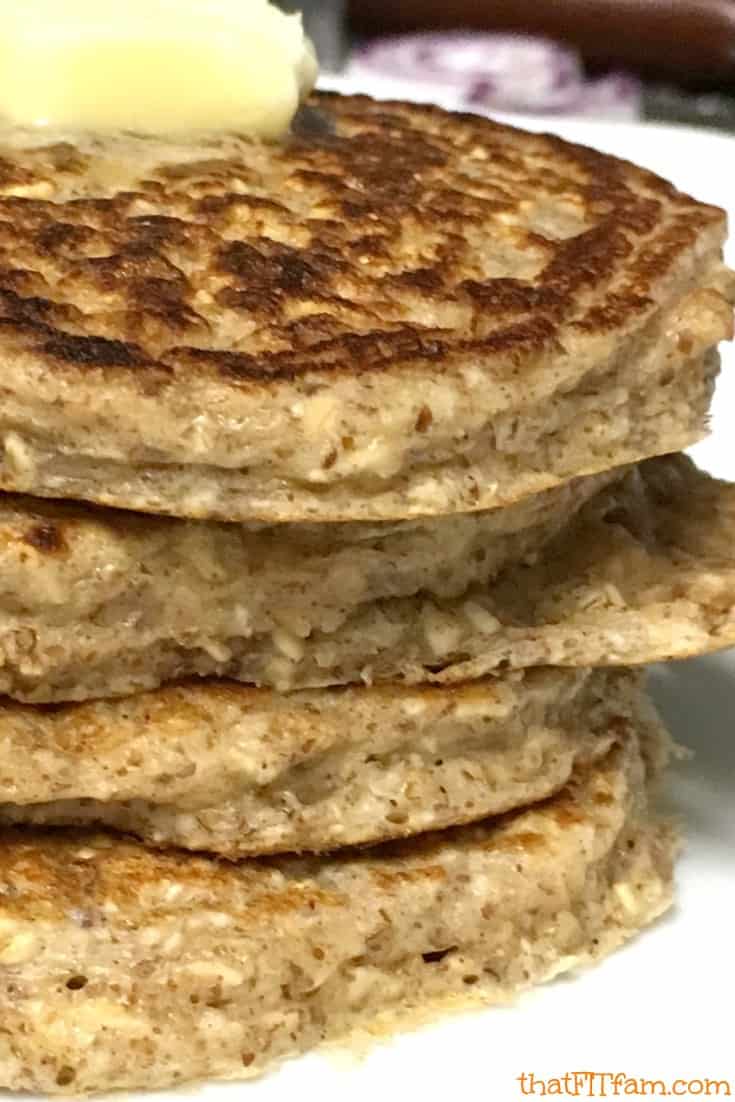 The key to making these pancakes fluffy is the Greek Yogurt. Surprised? I was too. I even made this recipe a few times without it, upping the baking powder, but it still just ended up super flat. I added the Greek Yogurt for protein and was surprised by the change. They were fluffy! The flat versions were fine too, but if you have Greek Yogurt on hand, definitely add some in! I love using the FAGE TOTAL 0% Nonfat Plain Greek Yogurt.
I'm so happy we came up with this recipe! It's our new go to. It's even replaced our protein pancakes! Protein pancakes are great, but they lack the fiber and whole grains. In these pancakes we are able to get a full serving of whole grains through the use of flax seed and oat flour.
To make the oat flour, just throw some rolled oats into a food processor and pulse until it is a powder. One cup of rolled oats makes just a little less than one cup of oat flour. It is so easy and probably my favorite flour substitute by far.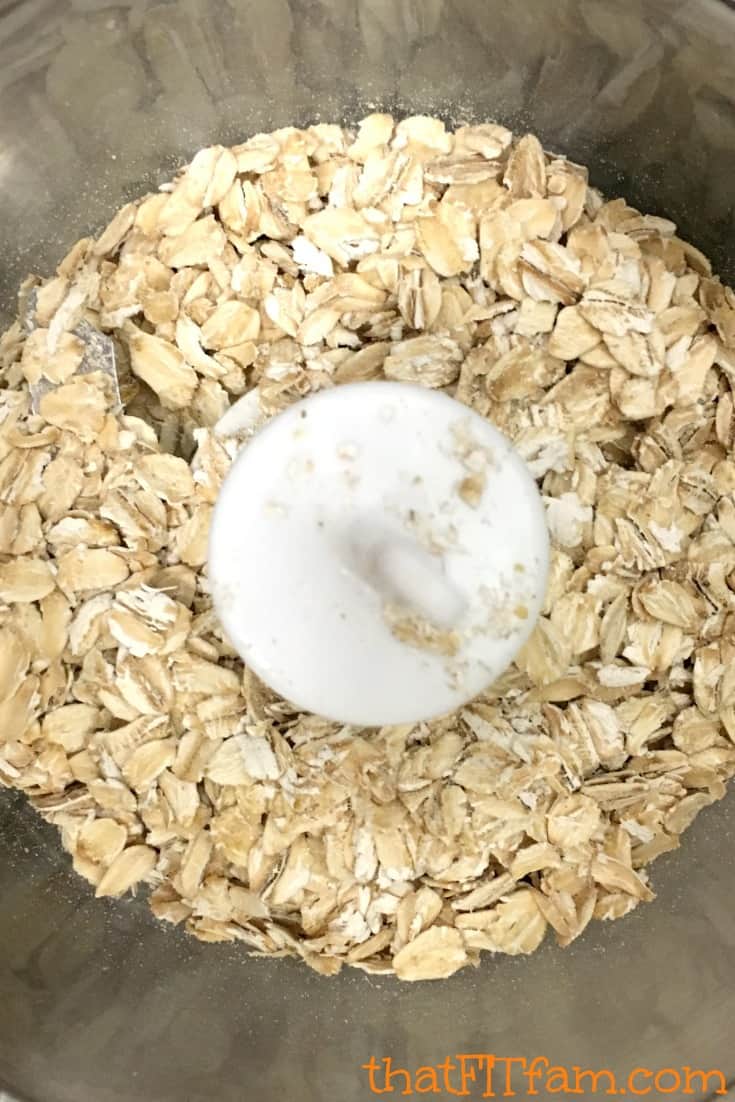 These whole grain pancakes are a great addition to our mornings. You know what they say: breakfast is the most important meal of the day! Top with fruit if you'd like for another variation.
Meal Prep Tip:
I love making a double batch and throwing them all on the griddle. I can make a ton really fast and then freeze some or store them in the fridge for later in the week! (I love this Electric Griddle from Presto)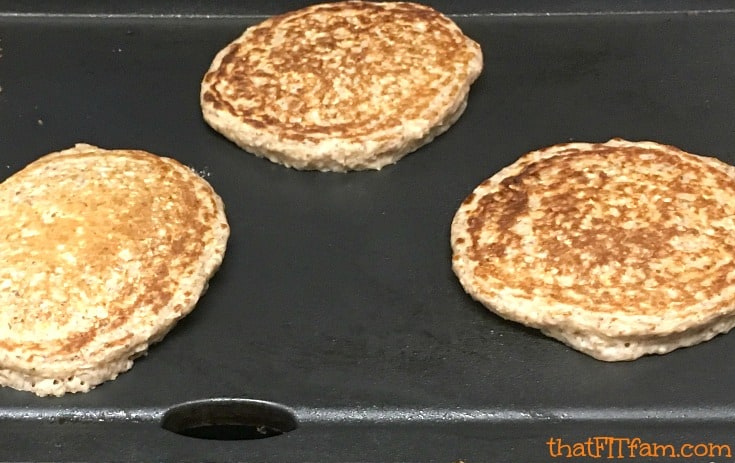 Yield: 11 medium pancakes
Whole Grain Pancakes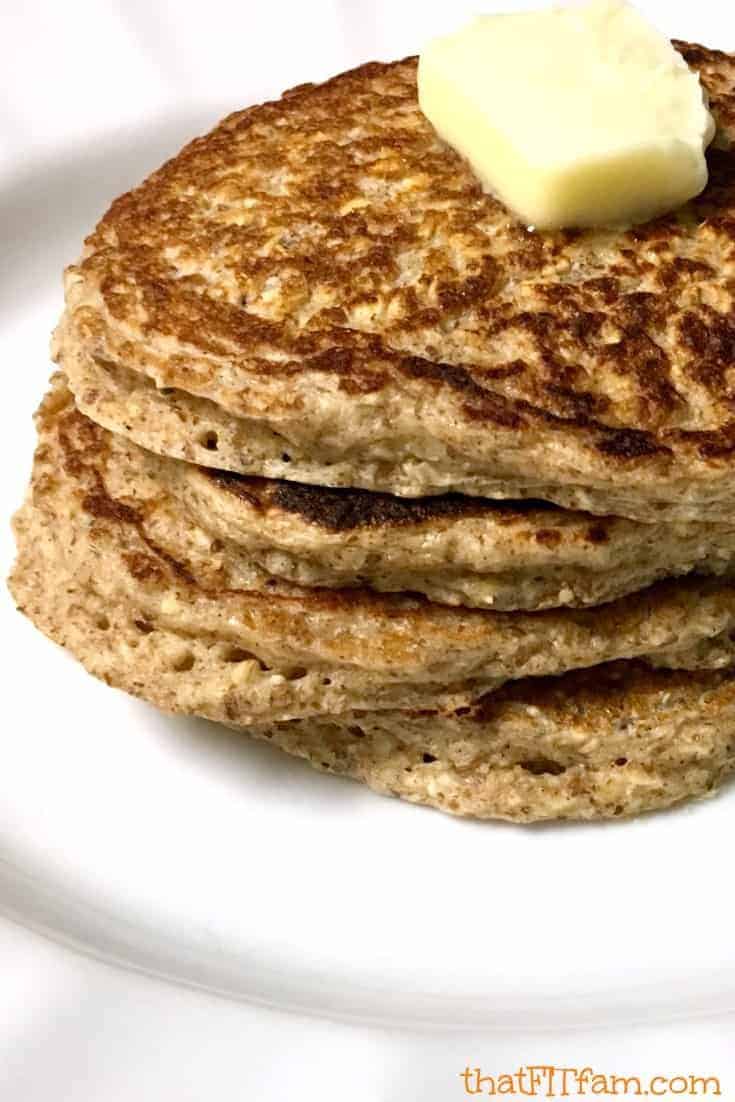 Ingredients
1 3/4 cup oat flour (ground up oats)
1/4 cup ground flax seed
6 oz Fage nonfat Greek Yogurt
1 whole egg
3 tbs egg whites (equivalent to 1 egg)
1 cup milk
1/2 tsp cinnamon
1/2 tbs vanilla
2 tsp baking powder
Instructions
Mix oat flour, flax seed, baking soda, and cinnamon in small bowl.
Stir in milk.
Add vanilla, eggs, and Greek Yogurt.
Mix well.
Scoop 1/4 cup of batter and pour onto hot griddle.
Cook about 2 minutes on each side or until done.
Serve warm.