Vegetables are so good for you, everyone knows it. But sometimes they aren't the tastiest. And if something doesn't taste good, I don't care how good it is for me. I will avoid eating it at all costs.
This is why I won't eat brussels sprouts. I've given them a fair shot too. I've tried them cooked in a variety of ways and I still hate them. It's really awful too because we try our best to teach our kids (by example) not to be picky, but I have a hard time stomaching this veggie. If it's at a get together, I will toss a few on my plate to be a gracious guest and to teach my children, but it is hard to finish them.
Luckily, I don't feel this way with all veggies. In fact, get me some Tepanyaki style veggies and I'll eat them til they're gone. Didn't finish yours? Don't worry. I got it. 😉
What are Tepanyaki style veggies?
Tepanyaki is a style of Japanese cuisine where they cook on a large iron griddle. Tepanyaki roughly translated actually means "grilling on an iron plate." If you haven't been to a Tepanyaki restaurant you need to!
You sit a table of about 6, where a chef cooks on the large griddle right in front of you. Usually the chefs will put on a show for you as well. It is so fun to watch! We go every year on my birthday (and randomly throughout the year as well).
I've told Scott that we NEED one of those cook-tops in our next house; you know, the one we buy when we're rich. Can you imagine how much more fun cooking would be? And clean up would be a breeze! No pans to wash, just run a quick wet rag over the top like they do at the restaurants & I'm done!
The trick.
I've discovered that when making Tepanyaki style veggies, the way you cut the zucchini is key! Why? because if you go with normal circular slices they will cook too fast & when combined with the mushrooms (which already create a bit of water) they will turn to mush! That is not what you want. So make sure you cut those zucchini into spears.
How I cut my zucchini.
It's easy. First I just cut off either end. Next I cut the zucchini into three 2 inch sections (4 if you have a large zucchini). Lastly, I cut the zucchini in half lengthwise and then in half again (also lengthwise).
If you did 3 sections that should leave you with 12 zucchini spears. This recipe calls for 3 medium zucchini, along with 1 onion & 8 oz mushrooms to make about 4 generous servings.
What's funny is that we call this a veggie side, but really zucchini is a fruit and mushrooms are a fungus, so the only REAL vegetable in the dish is the onion! Oh well! Still nutritious, still delicious.
Tepanyaki Style Veggies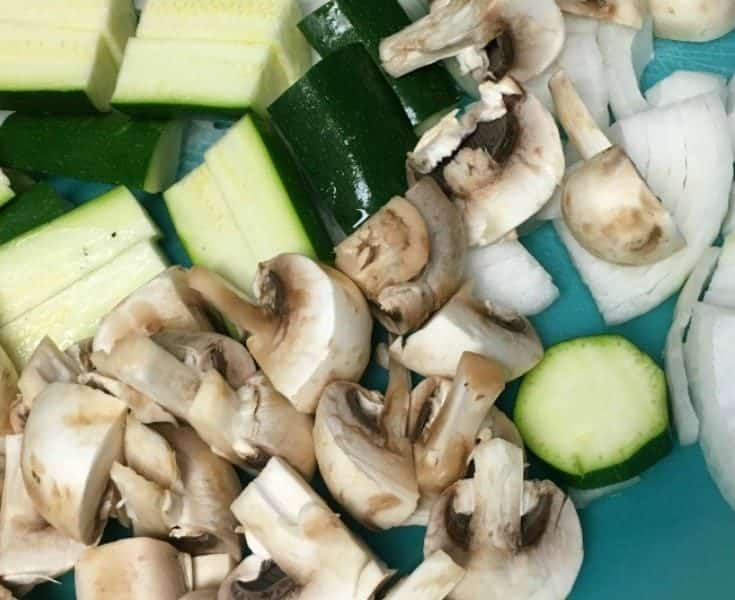 Ingredients
3 medium zucchini
1 small onion
1 8 ounce carton sliced mushrooms
2 tbs reduced sodium soy sauce
1 tbs balsamic vinegar
salt to taste
Instructions
Slice onion & zucchini in larger chunks. (for zucchini cut into spears by cutting off ends, then cut into 3 (2 inch) sections, then cut into fourths lengthwise, don't do circular slices)
Heat saute pan over medium-high heat, lightly coat with Pam cooking spray
Add onions to the pan, allow to soften slightly before adding zucchini & mushrooms
Cover for about a minute to speed up mushroom & zucchini cooking time
Add seasonings, stir, and serve hot