It the fitness community we joke a lot about "moderation" and "balance" when it comes to dieting. We mainly do it when we're eating something that isn't so healthy. Tonight's recipe is something that someone might joke about not being healthy, but in reality it's not that bad. Chicken Florentine Crepes have tons of protein, some veggies, and a healthy amount of fat in the form of a ridiculously delish hollandaise sauce.
Crepes often get bundled in with the pancakes & french toast crowd making most people assume they are full of carbs when in reality, they don't have to be. If I'm doing a sweet crepe, I'll make it with protein powder to save on carbs (so that I can make room for some nutella), but for savory I do go all out with normal flour. With this crepe recipe, I get about 6 large crepes which is about 17 g carbs/crepe. Sure, that's not zero, but I can afford 17g of carbs at dinner time. Plus, your body needs carbs too.
What is Chicken Florentine?
Basically, it's just a fancy way to say chicken made with spinach. So pretty much any dish made with spinach is considered to be prepared in the style of Florence, Italy (a la Florentine).
I love learning new styles of cooking. Tonight we tried "a la Florentine," the other day we made eggs "a la Mexicana." We're just a cultural kitchen over here!
Multicultural food is where it's at anyway. I could list tons of yummy classics from Mexico, Italy, China, Japan, etc but when someone asks me for a typical American dish I draw a blank. Umm.. burgers and hot dogs? I mean. I guess there's classic Southern food too, but it's usually loaded with extra, unwanted fat & carbs. I'm not a huge fan of that… Soo Viva la Florentine!
The Process.
Chicken Florentine Crepes are actually beyond easy, especially if you use a blender for the crepe batter and the hollandaise sauce. Yes, I actually just recently learned you can make hollandaise in a blender! Can you believe it?! It's virtually foolproof!
I'm in the process of taste-testing skinny hollandaise recipes, but here's a full-fat blender version that I love from Cook the Story in the meantime.
I also love making crepe batter in the blender as well. It's the best way I've tried to get rid of the flour lumps, and I've tried pretty much every way imaginable!
The chicken I use for this recipe is pre-cooked (Costco purchased) rotisserie chicken. The equivalent to about 2 chicken breasts.
Diet Tip:
I typically have our meals planned out in advance so we know what the dinner is going to be beforehand. If it's something with a higher fat content (like the hollandaise on Chicken Florentine Crepes) then we go with egg whites in the morning and lower fats at lunch. It doesn't have to be difficult. Just be aware of what you're eating and make room.
Chicken Florentine Crepes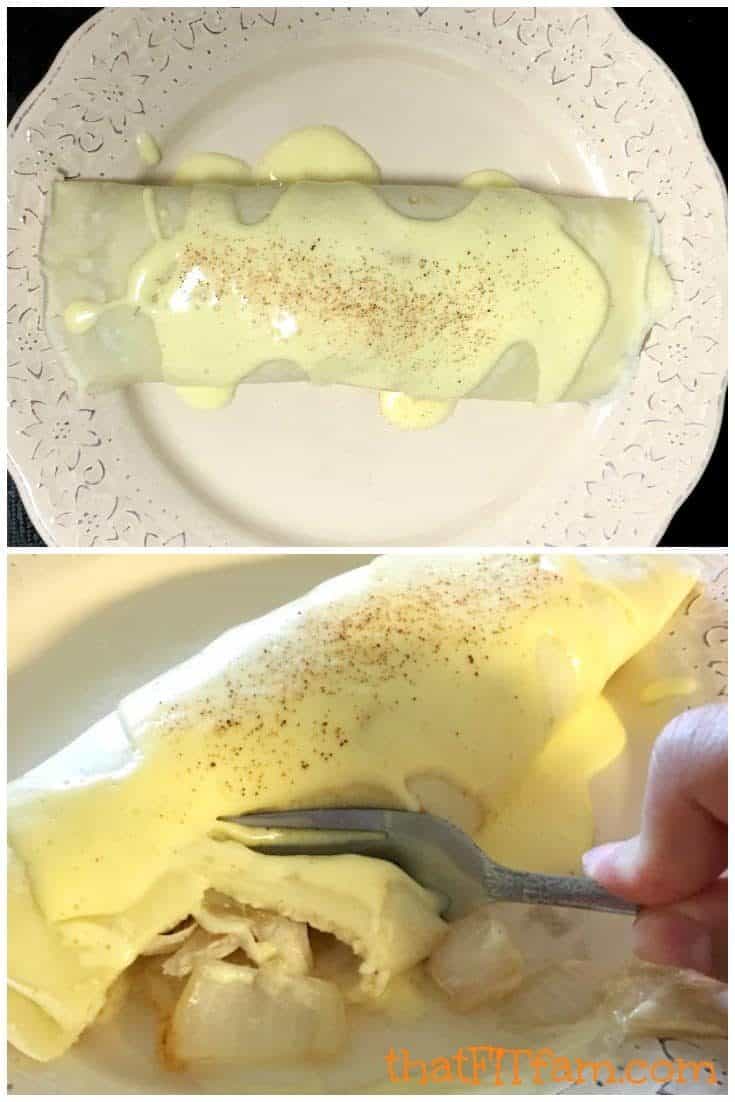 Ingredients
6 mushrooms, chopped
1/4 small onion, diced
1 handful of spinach, roughly chopped
2 cooked chicken breasts, shredded
1/4 tsp paprika
4 large crepes
Hollandaise sauce for topping
Swiss cheese (optional)
Instructions
Heat medium saucepan to medium heat and spray with Canola Oil Cooking Spray.
Add onion cook until translucent.
Add mushrooms, spinach, and chicken.
Sprinkle paprika over mixture and stir.
Once veggies are cooked to desired degree, turn off heat.
Lay out flat one crepe at a time, adding chicken & veggie mixture (& optional Swiss cheese), then roll like a burrito.
Top with 1-2 TBS of hollandaise per crepe.