Remember when I talked about "7 days of salads" in my Costco favorites post? Well, I said we like to get creative with it and tonight's low carb Taco Salad is an example of that.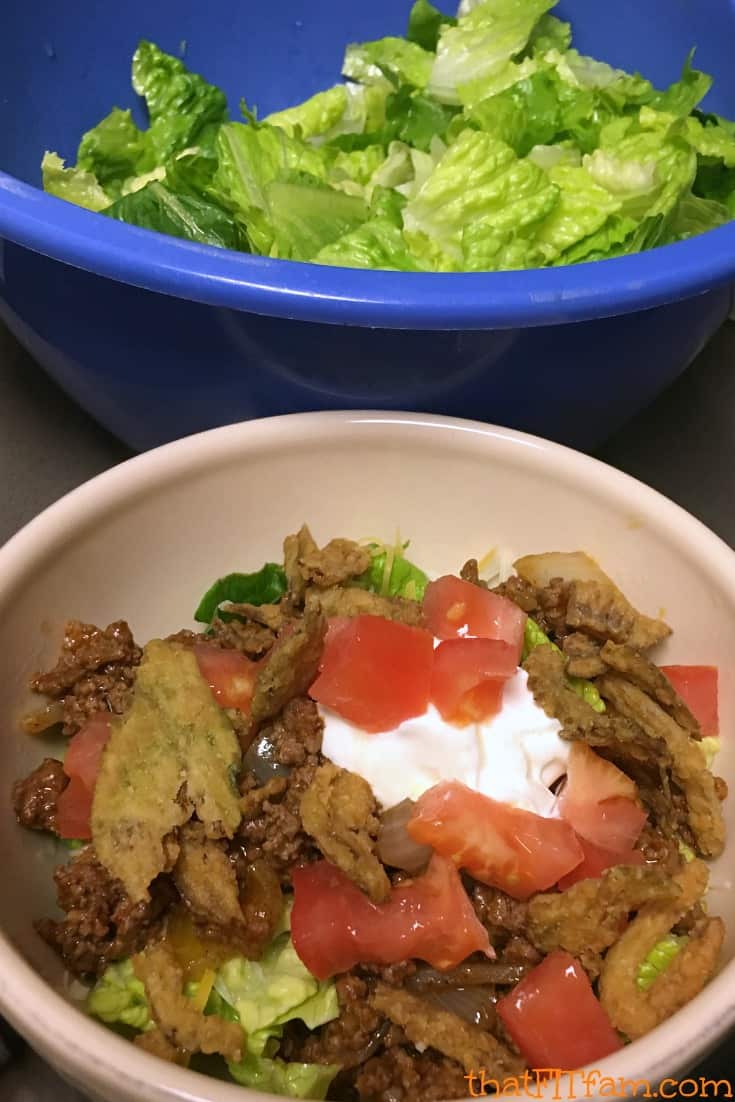 A low carb Taco Salad is super easy to throw together at the last minute. All the ingredients listed are things that we almost always already have on hand. Honestly, I'd be surprised if you went through our fridge and we didn't have onions, tomatoes, and lettuce in there and ground beef in the freezer.
What's nice about this meal is that it is just as satisfying as normal tacos, but you get more veggies and less carbs. My favorite part of this salad is a new ingredient that I just barely discovered that is not a staple item in our pantry!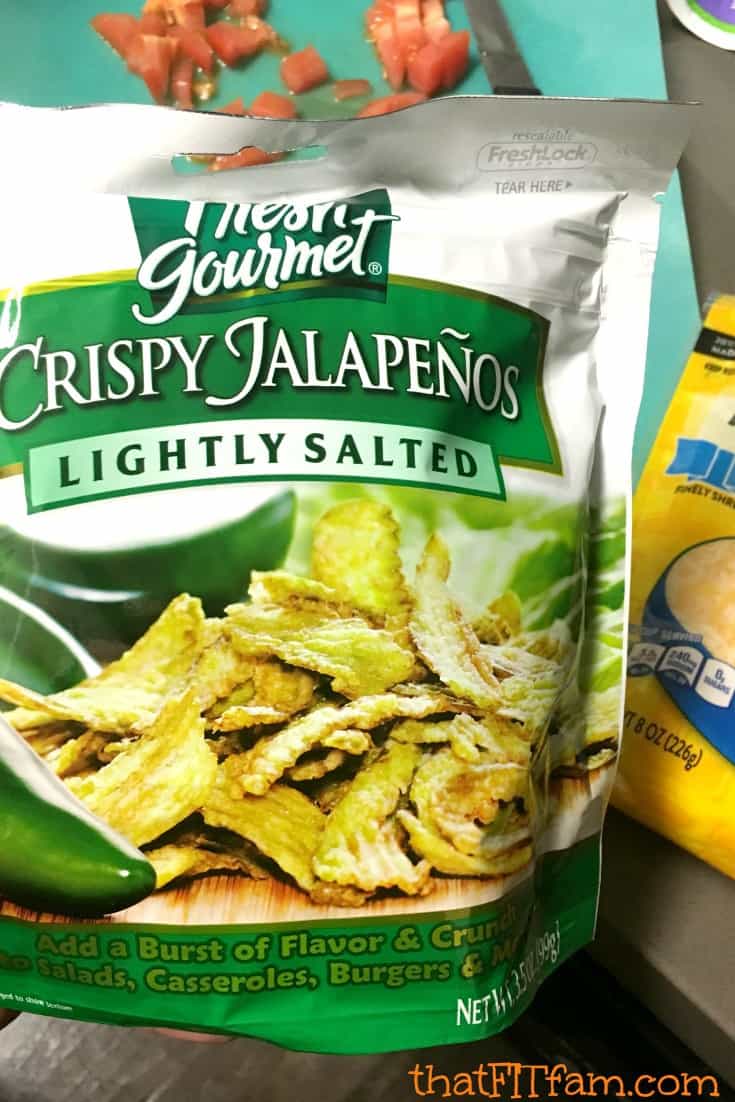 These Crispy Jalapeños really up the ante, making this low carb taco salad a new regular at our house.
Why? Because they add the right amount of spice and also a bit of crunch. This means we get to take out those carby tortilla chips we would normally add to this salad!
I was beyond excited about this find! I can just imagine everything I will add this too! Yum! I found it near the produce at our local grocery store. I hope everyone has it available to them. If not here's where you can find it on amazon (Fresh gourmet Crispy Jalapenos). This brand also has crispy red peppers, crispy onions, and tons of other varieties as well, we just haven't tried those ones yet.
Honestly, try them! You won't regret it!
The recipe.
Making this low carb taco salad is actually super easy. I don't add any fancy seasonings, not even salt because it's all included in the taco seasoning packet. I also don't add salad dressing to this, just a small dollop of sour cream. It doesn't need any dressing. This salad gets enough moisture from the meat with the taco seasoning on it and the small amount of sour cream. Dressing would just just add unnecessary calories.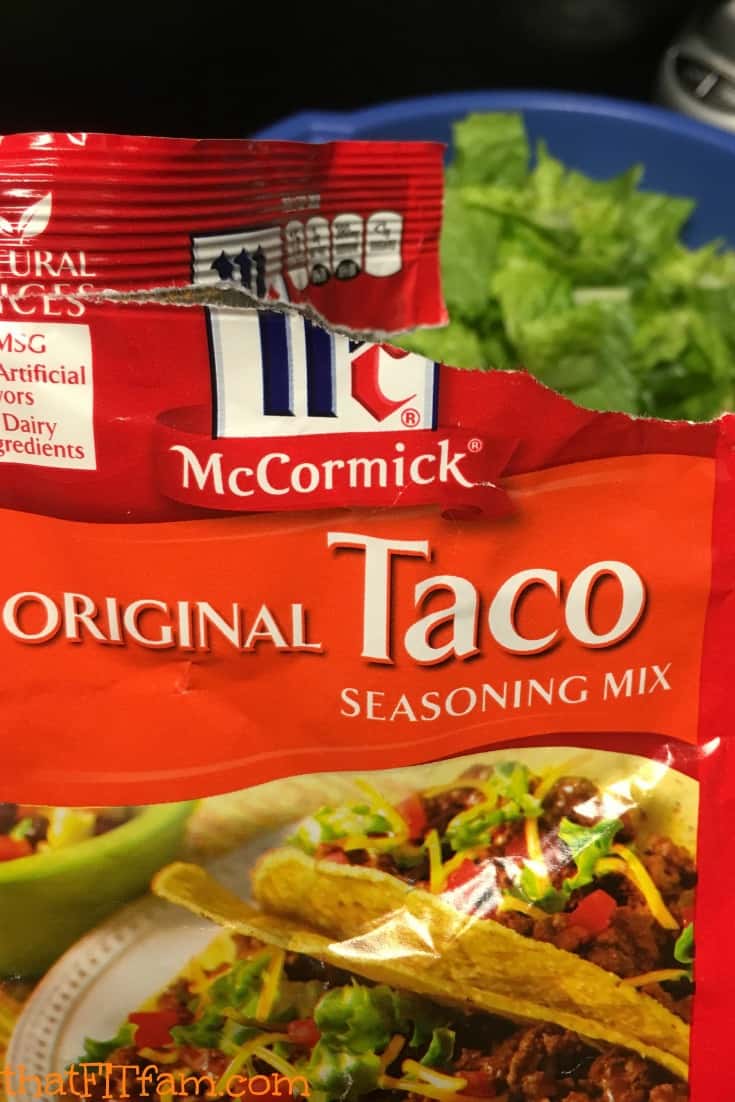 Basically all you do is you rinse and chop your hearts of romaine. Dice your tomato and onion. Cook the meat with the seasoning & diced onions & then assemble it all! Super easy! We love it! Even my 2 year old ate it all (and asked for more!)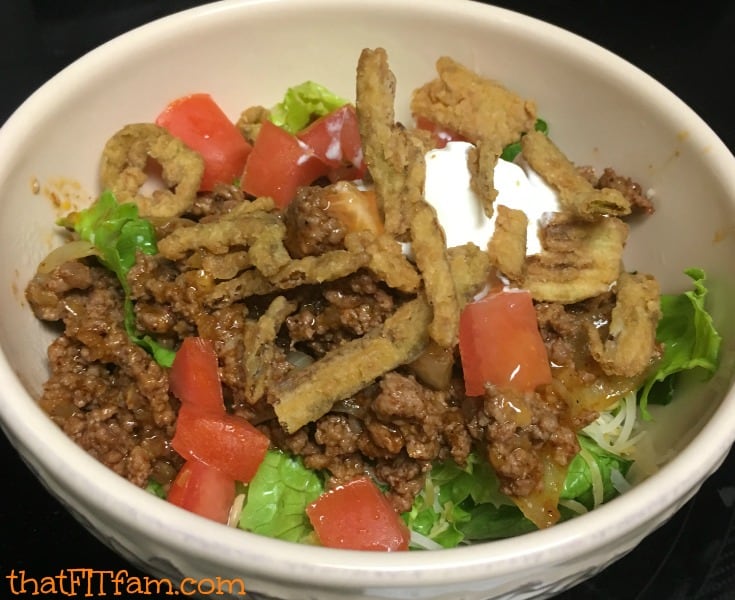 To assemble the salad we add lettuce first, then 2 tbs reduced fat Mexican blend cheese, followed by ground beef, sour cream, tomatoes, and lastly crispy jalapeños.
Yield: 4 salads
Low Carb Taco Salad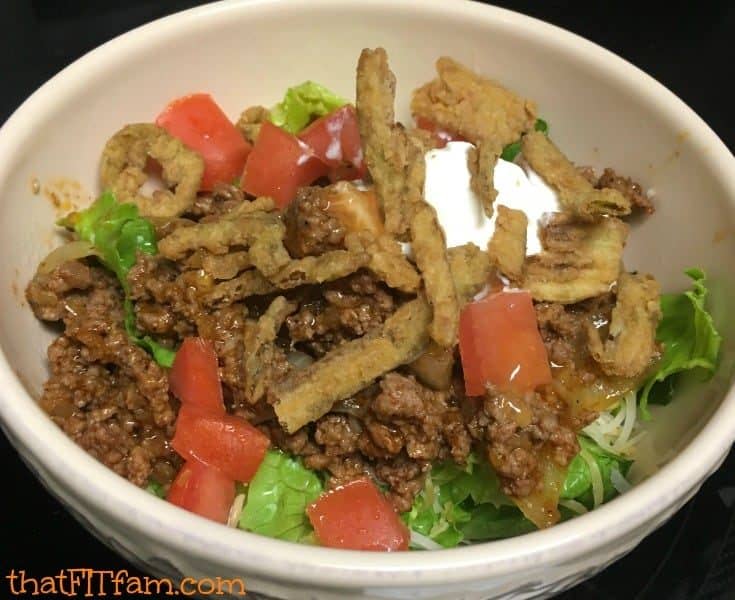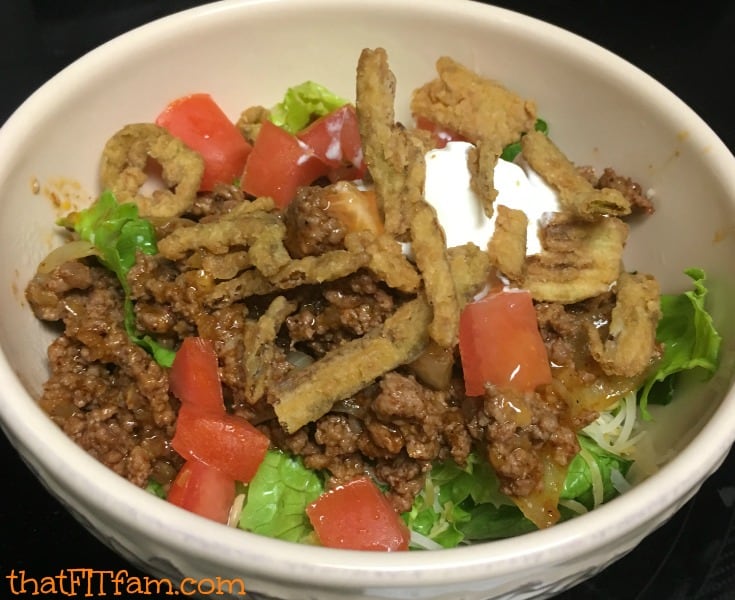 Ingredients
1 heart of romaine per salad (we used 3)
2 tomatoes
1/2 small white onion
1 pound ground turkey
McCormick Taco Seasoning
Fresh Gourmet Crispy Jalapeños
2 oz Reduced Fat Mexican Blend Cheese ( 1/2 ounce per salad)
Nonfat Greek Yogurt
Instructions
Over medium heat, add diced onions to a pan that you sprayed lightly with Cooking Spray.
Add ground beef to pan and cook until done.
Follow McCormick Taco Seasoning Packet instructions from this point (add seasoning & water)
Wash and chop romaine hearts and set aside.
Dice tomato.
Assemble salad. We do romaine, meat, 1/2 tomato, 1/2 ounce cheese, 1 serving crispy jalapeños, & greek yogurt. It makes 4 salads.
Recommended Products
As an Amazon Associate and member of other affiliate programs, I earn from qualifying purchases.
Nutrition Information:
Yield:
4
Amount Per Serving:
Calories:

315
Total Fat:

14g
Sodium:

673mg
Carbohydrates:

16g
Sugar:

6g
Protein:

32g