A thick, cold, ice cream like Chocolate Almond Butter Protein shake that is the perfect post workout meal to fuel your body. Vegan & Macro friendly.
Okay, this is a recipe I have debated sharing for a while because it's super simple. But, sometimes it's the simplest recipes that are the best.
I literally drink this protein shake EVERY DAY! I'm not even kidding. I've made other variations, but this is by far my favorite. It is one of the meals I look forward to most in my day.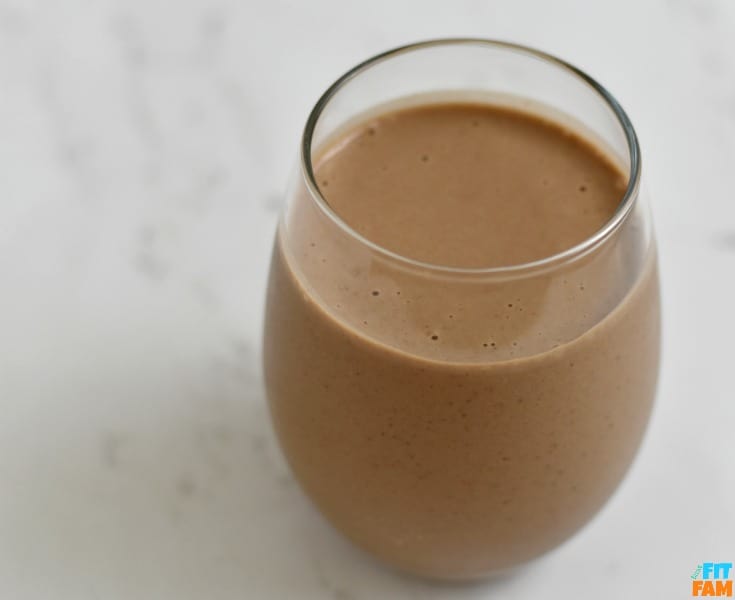 Chocolate Almond Butter Protein Shake Benefits:
I used to make this with peanut butter, and then with PB2, until I finally switched to almond butter. I decided on almond butter because Scott and I have been moving to a more alkaline diet.
Almonds are the only nut considered super alkaline, while peanuts are extremely acidic.
Making a conscious effort to become more alkaline in our diets, has made our bodies feel so much better overall.
Honestly, just ask Scott. He has broken his back TWICE and has always had back pain, but now he is virtually pain free–and we only made the switch 4 months ago!
I use the Kirkland brand almond butter from Costco because the only ingredient is roasted almonds, but you can use whichever almond butter you like.
I also found out that the PB & Me brand has a Powdered Almond Butter, that might be worth a try if you're limiting your fat intake. I'm usually low on fats, so I just use the regular almond butter.
If you're tracking macros…
If you follow IIFYM like we do, this is super easy to measure out. I actually just set my blender directly ON my food scale and then zero out the scale before I add each ingredient. I do this with for every ingredient except the almond milk since that is a liquid. I just measure that out with a measuring cup.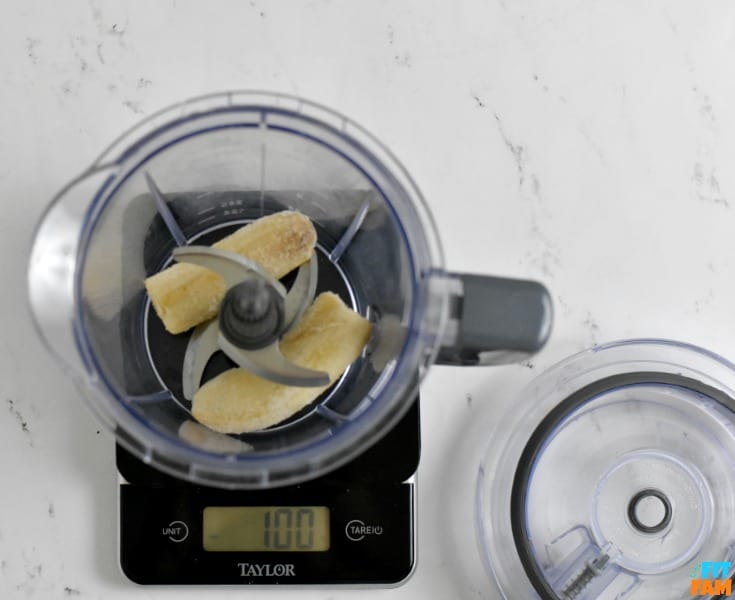 I have found that 100 grams of frozen banana is the best for the consistency that I like in this chocolate almond butter protein shake.
So that is slightly smaller than 1 average sized banana. It's easy to break a banana in half, even when frozen, to get roughly the amount of grams you are aiming for.
It is so important to be accurate and actually measure what you are eating! Especially for things that are super dense in calories like almond butter, dressings, sauces, etc.
So make sure you have a food scale that measures in grams and has the tare function (so you can zero out everything already on the scale like a bowl, plate, etc). They are pretty inexpensive like this one, but so worth it!
As far as protein powder goes, if you care about being alkaline, a plant based protein is best.
I love Women's Best Chocolate Vegan protein. It has the best macros (only 1.4 g carbs!!). But, any chocolate protein powder will work for this chocolate almond butter protein shake.
We did a review on a few different Vegan protein powders here.
Yield: 1 shake
Chocolate Almond Butter Protein Shake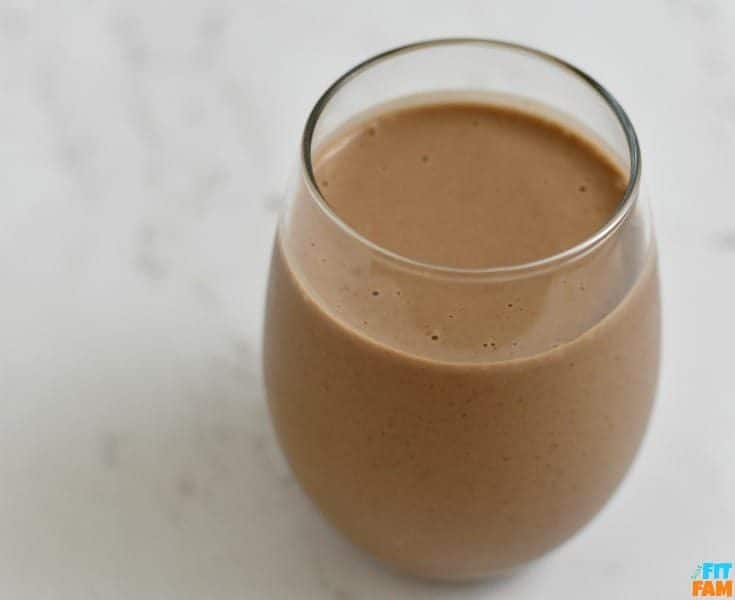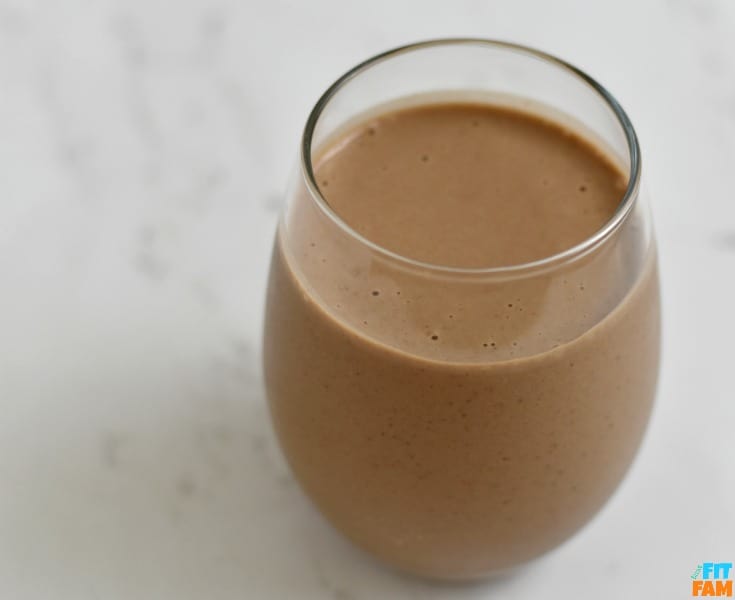 A thick, cold, ice cream like Chocolate Almond Butter Protein shake that is the perfect post workout meal to fuel your body.
Ingredients
100 grams banana, frozen,
1 cup unsweetened almond milk
16 grams almond butter (1/2 serving)
1 serving chocolate vegan protein powder (we like Women's Best)
Instructions
Blend all ingredients.
Scrape down sides of blender.
Blend again.
Enjoy!
Nutrition Information:
Yield:
1
Amount Per Serving:
Calories:

329
Total Fat:

12.9g
Carbohydrates:

29.4g
Protein:

26.3g