Okay, today I have a healthy breakfast scramble recipe that is super easy, totally customizable, and pretty hearty. Seriously though, look at that pic below! Doesn't that look like a ton of food?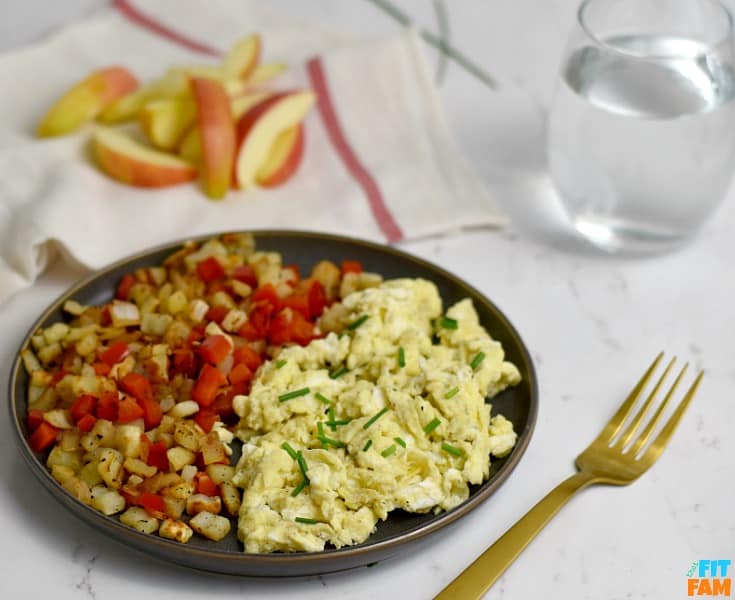 I do measure out every ingredient to the gram because we track our food intake in MyFitnessPal since we follow IIFYM, but you definitely don't need to be this precise with your measuring.
I mean, say you put more than 50 grams bell pepper in your scramble, is that really a big deal? I don't think so… 50 grams by the way, is about a quarter of a bell pepper, in case you don't have a food scale…
This healthy breakfast scramble serves one, but it is easy to double the recipe. I make this about 3 times a week. It sounds like a lot, but I still am not sick of it; it's really that good! I'm actually going through this phase right now where I can't stand eggs unless I mix them with something, so it's either this healthy breakfast scramble or I'm mixing it with our homemade refried beans.
Healthy Breakfast Scramble Tips
The best thing about this recipe is that you can switch it up. For example, it calls for 2 whole eggs and 1 egg white, but you can switch that to only whole eggs or only egg whites if you are having a higher fat meal for dinner. You can also mix in any additional veggies you want. Other options might include: diced tomato, mushrooms, or even chopped asparagus!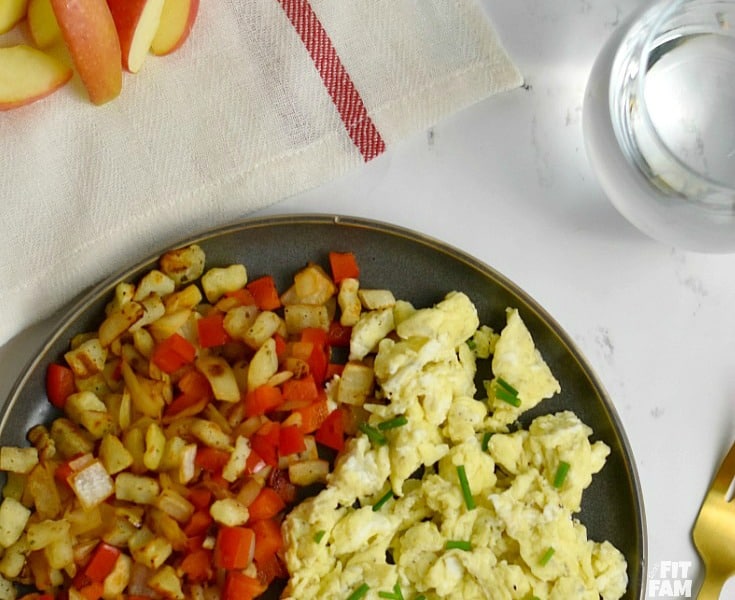 Meal prep tips:
I never make the meal ahead of time, but I do like to pre-chop and weigh out all the veggies. Then I store them in plastic containers or ziploc baggies until I'm ready to make this fresh. But, I only do this for the peppers and onions, I still keep the hash browns in the freezer and weigh those out on the day of.
Yield: 1 serving
Breakfast Scramble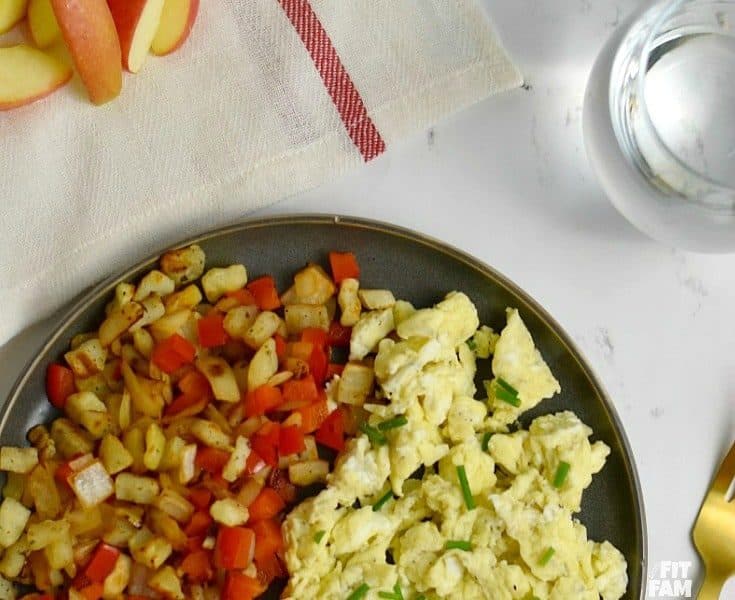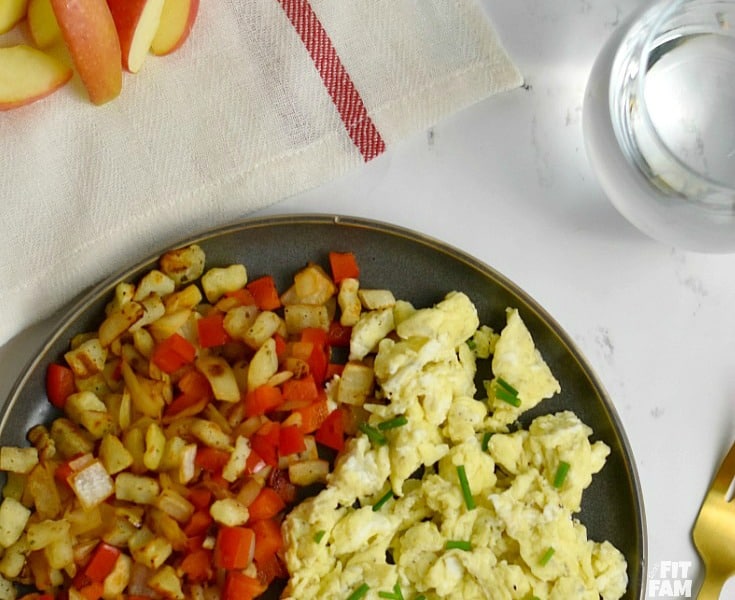 Easy & healthy breakfast scramble made with eggs, potatoes, & peppers. Super low cal and macro friendly. Easy to customize to your macros.
Ingredients
20 grams onion, diced
50 grams red bell pepper, diced
3 oz southern style hash browns, frozen
2 whole eggs
1 egg white
.5 tbs garlic butter
salt and pepper to taste
chives (optional)
Instructions
Heat a pan on medium and add garlic butter.
Toss in frozen hash browns, season with salt and pepper, and cook 5 minutes, then flip and cook additional 4 minutes.
Add in bell pepper and onion.
Once onion becomes translucent, transfer hash browns and veggies to plate.
Scramble eggs and add to empty pan. Season with salt and pepper. Cook until done.
Add to plate. Garnish with chopped chives. Serve with ketchup if desired.
Nutrition Information:
Yield:
1
Amount Per Serving:
Calories:

290
Total Fat:

13g
Carbohydrates:

21.4g
Protein:

19.3g