This copycat Chili's salsa recipe is made using fresh ingredients and is then cooked on the stove to enhance the flavors.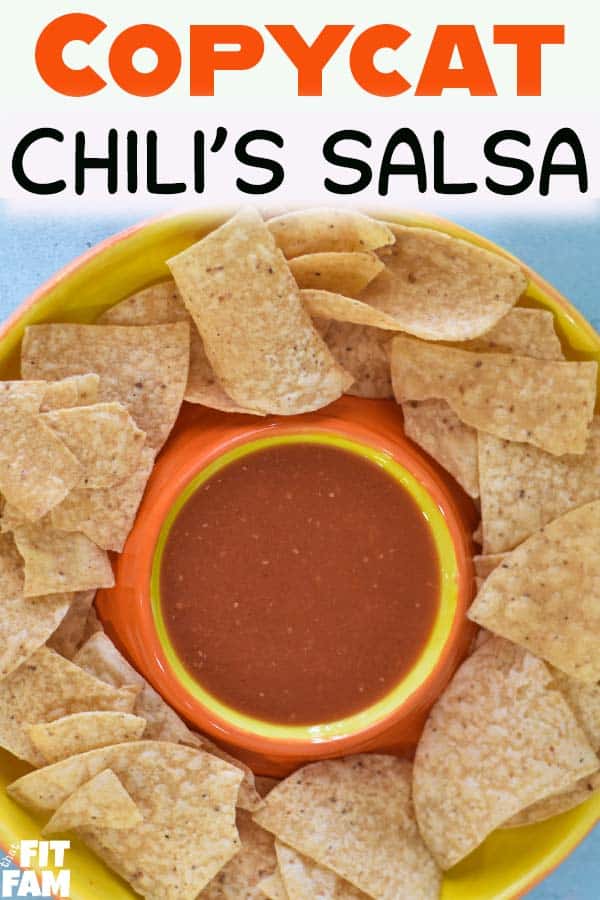 I LOVE salsa so much so that I have about 10 favorite recipes. They are all good for different things.
I have a greenish one that I use for chicken and carne asada, I have a chipotle red that I use for chilaquiles, I have this one that I'm sharing today and so many more that I'll get to posting one day I'm sure…
This specific recipe is my copycat Chili's salsa and it is PERFECT for dipping tortilla chips in.
If you've ever been to Chili's, you know their salsa is the best part. The rest of their menu items are not my fave, but the salsa is addicting.
For my homemade version, I use 1 fresh jalapeño but it is not spicy. Non-spicy is essential if you want to eat something on end.
I love this recipe for appetizers, especially if we have company. In fact it's usually part of any game day or fight night spread.
This is also a kid friendly recipe. My 4 & 6 year old love the flavor.
My favorite part of this recipe is that it uses fresh ingredients. For some reason, that's hard to find in a salsa recipe online.
Canned tomatoes are convenient, but I try to stay away if I can. I once read something about canned tomatoes being the tomatoes that were overripe and couldn't be sold fresh in stores. Instead of discarding them, they can them. Which is great until you think about the trace amounts of mold you may be eating.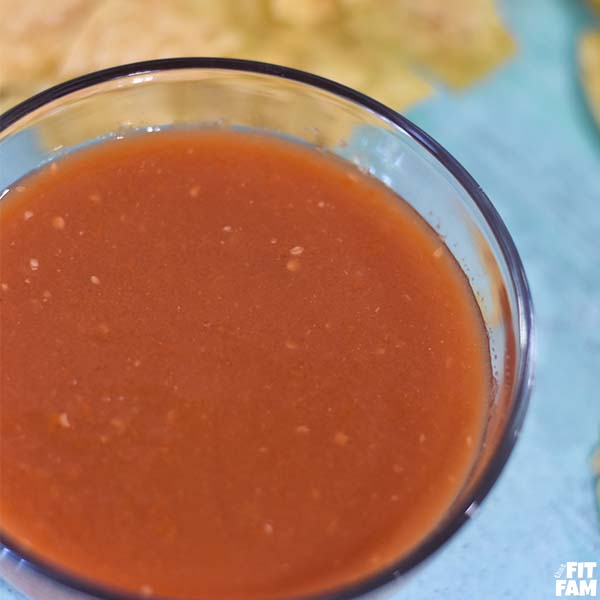 It's not that I never buy canned, I just prefer fresh. I usually buy the large pack of vine ripened tomatoes from Costco.
When making…
One thing to note is that after blending and then cooking the salsa on the stove it will be a little thin. The salsa thickens up after cooling. It will still be a thin salsa, but it won't be as watery once it cools.
Copycat Chili's Salsa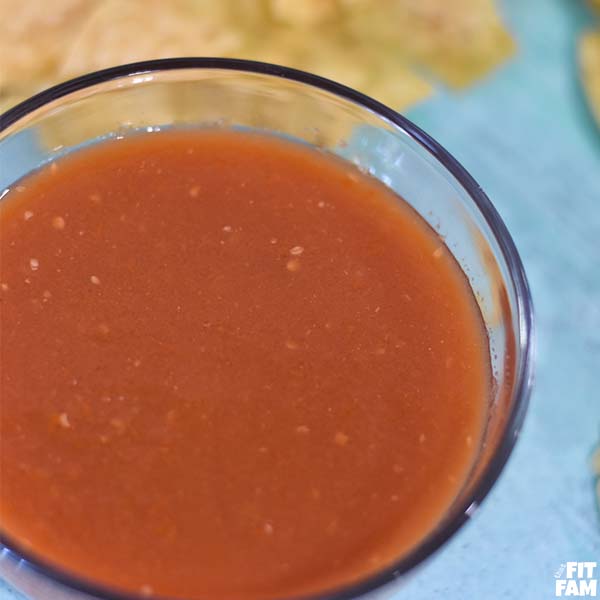 This mild salsa uses fresh ingredients and is packed with flavor. It is the perfect appetizer.
Ingredients
8 vine ripened tomatoes
1 jalapeño, stem removed
1/2 small onion
Juice of 1 lime
1 tsp garlic powder
1/2 tsp salt
1 tsp cumin
Instructions
Cut tomatoes into large chunks and put in blender with jalapeño, onion, garlic powder, salt, and cumin.
Blend until smooth.
Pour mixture into a pot and bring to a boil.
Boil until the sauce turns a deeper red color.
Remove from heat and squeeze in the juice from the lime.
Salsa will thicken slightly as it cools.