This easy homemade pizza recipe is preferred by our family over delivery pizza every time.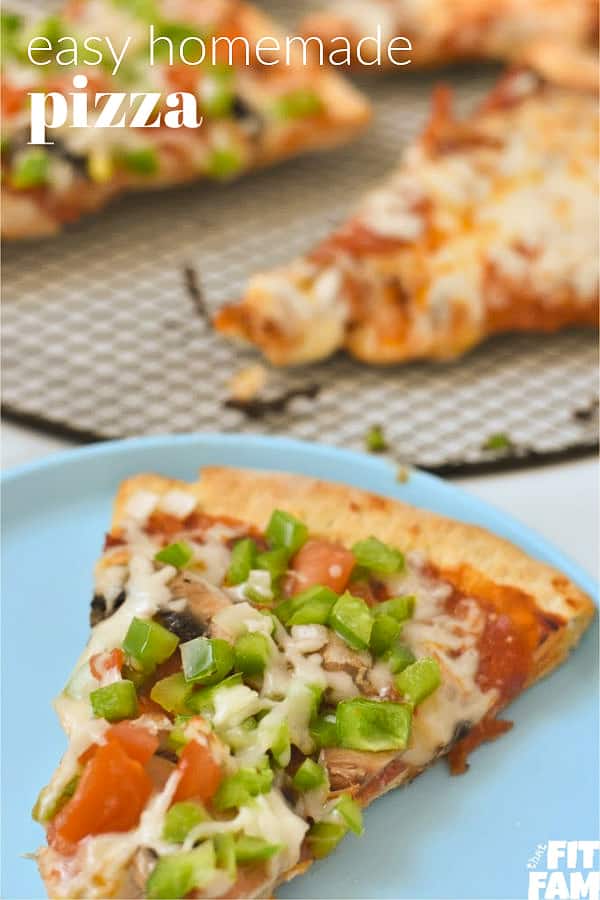 One of the best things about homemade pizza is that you can completely customize it. Not only is that great for everyone's individual preferences, but it makes it a little more diet friendly as well.
One slice of Little Caesar's Hot n Ready is about 280 calories, while this pizza is only 191 calories per slice (depending on toppings) with about half the fat grams.
90 calories may not seem like a huge difference, but it adds up quickly if you want more than 1 slice, which we always do.
Plus, fast food pizza's leaving us feeling greasy & gross, whereas homemade just doesn't.
Family tradition
Making pizza has become a family tradition for us.
We make this every Christmas Eve and also various times throughout the year.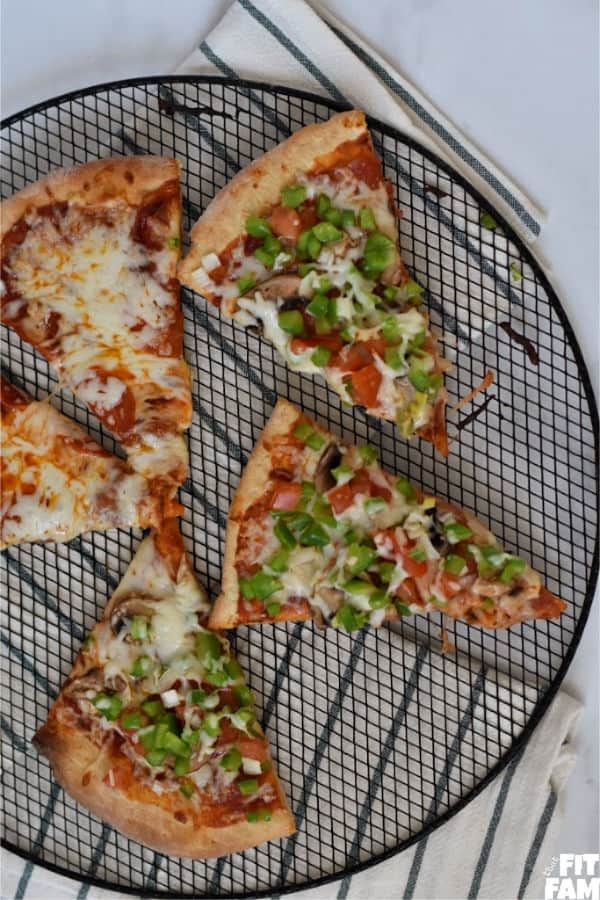 The kids LOVE helping us make this. They are young, but still are able to help.
Aside from our Christmas Eve tradition, I had a roommate in college who said they always made homemade pizza during sleepovers. I love the idea of that tradition option as well.
We're big believers in family traditions because they really help foster a close knit family and that is what we want.
Homemade pizza dough.
First off, I want to talk about the dough. We've made a legit homemade dough in the past, but then we realized that it's just too much work.
We want this to be quick & delicious. Turns out, Pillsbury makes a great pizza dough that is kept in the refrigerated section of the grocery store near the cookie dough.
Using this dough tastes as good as dough made from scratch and a million times better than the packaged pre-made crusts on the pizza aisle.
We don't follow the directions on the back of the container. This is what we do:
Pull the dough out of the fridge about 20 minutes before you need to use it and just let it sit at room temp. This will make it easier to work with.
Next, ignore the rectangular shape and roll it in a ball. Place on a floured surface and sprinkle with a bit of flour and spread it over the dough ball.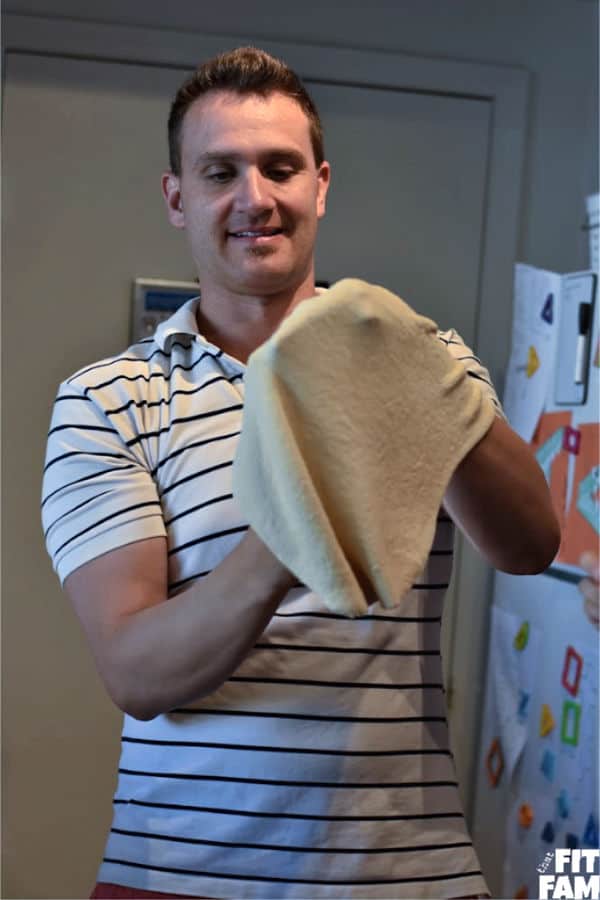 Next, but maybe unnecessary, Scott will knead the dough a bit and roll it into a circular shape & then throw it in the air while singing "That's amore"
After a couple tosses, he puts it on our pizza pan. We love using an "air bake" style pan with tons of holes. We got ours from Walmart a few years ago, but there are similar ones on amazon.
Then we pre-bake it for about 7 minutes, pull it out add toppings & bake again.
This method works really well for us. Without doing this, the dough can be hard to work with.
Pizza Toppings:
Truly, whatever your heart desires. We do half the pizza with just pepperoni for the kids and the other half loaded with veggies for Scott & I.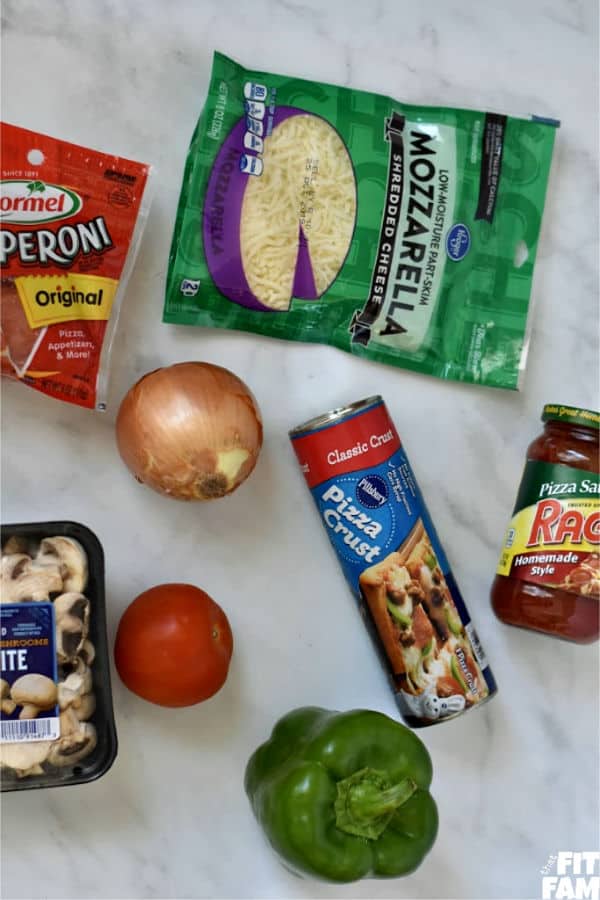 We love mushrooms, onions, bell peppers, tomatoes, and sometimes sliced olives.
Yield: 8 servings
Easy Homemade Pizza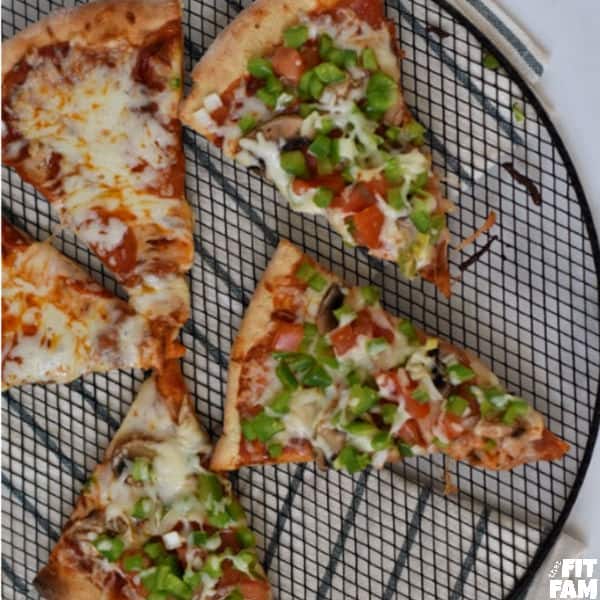 Pizza made at home is a fun family activity and a bit healthier than delivery.
Ingredients
Pillsbury Classic Pizza Crust
Prego pizzeria style pizza sauce
Mozzerella Cheese
Pepperoni
Diced onion
Diced bell pepper
Sliced Mushrooms
Instructions
Flour and roll out pizza dough per instructions listed above.
Pre-bake on a greased pan at 425* for 7 minutes
Spread 2 tbs pizza sauce over the top.
Sprinkle 1 cup of cheese over pizza.
Evenly distribute 1 serving of pepperonis (14 slices).
Add additional toppings.
Cook for 7 minutes more.
Cut into 8 slices.
Notes
We don't exactly follow the directions on the back of the pizza dough. We add flour, roll the dough into a ball and then roll it into a circle using a rolling pin.
Recommended Products
As an Amazon Associate and member of other affiliate programs, I earn from qualifying purchases.
Nutrition Information:
Yield:
8
Serving Size:
1 piece
Amount Per Serving:
Calories:

191
Total Fat:

5.5g
Carbohydrates:

24.9g
Protein:

8.3g
This post may contain affiliate links. For more information, see my disclosures here.