These healthy Halloween fruit treats made from cantaloupe are perfect to get everyone in the holiday spirit (without going overboard on sugar!).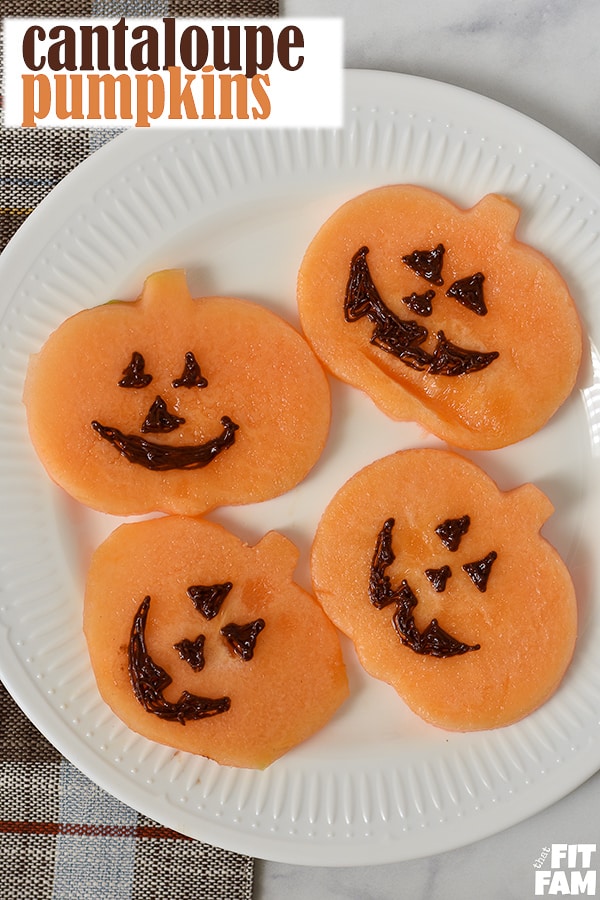 I know it's early, but my kids are already going on and on about Halloween. So, now I've got it on the brain too! Plus, if you follow us on insta, you already know how obsessed I am with cantaloupe.
It's just delish, super low calorie and an amazing source of vitamin A and C. If you don't know how to pick out a good one, it's very simple. All you do is grab a cantaloupe and smell the end opposite where the stem grows. If it smells super fragrant, you've got a good one! If it doesn't, set it down & keep sniffing. A good cantaloupe is worth the awkwardness.
How to make this Halloween fruit treat:
All you need is a knife, a cantaloupe, black icing, and a pumpkin shaped cookie cutter.
This tutorial from A Pinch of Healthy explains how to cut a cantaloupe in case you aren't sure. The only difference is that instead of cutting it in half & scooping out the seeds, for this specific Halloween treat, I do it differently.
Instead, I cut thin slices around the seedy center. The reason I do this is because if I were to cut the cantaloupe in half and then cut into thin slices, my slices wouldn't be big enough for my large pumpkin cookie cutters. If your cookie cutters are small, you can do it either way.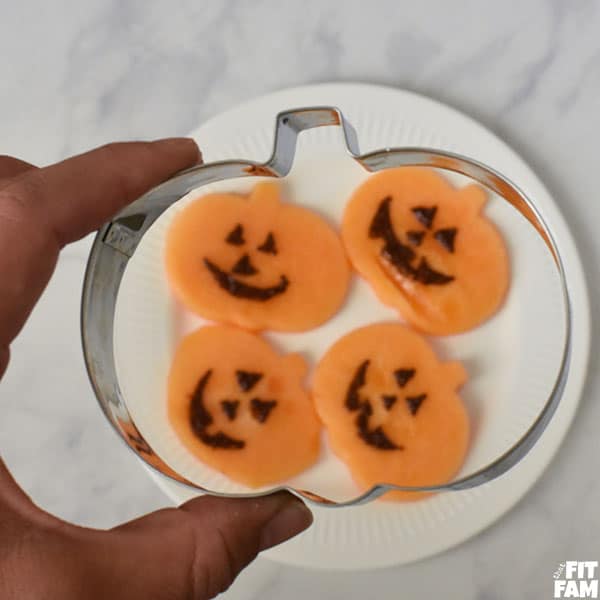 Once you have your thin slices, take your cookie cutter and press it into each slice.
Now that you have your cantaloupe pumpkins, it's time to decorate!
If you do mini pumpkins, it's also cute to just layer them all on a plate and serve that way with no faces drawn on.
These would be great paired with our high protein fruit dip!