I had this idea in my head for this healthy banana cream pie recipe & it actually turned out pretty great.
The problem was that I chose to make it while my 3 & 4 year old were awake and looking over my shoulder. The result? Constant taste-testing and less than ideal food photography.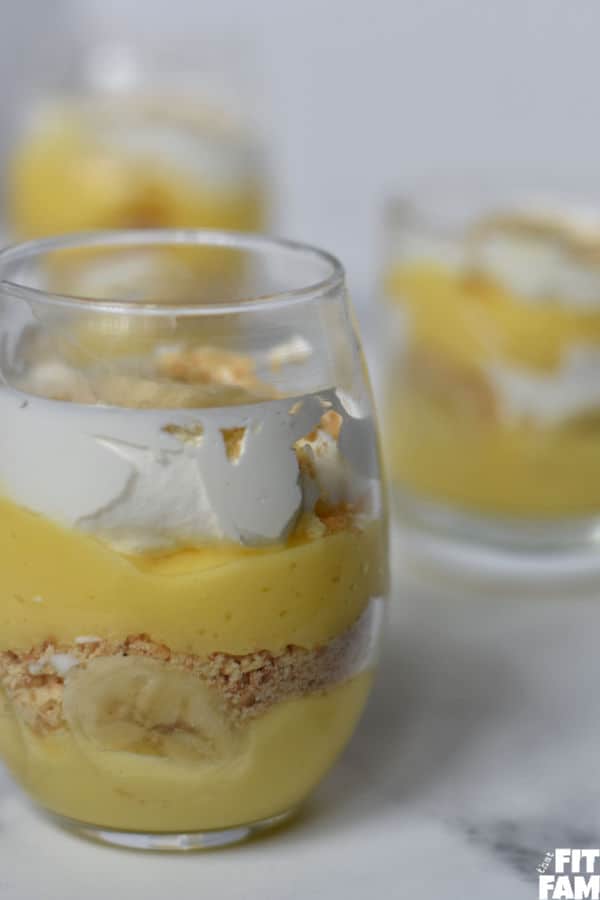 So, I have some pictures. They're okay. And I'm going to post them so you get an idea of this healthy dessert, but I will probably update this post shortly with hopefully better pictures.
The unfortunate thing was that I actually used glasses that were probably twice as big as I should have. So I got 3 portions, when I should have gotten 6.
Scott & I ended up splitting one big portion and then the kids (whose eyes are bigger than their stomachs) each got their own.
The updated pics will use shooter sized glasses, making 6 servings. I will have the recipe reflect that serving size, so just be aware.
I could've waited to share this until then, but this recipe was just too good to wait for perfect pictures.
Plus, my last instant pudding mix dessert recipe was such a hit (and is my most popular post still). So I figured, you all love these super easy, low cal desserts, why not just share now?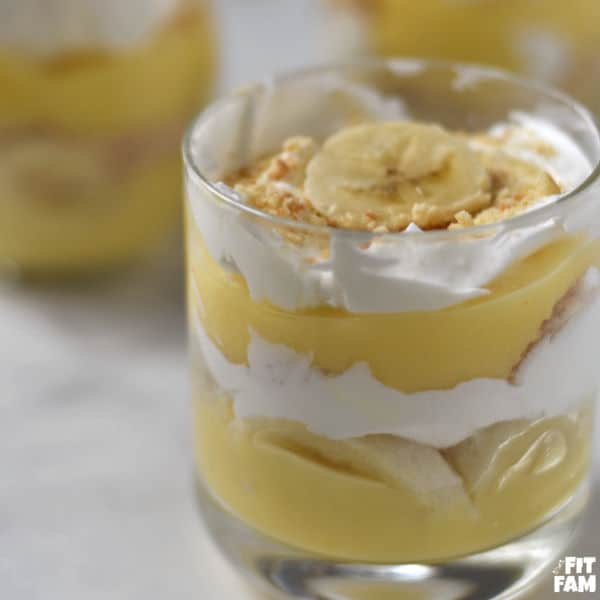 Healthy Banana Cream Pie
This is the perfect dessert to bring to a party or even just store in your fridge when you're wanting to indulge, but don't want to hinder your weight loss. It is low calorie, low fat, and doesn't taste like it.
I would definitely consider this recipe "macro friendly" since it has less than 20 g carbs and barely over 100 calories.
Because of the sugar free instant pudding mix, it does use an artificial sweetener.
I try to avoid fake sugars, so I probably wouldn't have it every day, but it is a great low cal treat to enjoy from time to time.
If you have more carbs available to you, adding in extra sliced banana is definitely recommended.
Yield: 6
healthy banana cream pie parfait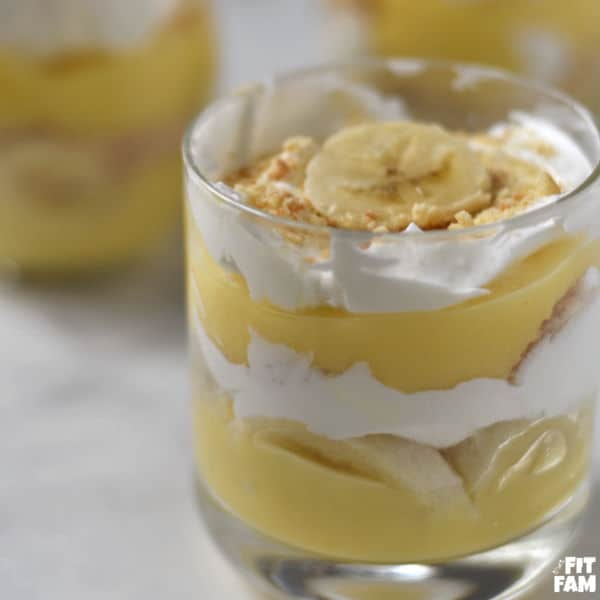 This banana cream pie is a quick & easy low calorie dessert option that you wouldn't know was diet friendly.
Ingredients
60 g Vanilla Wafers, crushed (we used Kroger brand)
100 g Banana, sliced
1 packet Sugar Free Vanilla Instant Pudding Mix
2 cups Carbmaster milk
12 tbs Lite Cool Whip
Instructions
Follow directions on pudding mix using Carbmaster (or Fairlife) milk. Package says almond/Soy milk will not work.
Set pudding aside.
Crush vanilla wafers & slice bananas.
Assemble into 6 small cups. In each cup we did a layer of pudding, bananas, 1 tbs cool whip, 7 g crushed wafers, more pudding, 1 tbs cool whip, 3 g crushed wafers & 1 banana slice on top. Feel free to assemble however you'd like.
Recommended Products
As an Amazon Associate and member of other affiliate programs, I earn from qualifying purchases.
Nutrition Information:
Yield:
6
Serving Size:
1
Amount Per Serving:
Calories:

115
Total Fat:

2.2g
Sodium:

303.5mg
Carbohydrates:

18.8g
Protein:

4.2g