I recently mentioned in our move to Vegas post that we had to live in a hotel for THREE weeks when we first got out here. It was tough! We were crammed and fast food was always so tempting. The fact of the matter is that our bodies just feel better when we eat right. This made coming up with healthy hotel meal ideas a necessity for us.
While living in the hotel we did succumb to the convenience of fast food at times lol but I am pretty proud of the healthy meals we managed to make during our stay.
If you are wondering how to eat healthy on vacation, we've definitely got some good ideas!
You don't have to overindulge while you're on vacation, you definitely can stay on track. It will be harder, but it is possible.
This list of meals you can make in your hotel room is based on a lot of things that we made during our 3 week hotel stay. Most of these are no-cook because even though we had an extended stay (with a kitchenette), our stove top wasn't great and I avoided it whenever possible.
If you don't care about clean eating and just count macros, you have a bit more options with fast food. Either way, these meal ideas will work for you as well because they are super macro friendly and are generally cheaper than fast food so that's another win!
Healthy Hotel Meal Ideas:
Greek Yogurt Chicken Salad– We love his for meal prep too! No cooking required, just chop, shred, and mix!
Chocolate Chia Seed Pudding– This is such a staple for us. Honestly, if you're looking for a healthy dessert that's also no-bake, you will love this! It's high in protein, omega 3s, and fiber and is soo chocolatey it's sure to curb your cravings 😉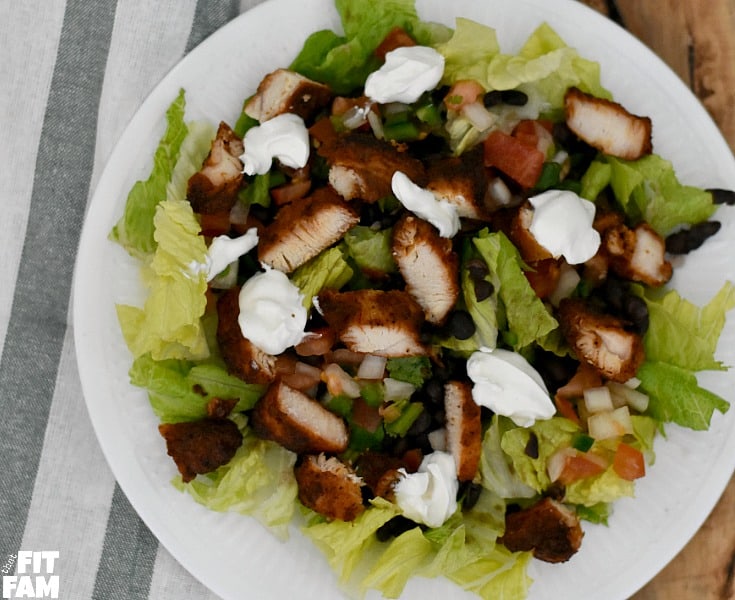 Rotisserie Chicken and Cauliflower Mash– I have a great mashed cauliflower recipe that I linked, but in a hotel room I would just buy the pre-made mashed cauliflower in the freezer section of the grocery store. Just pop it in the microwave and serve with Costco's $5 rotisserie and you've got a super healthy meal that's sure to satisfy. (yes, sometimes we hit up Costco just for the rotisserie)
Loaded Baked Potato– Oven baked potatoes are better, but you can also pop a potato in the microwave after piercing it with a fork all over and then load it up =) Potatoes get a bad rap, but they have tons of vitamin C and plus, your body needs carbs.
Soup- True story. I legitimately made homemade soup in our hotel room. We had a stove top which made it easier, but you can also throw the ingredients into a crock pot or Instant Pot
if you bring one with you.
Potato Scramble– I know, I know, the hotel had FREE breakfast, but we were there for 3 weeks remember? I like variety, so a couple times I made this potato scramble too.
Taco Salad– Okay, another one for people in an extended stay. This was one of the first meals I made at our hotel. If you've got a stove top, your meal options are limitless!
Chilaquiles– yes, I made these in the hotel with some modifications: instead of the chipotle peppers & tomatoes that I blend in this recipe, I just used canned tomato sauce and canned chipotle pepper sauce. Oh, we also used store-bought baked tortilla chips instead of baking them ourselves. Not as good as using fresher ingredients, but still pretty darn good and healthy for a hotel meal!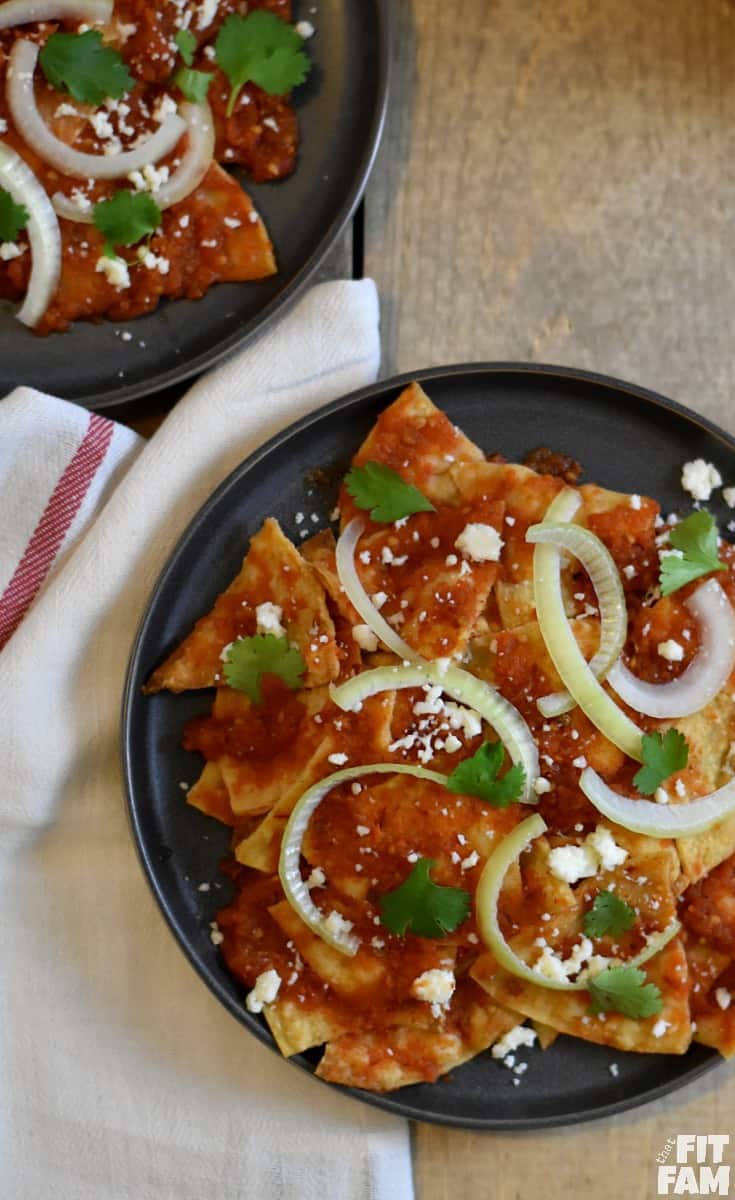 Quick Hotel Snacks:
We stopped by our local Costco and stocked up on these necessities! Having things that are already pre-sliced, etc just make hotel life so much easier. These were our go-tos. Remember, Costco isn't just for big families =)
Apple Slices
Hard Boiled Eggs- we love the pre-made hard boiled eggs from Costco!
Blueberries
Strawberries
Bananas
Pre-chopped fruits (watermelon, cantaloupe)
Yogurt
Carrots & Hummus
Chocolate Hummus
Protein Bites (from Target)
Let me know some of your favorite meals to eat in a hotel down below!