Chocolate chia seed protein pudding is a staple at our house. Scott and I eat this at least 4 times a week, but usually daily (just depends on how strong my meal prep game is that week).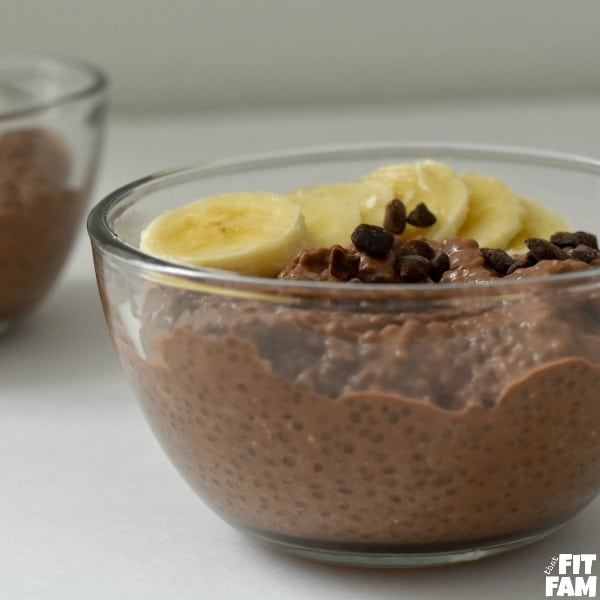 The best part about this healthy dessert is it's only 3 ingredients and they're all "good for you" ingredients. I mentioned it on my insta, but we did an anti-candida diet a little bit ago where we severely limited our sugar intake (including natural sugars). This chocolate chia seed pudding was a life saver for me!
I have a major sweet tooth, so avoiding sugar is definitely tough. Luckily, the protein powder we use is plenty sweet so we don't have to add any extra sweetener to this recipe. So if you're looking to cut back on sugar and still satisfy your sweet tooth, you'll love this recipe.
For the protein powder:
We use Ideal Raw Chocolate Protein (click here for 10% off your order). It is vegan, organic, and sweetened with stevia.
I did a vegan protein powder review a few months ago where I listed the pros and cons of different protein powders. I actually wasn't a huge fan of the Ideal Raw brand UNTIL I made this chocolate chia seed pudding.
I honestly thought this protein powder was too sweet for me and that I'd have a hard time getting through the tub. Turns out, it's too sweet for me as a normal protein shake, but in healthy dessert form, it's perfect! We go through a tub just about every month now lol just by using this for chocolate chia seed pudding!
(Note: if you use a different protein powder, it may not be sweet enough. IdealRaw is very sweet thanks to the Stevia and makes it so this recipe does not need any additional sweetener)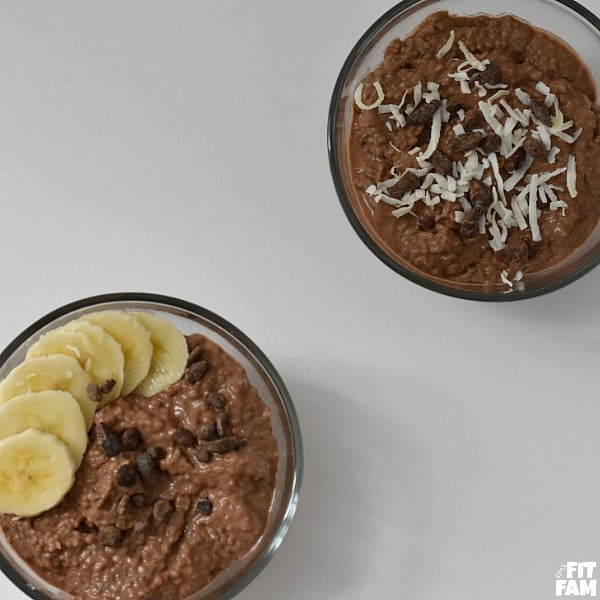 Benefits of chocolate chia seed pudding:
Okay, so first off you're getting in a good amount of protein with this recipe. Secondly, it's dairy free. It's also no-bake which is nice. And Thirdly, chia seeds! Chia seeds are high in omega-3s and packed with fiber! My husband claims that chia seed pudding keeps him regular lol
Related post: Strawberry chia seed jam
If you look at the recipe card you will notice that I weigh out my protein powder & my chia seeds. I know that might seem like a little much for some people, but it helps keep the pudding consistent every time I make it. When I just use the protein scoop or use a tablespoon my pudding doesn't always turn out the same.
We don't like it too runny, so this is how I'm able to prevent that. In fact, most of the time when I cook I weigh out my food. Not because I really care a ton about accurate food tracking, but more so because I like the recipes to turn out the same every time.
Human error is real people. You don't need a fancy food scale just make sure you get one that measures in grams like this one.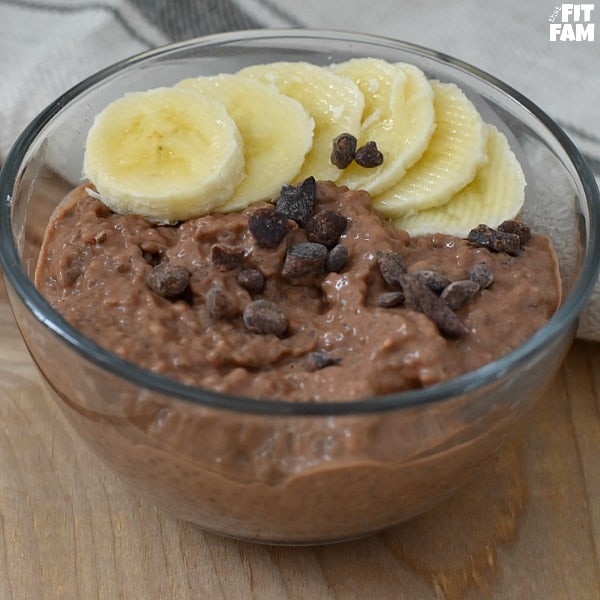 Yield: 1 serving
Chocolate Chia Seed Protein Pudding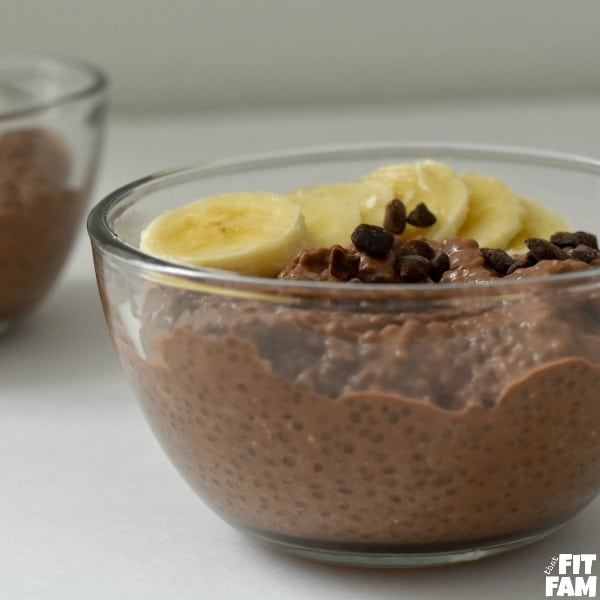 That perfectly chocolatey treat that is secretly healthy.
Instructions
In a shaker bottle, weigh out your protein powder and add the nut milk to it.
Shake it up.
Next, in a small tupperware container, weigh out your chia seeds.
Add the protein shake to it and stir well.
Refrigerate overnight or at least 3 hours.
Notes
We love using the Silk Protein Nut Milk for this to up our protein, but you can also use unsweetened almond milk. Just know the nutrition facts will change.
Nutrition Information:
Yield:
1
Serving Size:
1
Amount Per Serving:
Calories:

235
Total Fat:

14g
Carbohydrates:

15.5g
Protein:

15.5g