Yep, you read that right. This is a HEALTHY loaded baked potato. What's even crazier is that it's a LOW CARB loaded baked potato. And it's freaking delicious.
When people start to eat healthier they automatically start cutting out carbs, especially carbs from potatoes. What people often forget is that carbs are not the enemy. Our bodies need carbs.
Russet potatoes are totally okay to eat. And they actually provide you with a good amount of Vitamin C and B-6! And then add in the other veggies in this recipe and you've got way more Vitamin C, Potassium, Fiber, etc!
This recipe isn't super specific because it's mainly "according to taste," but it is amazing. It also leaves you with some leftovers for tomorrow night's healthy side dish.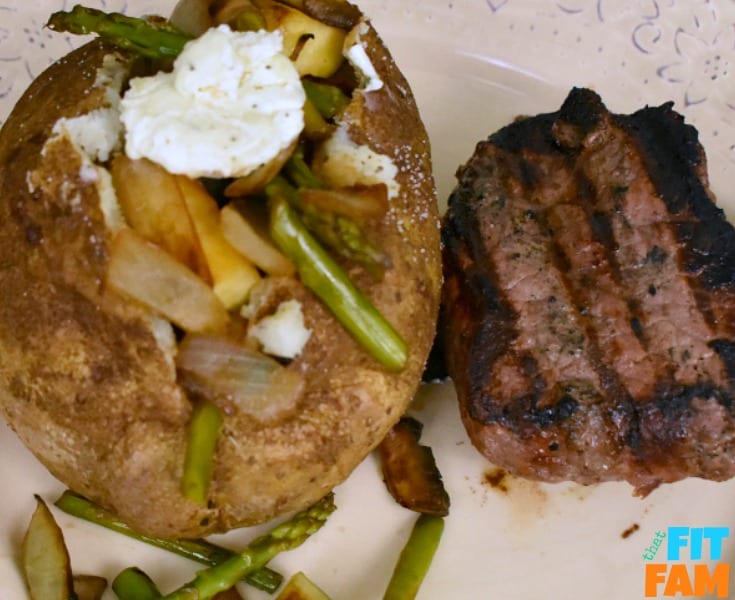 What's nice about this recipe, is the cauliflower already makes it lower carb and then we actually save almost half the fat by using garlic butter instead of normal butter! Normal butter is 11 g fat per serving, whereas garlic butter (Chef Shamy brand) is only 6 g. That's 60 calories instead of 100! Plus, garlic butter just tastes way better too 😉
You can serve this with grilled steak or chicken. If we add chicken to the potato we actually love drizzling Alfredo sauce over the combination! Yum!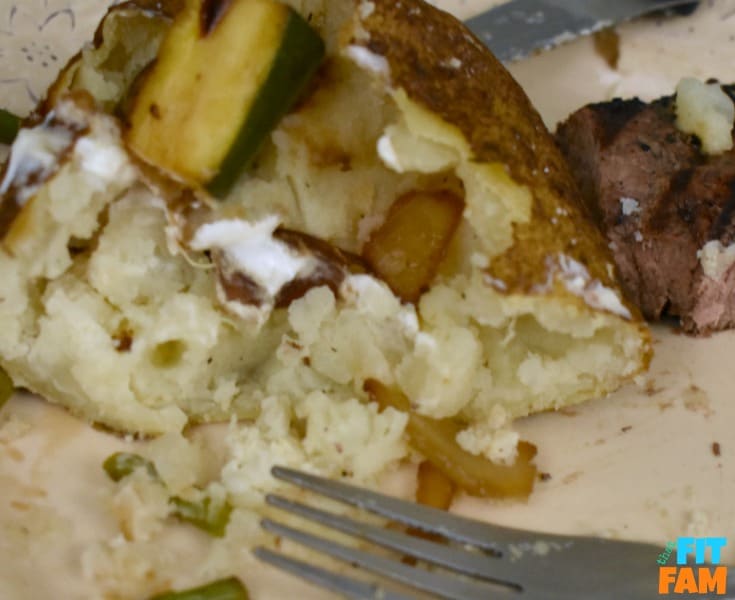 Yield: 2 potatoes
Healthy Loaded Baked Potato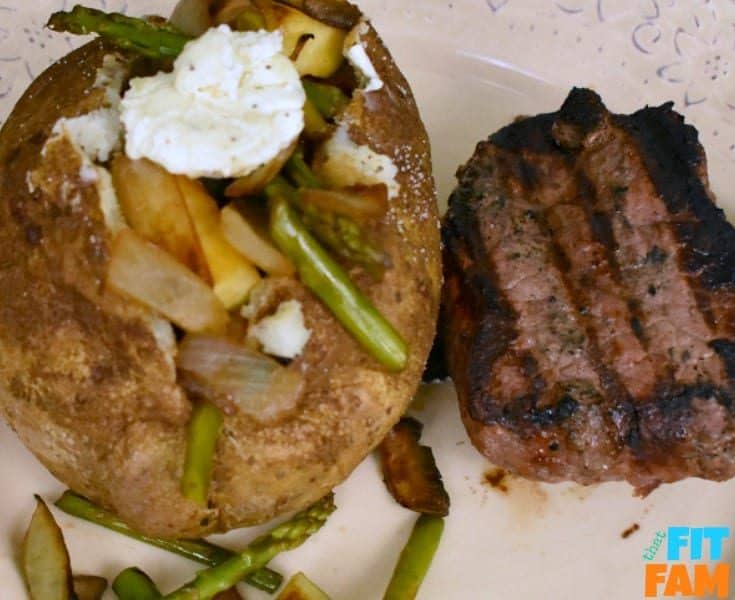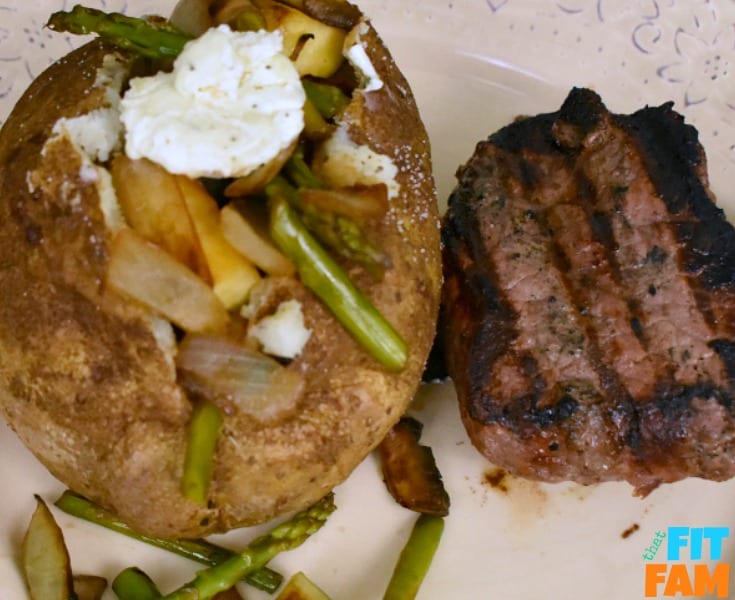 This veggie loaded baked potato is so filling and perfect by itself or paired with chicken/steak.
Ingredients
2 large Russet potatoes
12 oz frozen cauliflower florets
garlic butter to taste
salt and pepper to taste
Chopped veggies of choice (we do zucchini, onions, mushrooms, & asparagus)
sour cream (optional)
Alfredo sauce (optional)
cooking oil spray
Instructions
Pierce your potatoes all over with a fork and coat with spray oil, salt & pepper.
Place directly on oven rack at 350* for 90 minutes or until soft on inside and crispy on the outside.
Toward the end of potato cooking time, heat a pan to medium high heat, coat with cooking spray and sautee your veggies (we love using asparagus, zucchini, onion, and mushrooms)
Meanwhile, place the steamable bag of frozen cauliflower in the microwave and cook according to instructions on bag (about 5-6 mins)
Remove from bag and puree in food processor, then add to mixing bowl and set aside.
When potatoes are done, remove from oven and scoop insides into mixing bowl.
Lightly mix with pureed cauliflower, garlic butter, salt, & pepper to taste.
Re-fill the potatoes with some of the mixture and save the extra filling for mashed potatoes tomorrow.
Top with sauteed veggies.
Add sour cream over top or a drizzle of Alfredo sauce if desired.