A mountain man breakfast is an egg & sausage dish made all in one pan! It's a favorite at most camp outs and scouting trips.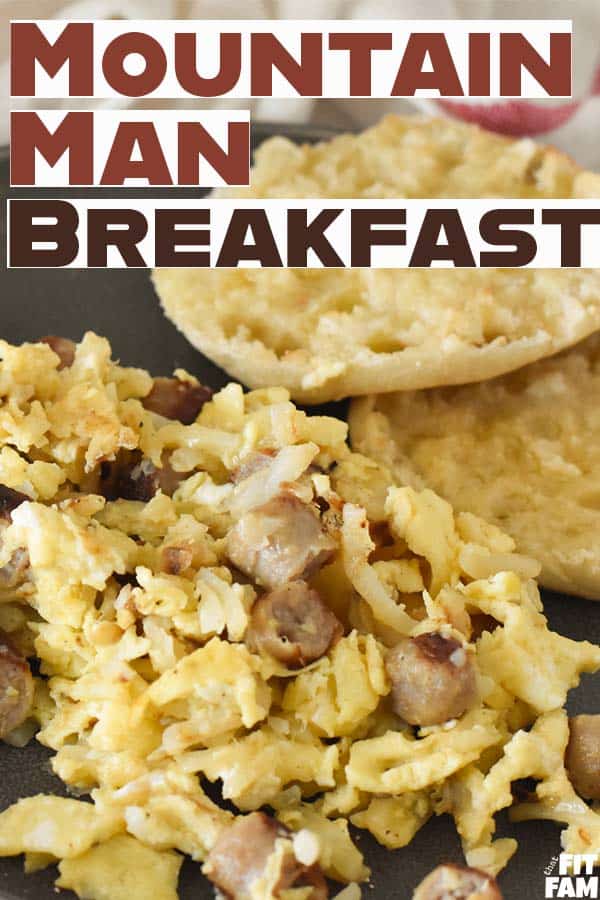 I was first introduced to this breakfast by a family friend. I remember being so impressed by the combination of flavors. I had no clue it was so simple to make.
A mountain man breakfast is basically all breakfast items cooked together in one pan, probably because a true mountain man wouldn't be bothered with using multiple dishes.
So if you were ever planning on making a breakfast of eggs, sausage & hash browns, simplify your life & just combine them all together.
Less dishes used means less dishes to wash later. Plus the breakfast will taste just as good, if not better. Win-win.
Mountain man breakfast tips:
This is another one of those recipes that can be customized. I'm going to tell you our tips & preferences.
Thaw the frozen potatoes in the fridge the night before. It cooks faster this way. I have microwaved them beforehand too and it's been fine.
Sometimes I like to add a smidge of alfredo sauce to my eggs for extra flavor. Weird, I know. I do it because a restaurant I worked for would add it in and I loved the way it tasted. Ranch works too, I do this in my breakfast casserole recipe.
You can add whatever type of sausage you like: links, patties, ground. It doesn't matter. If you do links or patties you will have to break them up before mixing in with the rest of the ingredients.
You can also make this with bacon instead.
We like to fold in our cheese when the eggs are mostly cooked through.
Leftovers can be made into breakfast burritos!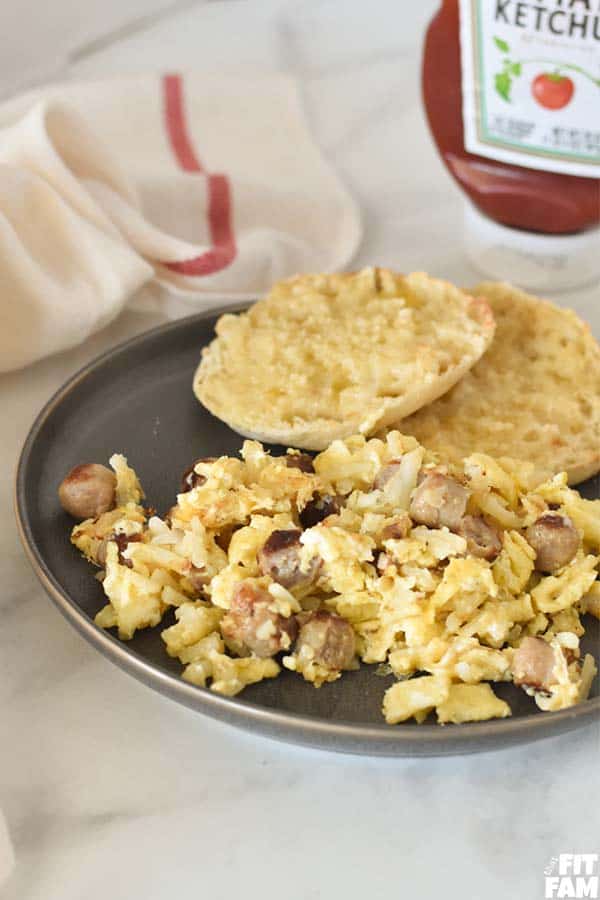 Crock Pot Variation:
The recipe card will explain making it on the stove top (can be easily adapted to cooking over a hot coals while camping), BUT I really wanted to share a quick crock pot variation.
It's super simple. All you do is add all the ingredients to your crock pot except for the eggs. Then just mix the eggs separately and pour over the top.
When making in the crock pot, I prefer to use precooked sausage links that I cut up into small pieces.
Cook on low for 6 hours and you're all set. It's even easier if you use some of those disposable slow cooker liners for easy clean up!
I love the set it & forget it method for holidays like Christmas so that I can have a stress free morning.
Yield: 4 servings
Mountain Man Breakfast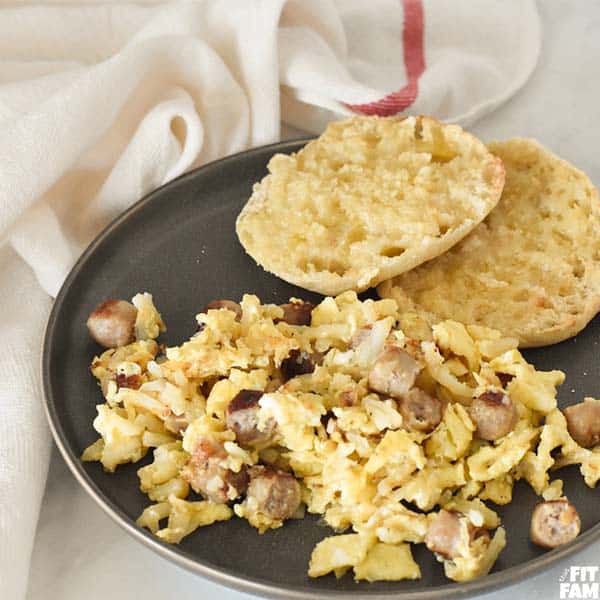 A sausage and egg scramble that comes together quickly in one pan.
Ingredients
1/4 cup onion, finely diced
2 tsp butter
1/3 bag of shredded hash browns (about 10 oz)
1/4 cup of Mexican blend cheese
6 eggs
7 sausage links
salt and pepper to taste
Instructions
Cook the sausage all the way through. Place links on a plate.
In the same pan, add diced onion, 2 tsp butter, and shredded hash browns. Add salt & pepper.
Cook until hash browns are desired level of doneness, being sure to flip them once.
While hash browns are cooking, cut sausage links into small bite sized pieces.
Scramble the eggs in a separate bowl, add salt & pepper.
Pour the eggs into the pan with hash browns. Let set for about a minute before stirring.
Add shredded cheese and sausage. Mix well.
When eggs are finished cooking & cheese is melted it is done.
Notes
I like to thaw my hash browns the night before so they cook faster.