Okay now with Easter right around the corner I thought it'd be a good idea to share an easy breakfast casserole recipe. This has been requested at several family get togethers and is just beyond easy to put together. (Also great for cousin sleepovers!)
We love it with ketchup, but it's just as delish without.
What's in it? Basically every good breakfast food. JK, it doesn't have that many ingredients, but it's perfect. Something about the Jimmy Dean Hot Sausage mixed with the eggs, mixed with the hashrowns, combined with the cheese, the onions, the tomatoes– it's just good. It's really, really, really good.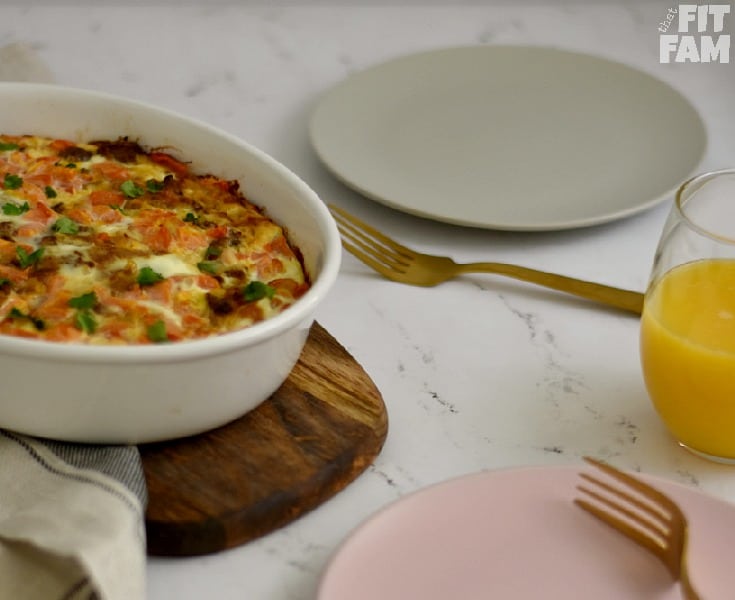 We love hosting a brunch with this as one of the main dishes. We like to pair it with banana muffins or something simple like kodiak cakes.
Lightened Up:
This is an easy breakfast casserole to lighten up. For any type of family gathering, we just leave the recipe as is, but if it's just for us we will half the recipe and change a few ingredients. For example, we will switch out half the eggs for egg whites, use reduced fat cheese, lite ranch dressing, and we've even used almond milk! The only thing I will say, is NEVER EVER use turkey sausage in this recipe. We love turkey sausage in our breakfast burritos, but for some reason it just comes out too sweet in this recipe. So please, just use the Jimmy Dean sausage in the flavor "hot." If you're super worried about fat content, just go lighter in fats for the rest of your meals that day. It's not a big deal.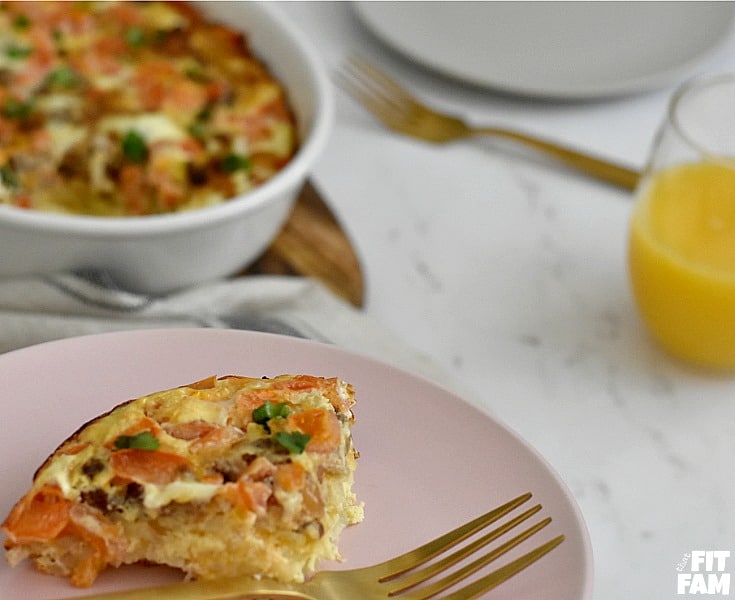 Easy Breakfast Casserole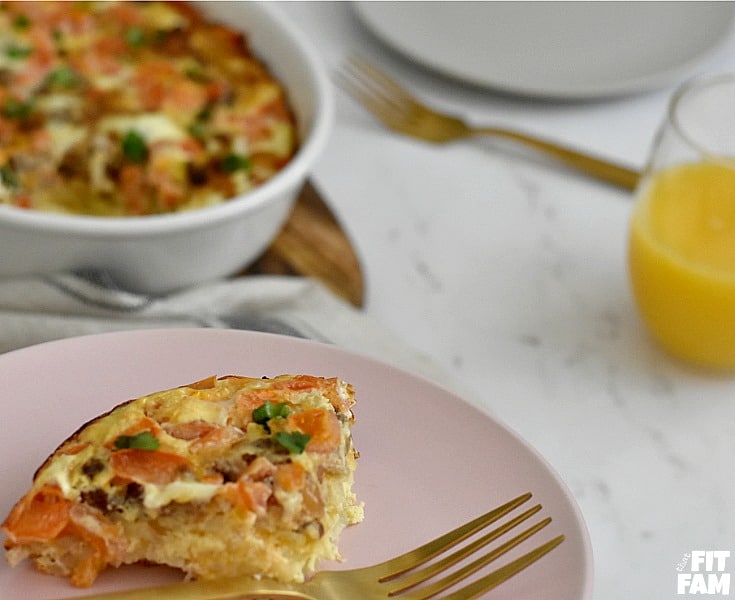 Easy breakfast casserole with sausage that is the perfect brunch recipe. The Jimmy Dean sausage really makes this egg dish stand out!
Ingredients
12 eggs
3 cups frozen hashbrowns
1 cup of shredded mexican blend cheese
1 cup milk
1 white onion, diced (about 1 1/3 cups)
1 pound Jimmy Dean sausage, HOT
2 tomatoes, diced
3 tbs ranch dressing
salt & pepper
Instructions
Preheat oven to 350 and spray a 9x13 pan with cooking spray.
Add the hashbrowns evenly across the bottom with half the cheese and sprinkle with salt and pepper.
In a medium pan, cook diced onion until soft and add in raw sausage. Cook until done then spread across baking dish.
Top with remaining cheese, and diced tomatoes.
In a bowl, whisk eggs, milk, ranch, salt & pepper until fluffy.
Pour mixture evenly over the casserole.
Bake at 350 for 50 minutes or until center is no longer jiggly.