One of my favorite RITZ cracker recipes is this sweet peanut buttery snack idea. I consider it a dessert because of the chocolate, but I'm not sure, it might not be "fancy" enough… so I guess I'll call it a sweet snack.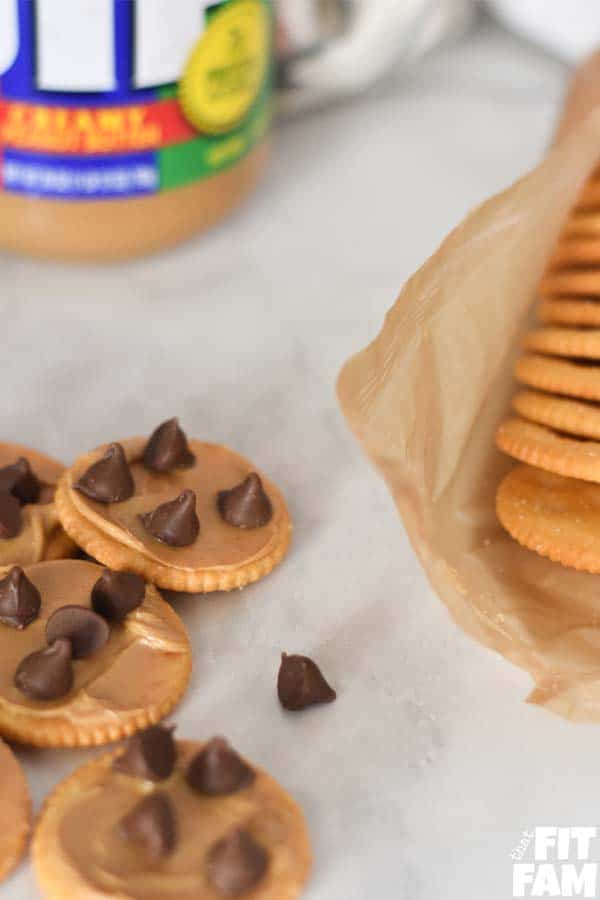 This RITZ recipe is unbelievably simple and surprisingly macro friendly if that's something you are concerned about.
I actually love putting a couple of these together when I'm craving something sugary and it immediately satisfies that itch.
I will include a recipe card so you can see the nutrition facts, but I feel a little silly adding it in since it's so simple.
It's only 36 calories a cracker. Having just two of these really helps my sweet tooth!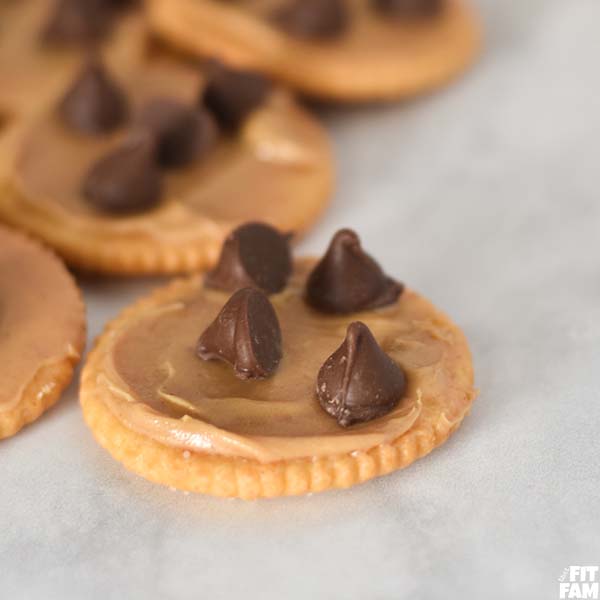 How to make RITZ cracker PB chocolate snack:
Based on that heading you can probably tell I wasn't blessed with the ability to come up with clever recipe names. But it's fine.
So this is what you do.
Step one: Slather some peanut butter onto a RITZ cracker. I use about 2 grams (a thing layer). If you're not careful you can really rack up some calories here.
TIP: I place my jar of peanut butter directly on my food scale and zero it out. Then I just use my knife to remove a small amount until it says -2 g.
Step two: Add four chocolate chips on top.
Step three: Enjoy.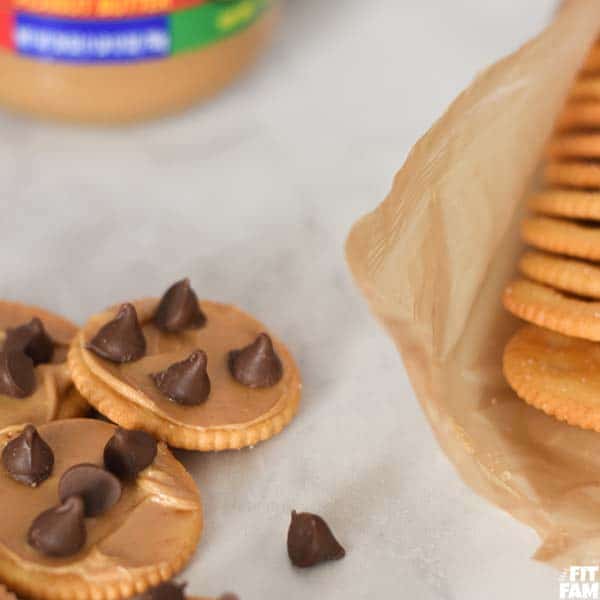 Another variation:
If I want to turn this into more of a snack and less of a sweet treat I will skip the chocolate chips and make a couple RITZ peanut butter sandwiches instead.
I do this by just putting peanut butter in between two ritz crackers. I then pair it with half of a chocolate Premier Protein shake. The combination is seriously so good.
I always buy my Premier Protein (and my RITZ crackers) in bulk from Costco. I used to avoid whey protein, but the shakes are just too convenient and yummy.
IF you buy your RITZ in bulk like us, you won't regret it. There are sooo many recipes and snacks you can make with them. Aside from this peanut butter snack, our family LOVES eating them with Boar's Head Sweet Slice ham.
Yield: 1 cracker
RITZ Cracker PB Snack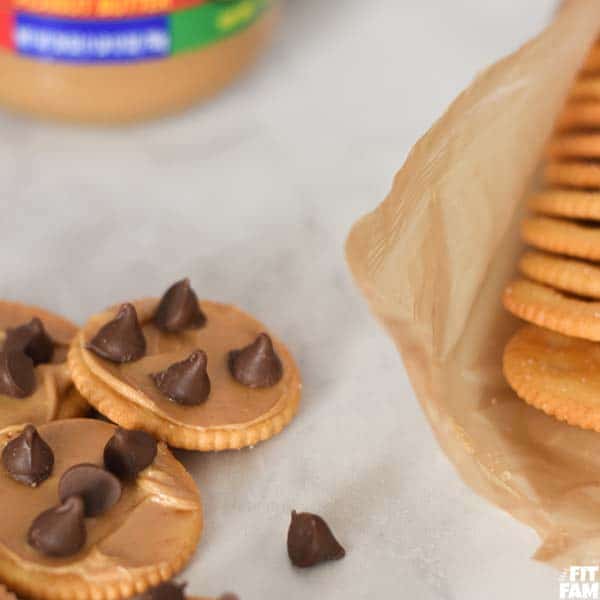 This RITZ recipe is super simple and is great for satisfying sweet cravings.
Ingredients
1 RITZ cracker
2 grams peanut butter
4 chocolate chips
Instructions
Spread a thin layer of peanut butter on a single RITZ cracker (about 2 grams)
Top with 4 milk chocolate chips
Recommended Products
As an Amazon Associate and member of other affiliate programs, I earn from qualifying purchases.
Nutrition Information:
Serving Size:
1 cracker
Amount Per Serving:
Calories:

36
Total Fat:

2g
Sodium:

26mg
Carbohydrates:

4g
Sugar:

2g
Protein:

1g