We love Costco! We do the majority of our grocery shopping there, so of course we definitely have some go-to macro friendly Costco foods that we like to stock up on.
I have an older post about our favorite Costco purchases for small families, but I decided to write an update because we're all about the macros right now 😉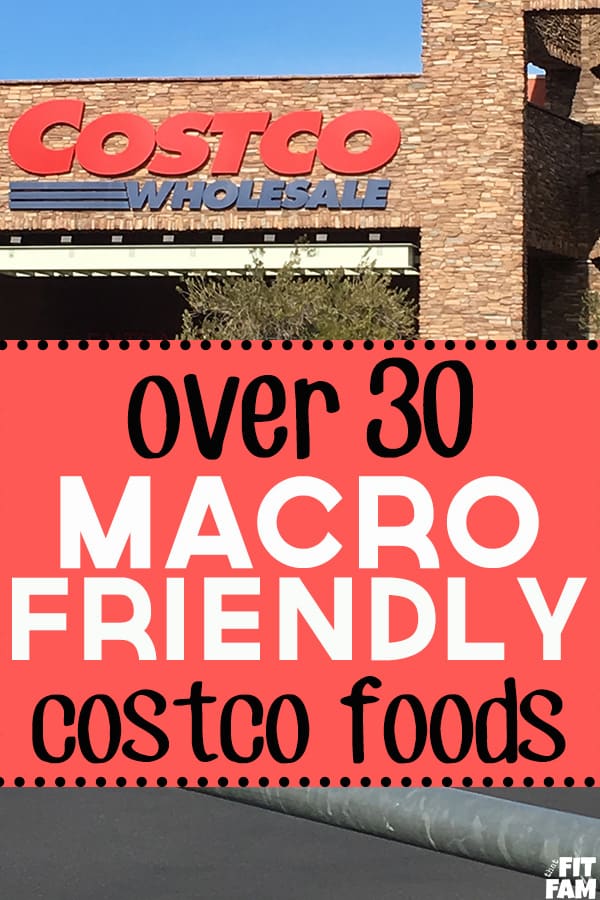 Scott and I track macros consistently with a focus on cleaner foods. We are striving to be more "alkaline" in our diet, which basically just means less meat focused and more plant based.
We've pretty much completely cut out dairy, with the exception of very small amounts of cheese and sour cream from time to time.
We also avoid processed foods, white flours, and added sugars as much as possible. It sounds a lot harder than it is.
We still love our meat and eggs, but we just try to make our fruit and veggie portions bigger to balance things out.
Even though these are macro friendly Costco foods, they are great options for people who don't follow IIFYM as well.
Some of our macro friendly Costco staples include:
Snack Section:
Whey Protein Isolate Muscle Milk– We are switching to vegan protein to be more alkaline, but this used to be our go to. Such a great value! Costco does have Orgain Protein Powder, but I've been a little hesitant to purchase it because of the carbs to protein ratio (15 g: 21 g). It's just not the most macro friendly. I prefer protein powders to be mostly protein. Right now I'm loving the Women's Best Chocolate Vegan protein. It's 21 g protein and only 1.4 g carbs.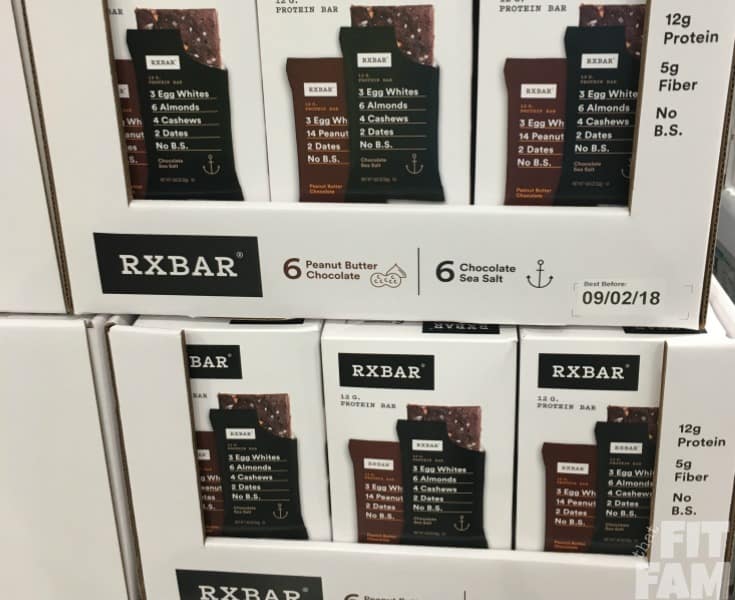 Premier Protein Shakes– we don't buy these as much since we made the switch to Vegan protein, but these used to be a staple! 30 grams of protein per delicious pre made shake.
RX Bars– They have a variety pack in Sea Salt Chocolate and Peanut Butter Chocolate and those are probably the best flavors in our opinion =)
Almonds
Health Warrior Bars (pumpkin seed variety pack)– These are a new discovery and are delicious! Not only are they organic and made from easy to pronounce ingredients, but they have a pretty even macro split which it nice.
Beef Jerky– Our go-to used to be the Oberto brand beef jerky, but they don't have it at our local Costco anymore so now we buy whichever brand they have (they switch them out often).
Pantry Section:
Kodiak Power Cakes Buttermilk Flapjack and Waffle Mix– Unfortunately they only have the buttermilk flavor (we love it). I just wish they had the Dark Chocolate Kodiak Cakes too =(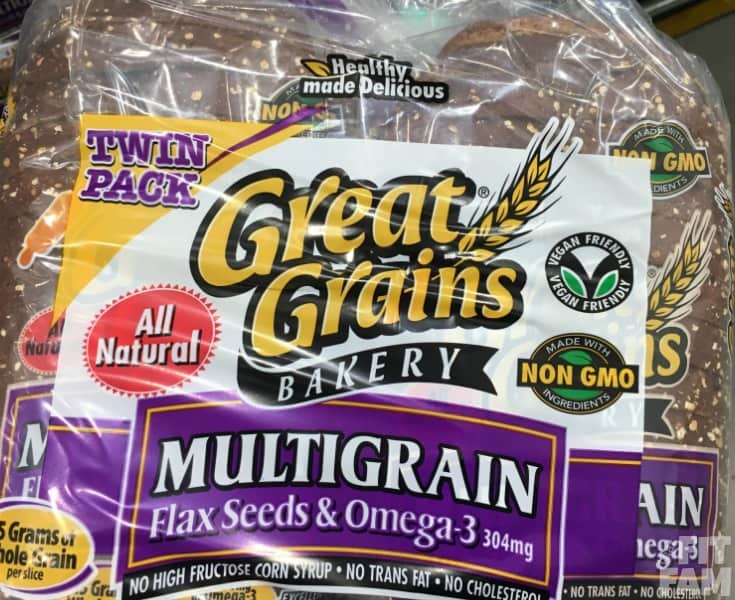 Great Grains Bread, although lately we're loving their Sourdough for avocado toast!
Maple Syrup– Way cheaper than anywhere else. If all you care about are the macros, then sugar free maple syrup will be your best bet. We get real maple because we like to avoid fake sugars where we can. Pure maple has soo many carbs that can add up really quickly so be sure to measure out your serving.
Almond Butter– Pure almonds. That's it. That's the only ingredient. Perfect if you have some extra fats you still need to hit at the end of the day.
Peanut Butter– So cheap compared to buying at the grocery store.
Frozen/Refrigerated Section:
Oscar Meyer Uncured Turkey Bacon
Kirkland Signature Turkey Burgers– These are amazing when you're low on time! They're in the frozen section and have 35 g protein and only 6 g fat! Also, you don't have to thaw them. Just put them straight on your George Foreman from the freezer and they're ready in 6 minutes!
Frozen Ground Beef 80/20
Kirkland Frozen Shrimp
Kirkland Frozen Chicken Breast
Green Giant Cauliflower Rice– This has to be the best purchase we've made at Costco. It saves me so much time. I used to always make cauliflower rice myself in a food processor. This is so much easier. This is in our frozen section, I've heard of other Costco's that have a different brand of cauliflower rice that is fresh and in the refrigerated produce section.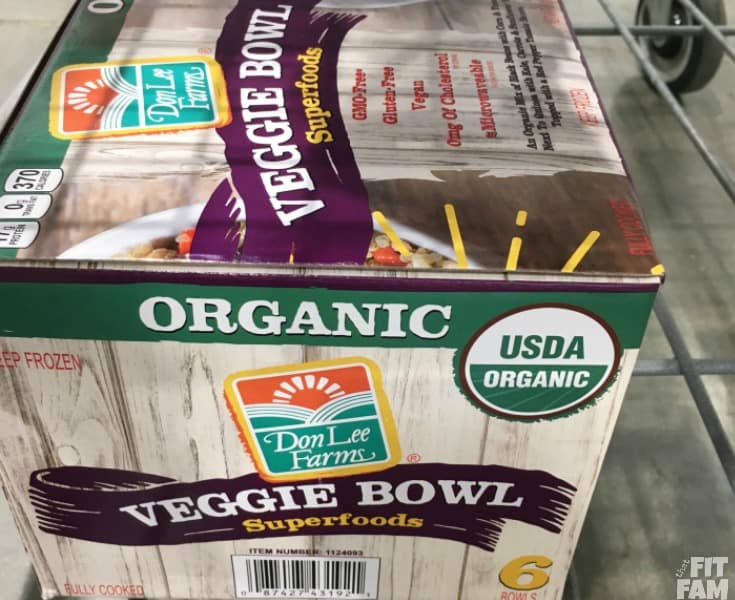 Don Lee Organic Veggie Bowls– It's basically a well seasoned bowl of black beans and quinoa. High carb/ High protein.
Acai Bites– We haven't tried these yet, but we've heard good things.
Healthy Choice Organic Fudge Bars– This is something we typically buy more of in the Summer, but I am tempted to throw these in the cart every time we go to Costco.
Kirkland Brand Nonfat Greek Yogurt– This is brand new to our Costco. Before they only had full fat Chobani.
Chef Shamy Garlic Butter– Packed with flavor and less fat than regular butter.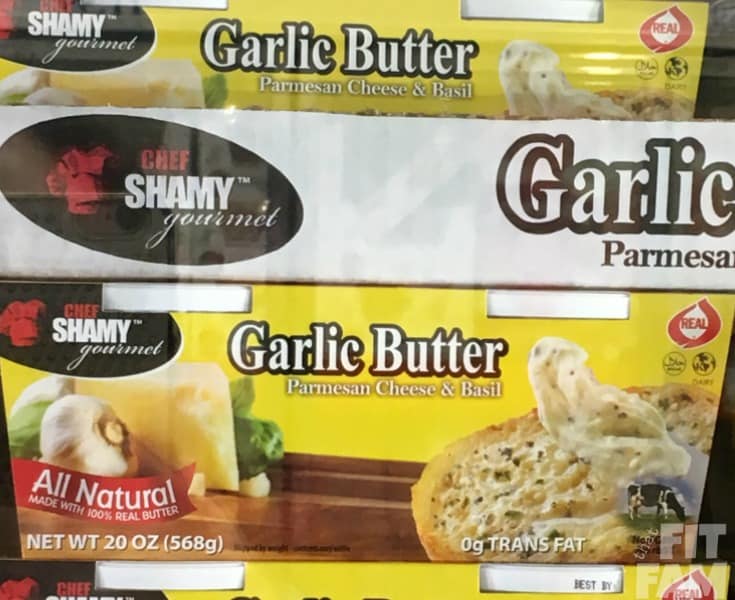 Dairy Section:
Kirkland Liquid Egg Whites
Kirkland Whole Eggs
Hard Boiled Eggs– We really do buy 3 different kinds of eggs from Costco. We're crazy, I know!
Unsweetened Almond Milk
Refrigerated Section close to produce and butcher area:
Butterball Ground Turkey– way cheaper than the store. These come in a 6 pack of a little over a pound per pack. They're refrigerated, but they freeze well. We use this in a taco salad.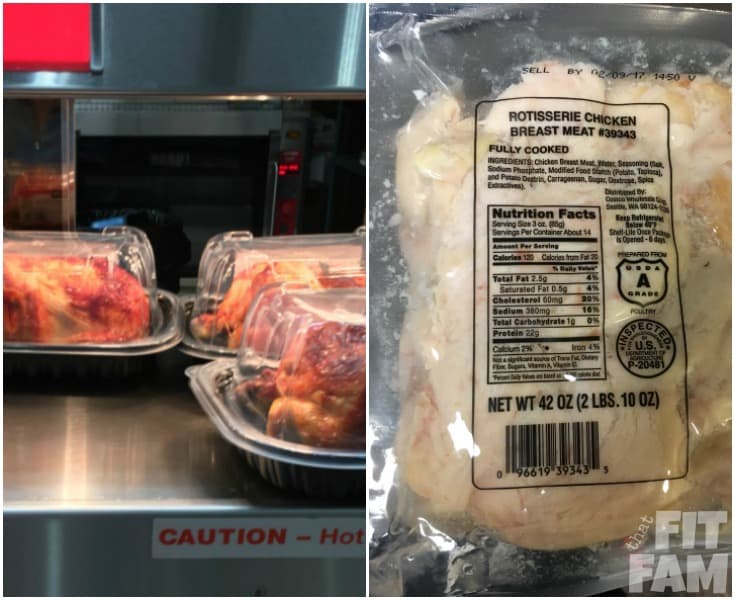 Rotisserie Chicken– This is a huge staple for us. It's cheap and convenient. We use this for tinga de pollo tostadas, tortilla soup, salads, chicken tacos, basically everything. Also, we either get fresh rotisserie or the vacuum sealed packs.
Wholly Guacamole
Kirkland Hummus Cups– This is a staple for Scott. He eats one of the single serving cups every day with baby carrots as a snack at work.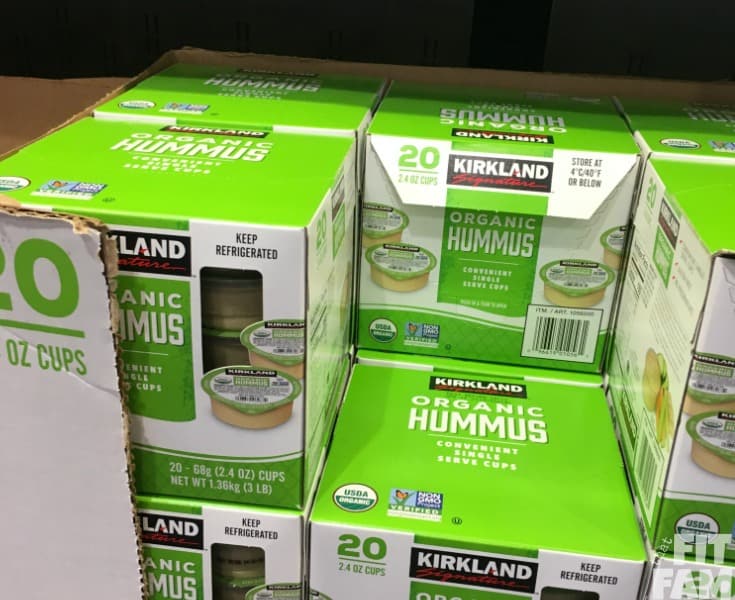 Produce Section:
Okay, this is probably the real reason we are at Costco every week. We eat so much produce!
Organic Apple Slices– Yes, pre-sliced apples in portioned out baggies! We go through these so quickly! I know we could slice our own, but these baggies are super convenient.
Avocados– Not even for guacamole, Scott and the kids just slice them up and add salt & pepper to them! Although, our latest obsession is avocado toast on the sourdough I mentioned earlier.
Romaine– You have to cut it yourself, but it's cheaper than the prepackaged Romaine from the grocery store. We love it with our blackened chicken salad.
Bell Peppers– We use these mainly in fajitas, on homemade pizza, or in an egg white breakfast scramble.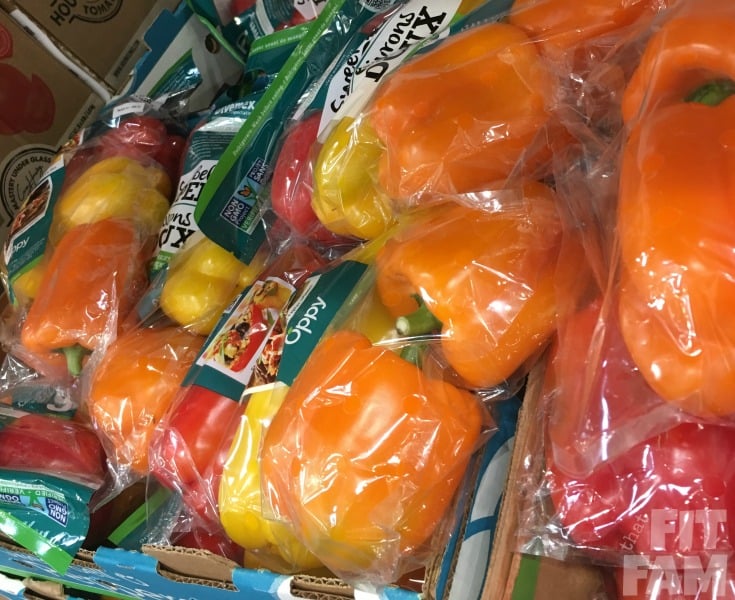 Vine Ripened Tomatoes– the pack is big, but we use up 6 tomatoes really quick in our tortilla soup recipe.
Broccoli
Zucchini – great for zoodles! We love using this spiralizer!
Cuties
Strawberries
Blueberries
Grapes
Mangoes– When these are in season, we will go through at least a pack (6 mangoes) a week, but usually 2 packs!
Bananas
What are some of your favorite macro friendly Costco buys? Let us know in the comments below!
You may also like: