It's Day 5 of the 12 Days of Christmas Blog Hop and today's topic is Holiday Party Food. So I'm sharing my all-time favorite party food recipe–Yogurt Fruit Salad. Seriously, this recipe is a crowd pleaser!
We have teamed up with 50 plus bloggers to bring you a ton of DIY Ideas and Recipes to make your holiday season merrier. There are 12 different posts in the series and we have spread them out over a four week period with three posts per week. Now is the time to subscribe!
GO HERE for the complete list of Dates and Topics plus a collection of most popular holiday ideas including ornaments, games, recipes and more from all 50 plus talented bloggers!
It's Day 5 and we are sharing Holiday Party Food Ideas!
---
Easy Yogurt Fruit Salad
For a long time I hated fruit salad. Something about the texture of the traditional version made with cottage cheese just grossed me out. But then, I learned that this isn't the ONLY way to make a fruit salad. There are some with sour cream– also not my cup of tea. And then one day I was invited to a friend's house for Thanksgiving where I was introduced to a yogurt & marshmallow fruit salad.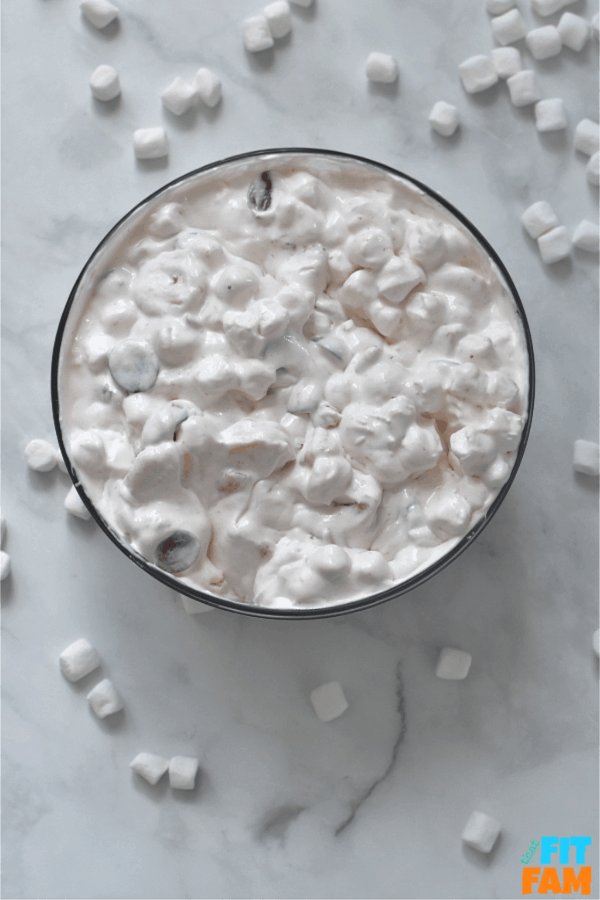 Oh my gosh! Wow! I know this doesn't look like anything special, but believe me–it is! There's literally nothing about this version of fruit salad that I don't like. It's also always a hit with the kids. This is my favorite side dish to make for any big gathering, whether it be Thanksgiving, Christmas, Fourth of July or a birthday party.
One tip I would say, is to add the marshmallows last. If you are making this a day in advance, I would keep the marshmallows out and add them the  day of. If you don't do this, it's not a big deal. BUT, the marshmallows tend to get bigger the longer they're in the fruit salad.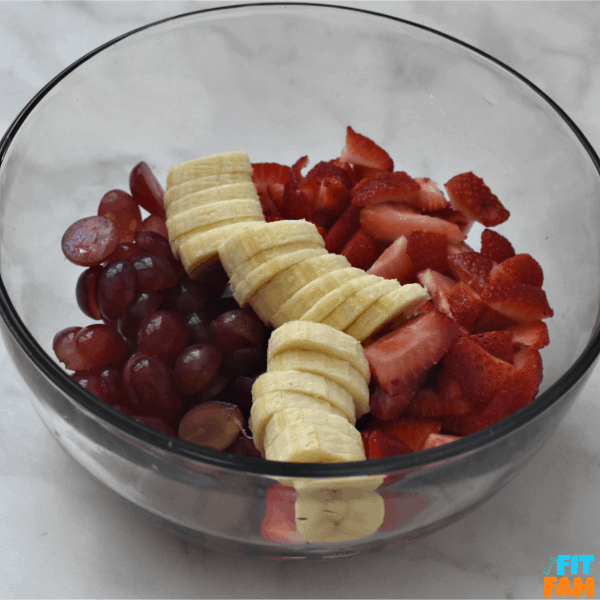 The fruit for this I suppose if up to you, but my favorite fruits to include are: bananas, strawberries, and grapes. Raspberries would probably be really great in this too, but we have never added them in.
I use regular Yoplait brand strawberry yogurt for this recipe. You could probably get away with a Greek yogurt to make it a bit healthier, but either way, this will probably still be one of the healthier side dishes in your Thanksgiving spread.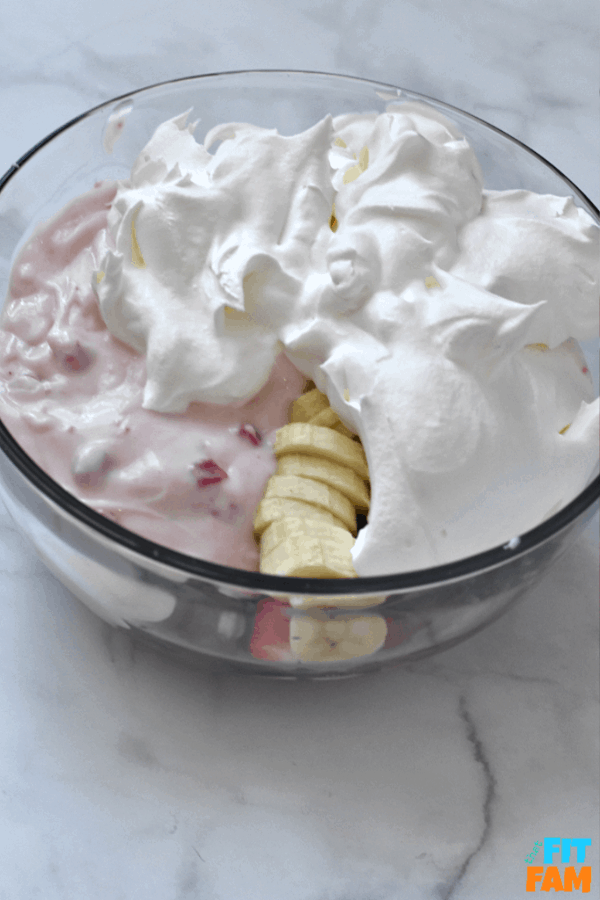 This fruit salad is beyond simple to make. You simply just cut up some of your favorite fruit & toss the ingredients together, adding the marshmallows last. Simple.
When it comes to holidays, we like to indulge but not go overboard. So most of our menu items are relatively healthy like this cauliflower mashed potato— it's actually part cauliflower and part regular potato. So where most people like to do one or the other, we combine the two. It's virtually undetectable–my kids have no idea there are veggies in it. We also like to serve chips & dip as an appetizer, but instead of using sour cream in our dip, we use pureed cottage cheese. Check out our high protein chip dip recipe here.
It's simple swaps, that we don't even notice, that really make a world of difference.
Scroll down for our Yogurt Fruit Salad recipe and many more Holiday Party Food Ideas for your holiday season!
---
Yogurt Fruit Salad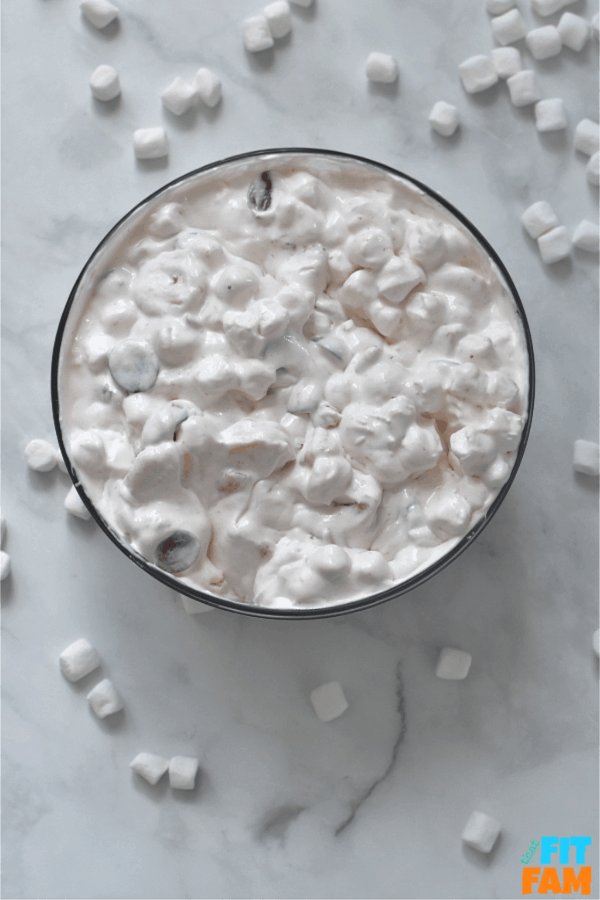 A quick fruit salad that is always a hit!
Ingredients
2 containers Strawberry yogurt (6 oz)
1/2 bag of mini marshmallows
1 container of light cool whip (8 oz)
2 bananas, sliced
strawberries, chopped
grapes, cut in half
Instructions
Mix all ingredients in a large bowl.
Serve Cold