This authentic Mexican refried bean recipe cooks in the crock pot & has a SECRET INGREDIENT that makes all the difference!
I would definitely consider myself a little bit of a snob when it comes to Mexican Food. My dad is from Mexico and so Mexican Food was pretty much one of the only things my mom would make for us growing up.
Because of this, I judge so-called "authentic" Mexican restaurants pretty harshly. One of the biggest tellers of a good Mexican restaurant are it's beans.
Do they have authentic Mexican refried beans? or do they just use the canned stuff?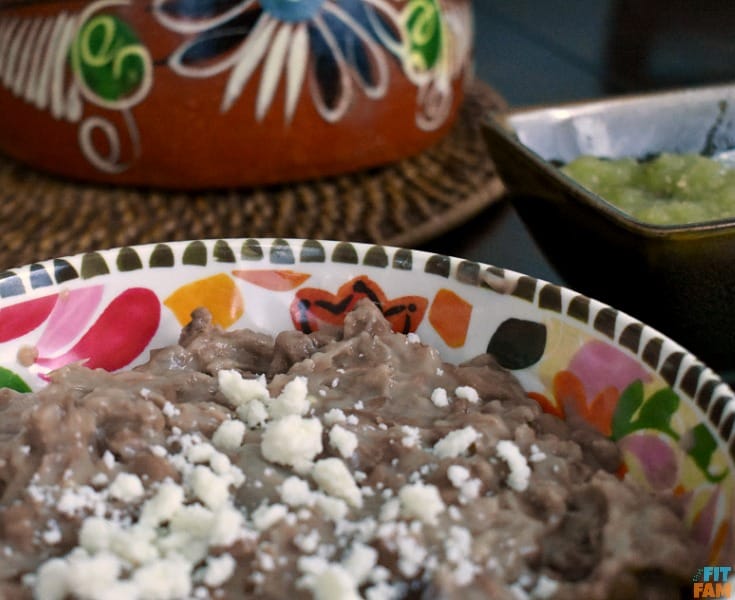 I've learned that the KEY to making good beans is how long you cook the pinto beans & making sure to use fresh ingredients to season it.
I've found that the most authentic recipes tend to be the simplest.
Today I'm going to share with you my family's recipe for refried pinto beans. Not only do these taste amazing, but I've also adapted the recipe so that they can be made in the crock pot for extra convenience.
I typically boil the pinto beans in a large stock pot with water, but with two kids running around, I really don't have time to babysit the stove anymore so I use a crock pot to make my life a little easier.
The crock pot is only used to cook the beans, I still season & "re-fry" them in a sauce pan afterward.
"Lightened up"
I personally don't use a lot of oil when I fry these. I only use enough to get the onions translucent & cook the serrano peppers, which is just a couple tablespoons.
Recipe Update: This recipe was one of my first recipes on this blog and I've since learned how precise and exact food bloggers need to be.
Like I said, this is a family recipe. Most family recipes, at least in my family, aren't listed with precise measurements. They're more just an ingredient list.
That "ingredient list" did not work so well for others trying to make these beans for the first time.
Anyway, I made beans again and I made sure to measure everything. Yes, even the salt is measured.
I've never measured salt before, but I did today. This recipe requires a half tbs of salt.
Salt is a flavor enhancer, if you don't add the salt or use way less, your flavors from the garlic, serrano peppers, and onion will be severely muted and this recipe will be bland.
Okay, that's it for the update! Best of luck!
Like I said earlier, the key to good beans really is how long you cook them.
The longer you cook them the creamier the texture and the richer the color. They turn a reddish brown when cooked long enough, if not they are fine, a little grey in color and just not as creamy.
One "secret ingredient" that our family's recipe includes that a lot don't would be a serrano chili pepper.
This adds a little smokiness to the beans. I typically use two serrano peppers per pound of beans & don't worry, my 2 year old LOVES them so I can assure you they are not that spicy at all!
When you add the serrano peppers you want to make sure you slice them in half lengthwise so that the beans can get the most flavor out of them while also leaving them in large enough pieces for you to pick out later.
Same idea goes for the garlic, either leave it in a huge chunk or mince it so you're not biting into a large piece of garlic later on.
The recipe looks complicated because it seems to have a lot of steps, but it really is simple. Basically, boil first to release gases, cook in crock pot, then season & mash in saucepan.
Any "potato masher" will work to mash the beans, but I prefer ones with holes (like this Potato Masher) as opposed to the loop style.
I hope you enjoy this recipe! My favorite way to eat beans is with scrambled eggs & tortillas in the mornings. This was actually a HUGE craving for me when I was pregnant with David.
Mexican Refried Beans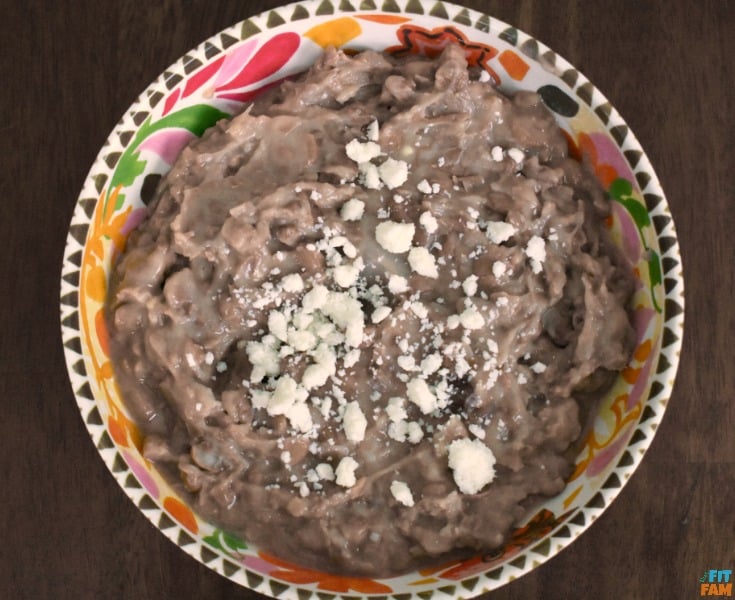 Ingredients
1 pound dried pinto beans
1 small white or yellow onion, sliced
2 cloves fresh garlic, minced
2 serrano chili peppers, sliced lengthwise (stems removed)
1/2 tbs salt
2-3 tbs canola oil
water
cheese (optional)
Instructions
Rinse beans and place in pot with about 8 cups of hot water.
Bring to rapid boil for 2 minutes, remove from heat, cover & let stand 1 hour to release gases.
Drain water, rinse beans, and place in crock pot with enough water to cover beans by 3/4 inch.
Cook beans on low for about 12 hours or until tender & red-brown in color.
In a stockpot add roughly 2-3 tbs canola oil, turn to medium heat.
Add sliced onion, garlic, and serrano peppers to oil and cook for 1-2 minutes until fragrant.
Using a slotted spoon, add beans carefully into the pot (be careful it may splatter!)
Add 1/2 tbs salt (more to taste).
Mash beans to desired consistency and add in about 1 cup of bean water from crockpot. Adding more bean water if necessary. Keep in mind that the longer you keep beans on the stove, the more bean water you will need to add as the water will evaporate. By the end, I've usually added about 1 1/2 c water total.
Make sure to really mash any of the serrano peppers & onions into the beans as you see them to ensure you get the most flavor from them.
Once beans are at desired consistency remove from heat.
Discard onions & peppers before serving & top with cheese (optional). Serve warm.
Notes
If storing in fridge, I like to add a little extra bean water because the beans tend to absorb the water overnight and can start to dry up if you don't add extra.
*I personally don't use a lot of oil when I fry these. I only use enough to get the onions translucent & cook the serrano peppers, which is just a couple tablespoons.